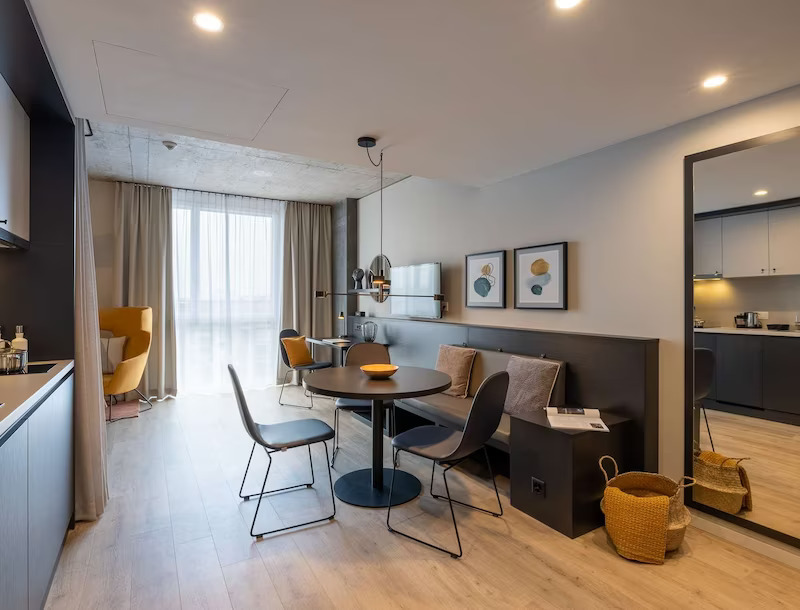 Radisson Hotel & Suites Zurich, the largest hotel in the greater Zurich area, invites both long-term and short-term guests to experience an exciting new accommodation option in Zurich. With 447 rooms and serviced apartments, this establishment marks the introduction of Radisson Hotel Group's first offering of serviced apartments in Zurich, Switzerland.
Zurich, the largest city in Switzerland, offers a captivating blend of cultural marvels and hidden gems for travelers to explore. Alongside well-known attractions like the Old Town, Bahnhofstrasse shopping district, and Lake Zurich, visitors can venture off the beaten path to discover intriguing treasures such as the birthplace of Dadaism at the surreal Cabaret Voltaire or the captivating exhibits at the Museum of Design. Culinary enthusiasts can embark on a delightful gastronomic adventure at the vibrant Im Viadukt market, indulging in unique flavors and delights.
The newly opened Radisson Hotel & Suites Zurich is situated in the Glattpark district of Opfikon, a developing area within the Zurich metropolitan region. Positioned between Messe Zürich and the airport, it offers convenient access to the city center, making it an ideal choice for long-term guests working in nearby companies and leisure travelers exploring Zurich.
Featuring 104 hotel rooms and 343 fully furnished serviced apartments, Radisson Hotel & Suites Zurich provides guests with comfortable accommodations. The apartments come equipped with kitchenettes, including glass-ceramic cooktops, dishwashers, kettles, and modern kitchen amenities. Ranging from 21 to 48 square meters in size, the apartments on the ground floor even offer terrace spaces, providing a relaxing environment within the courtyard. All rooms and apartments are furnished with desks, flat-screen TVs, irons, in-room safes, air conditioning, and complimentary Wi-Fi.
Guests can enjoy various dining options at Radisson Hotel & Suites Zurich, including Luigia restaurant, which specializes in authentic Italian cuisine and features a green courtyard setting. Additionally, a bar and roof terrace are open during the summer months. The hotel also provides a 24/7 fitness area for guests' convenience and laundry rooms on every floor equipped with washers and dryers.