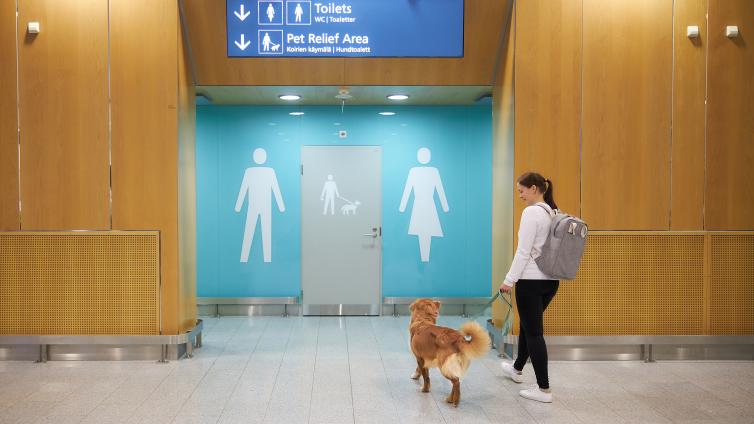 Pet relief areas at airports are designated spaces specifically designed for pets, service animals, and emotional support animals to have a restroom break before their scheduled flights. These areas are crucial to ensure that pets do not have any accidents onboard the aircraft, as it is an undesirable situation for both the pet owner and the other passengers.
Designated pet relief areas generally don't exist at European airports, not even outdoor ones, despite the many dogs and cats that fly.
Let's check which airports have pet relief areas in Europe.
Airports with Pet Relief Areas in Europe:
Helsinki Airport
Travelling with a dog or cat is now even smoother than before as two new pet relief areas have been opened at Helsinki Airport. The pet toilet has been designed with dogs in mind, but other pets are also welcome. The toilet is in a separate, closed-off space. The outdoor relief area is next to the main entrance of T2, separated from pedestrian traffic.
Istanbul Airport
The airport goes the extra mile to accommodate pets, offering convenient services and facilities. In addition to a dedicated check-in counter for passengers traveling with pets, there are specially designed pet rooms available. Situated in the Departures area beyond security, these pet rooms can be found upstairs near the IGA Lounge, or simply by following the signs indicating the way for dogs.
Inside the pet rooms, there is artificial grass provided for pets to relieve themselves comfortably. Moreover, there are amenities such as running water and pet bowls to cater to their needs. It has been reported that there might even be treats available, providing a pleasant surprise for lucky pets and their owners.
Olbia Costa Smeralda Airport
Olbia Costa Smeralda Airport, situated on the picturesque island of Sardinia in Italy, is one of the three airports found on the island. In 2019, it achieved a notable milestone by becoming the first Italian airport to feature a designated pet relief area.
Conveniently situated beyond the security checkpoint, the pet relief area offers ample space for pets to take a break before their owner's board departing flights from the island. The well-designed area is equipped with artificial green grass and also provides amenities such as waste bags, washing facilities, and a water trough for the comfort and convenience of traveling pets.
Milan Malpensa
The MSP maintains pet and service animal relief areas at both terminals. There are several Terminal 1 locations. Pre-security, there are pet relief areas located outside both Door 1 and Door 4 on the Baggage Claim Level. There is also a new pet relief area outside of the Silver Parking Ramp.
Through security at Terminal 1, there are three pet relief areas available: located near the entrance to Concourse E in the Airport Mall, by Gate F6, and on the C/G Connector Bridge.
At Terminal 2, travelers can use the grassy area just outside of Door 8 on Level 1 near baggage claim or the indoor pet relief area near Gate H11.
Budapest Airport
At Budapest Airport, passengers can take advantage of the Pet Relief Area in Terminal 2A. The area is complete with grass, waste bags, and even a shower to help your pet freshen up after a long flight.
Zurich Airport has a designated pet relief area outside the passenger terminal, which has a grassy area and doggy poo bags.
Warsaw, Amsterdam, Paris, Brussels, and Rome airports also have pet relief areas outside the airport building.
There are no pet relief areas noted on Madrid airport maps, nor are there any mentions of relief areas anywhere on the website. In Barcelona Airport next to the McDonald's within the security area, there is an outdoor space featuring a small coffee shop and a garden bed covered with bark. It is not designated for pet relief, it can serve as a helpful spot in case of a bathroom emergency.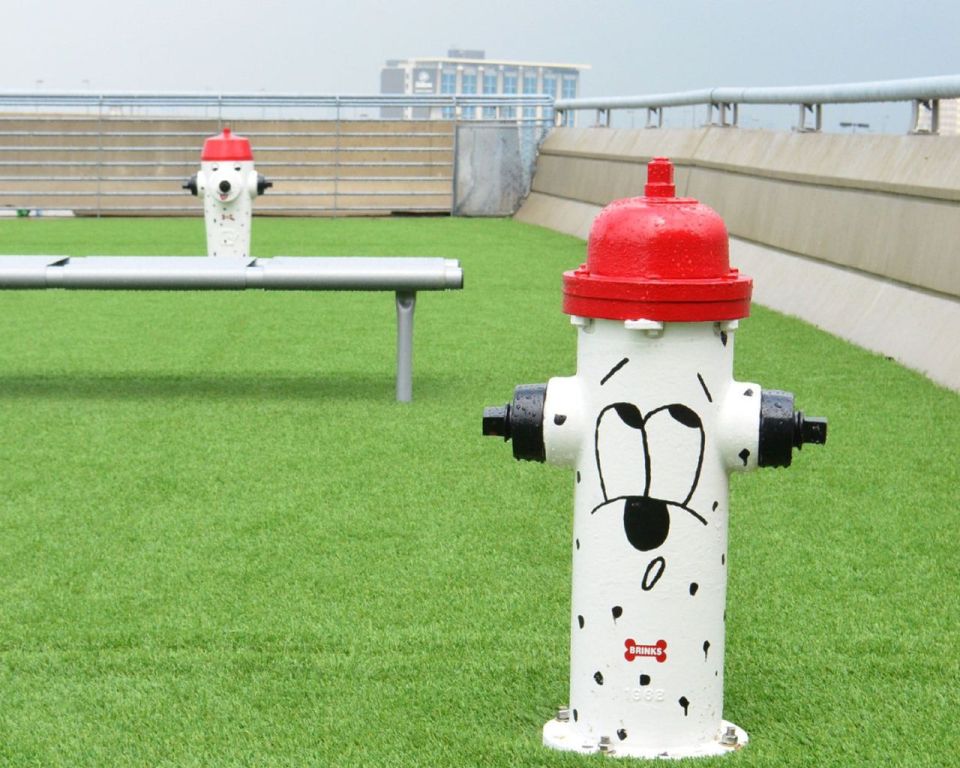 Flying with your pet?
Pet travel has become safer and more common over the years. However, the process of pet transport remains complicated and time-consuming, especially for international travel. If you are planning to fly with your dog or cat to a different country, check our Guide to Pet-Friendly Airlines in Europe.