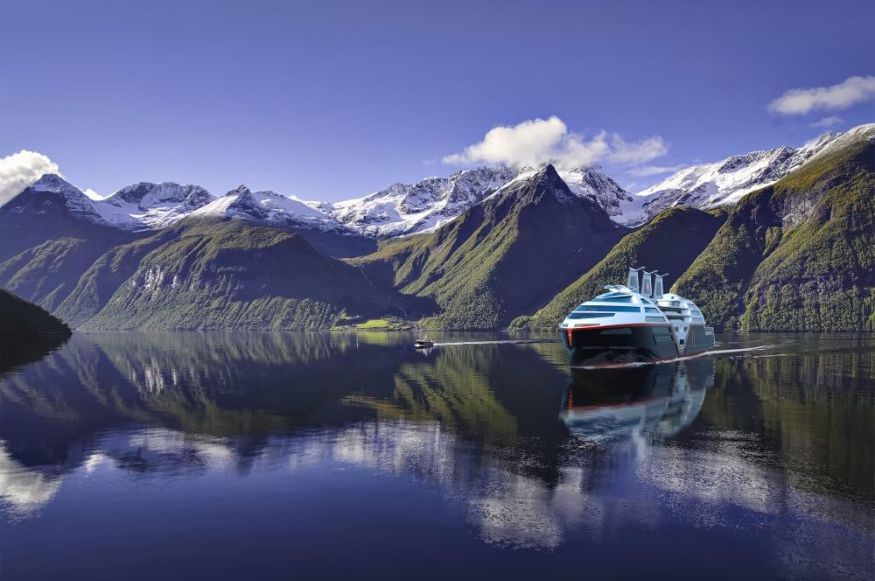 Hurtigruten Norway unveiled plans for its first zero-emission ship. Initially announced in March 2022, under project name 'Sea Zero,' the first-of-its-kind initiative has revealed early concept plans for the world's most energy-efficient cruise ship. Hurtigruten Norway presented the findings alongside its consortium of 12 maritime partners and research institute SINTEF, all joined in the pursuit of achieving emission-free marine travel. Tasked with developing energy-efficient and carbon-neutral technology solutions, the consortium shared key findings following its first year of research.
In line with their focus on sustainable operations tailored to the Norwegian coast, Hurtigruten Norway plans for smaller, custom-built ships that leave a positive footprint with zero emissions to both sea and land. With the first ship ready in 2030, the company plans to transform its entire fleet into zero-emission vessels. Since only 0.1% of ships worldwide currently use zero-emission technology, Hurtigruten Norway's project aims to drastically improve the greater cruise industry's sustainability record and future of travel.
Hurtigruten Norway's future ships will be electric and equipped with batteries that charge in port. Combining 60-megawatt battery solutions with wind technology, the vessel is expected to feature numerous firsts and improved solutions that do not exist on cruise ships today, including retractable sails with solar panels, artificial intelligence maneuvering, contra-rotating propellers, and multiple retractable thrusters. Additional technologies include air lubrication, advanced hull coating, and proactive hull cleaning.
Battery levels will be displayed on the ship's external sides, while the bridge, where the Captain and crew steer the ship, is expected to reduce significantly in size following enhanced A.I. maneuvering, mimicking that of an airplane cockpit. Hurtigruten Norway has operated along the Norwegian coast for 130 years and has superior knowledge of the 34 ports it stops at daily. The cruise line will thus use A.I. to collect data that learns the most efficient docking and undocking methods for each port, improving in-port operations in bad or challenging weather.
The three retractable, autonomous wing rigs will comprise 1500m² (16,146 ft²) of solar panels and a total wind surface of 750m² (8,073ft²), reaching a maximum height of 50m (164 ft) when fully extended.
Hurtigruten Norway strives for superior guest comfort and spectacular views on board its first zero-emission ship. A streamlined shape will result in less air resistance, reduce energy use, and increase passenger comfort. In addition to ample outdoor space, enlarged surface areas with dedicated windows will allow for unparalleled views of what is often described as 'the world's most beautiful coastline.'