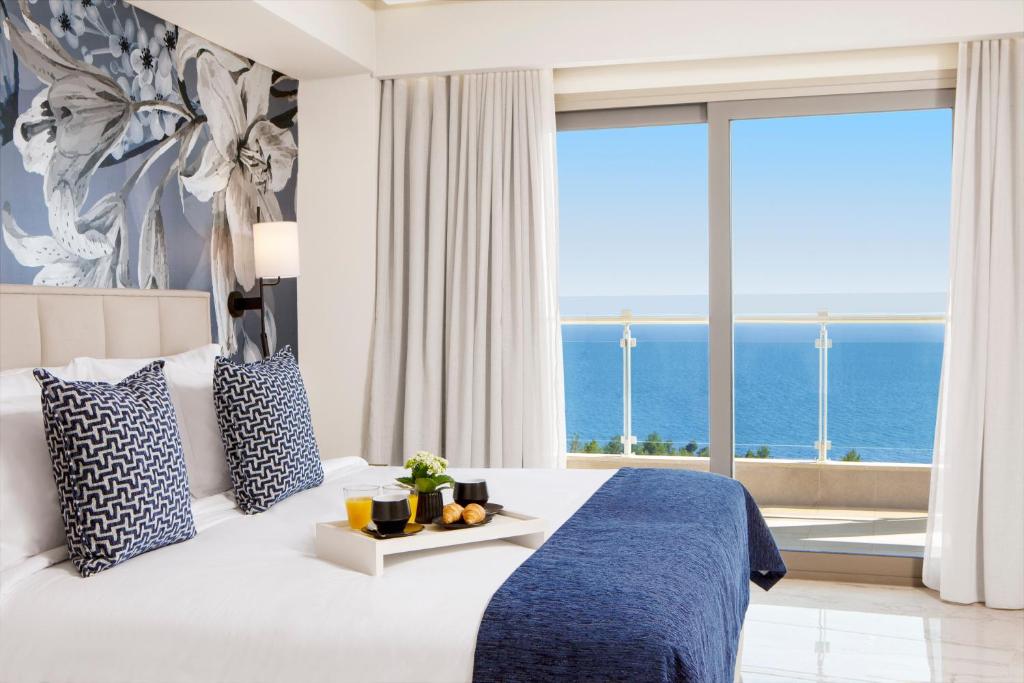 Wyndham Hotels & Resorts has announced the opening of its first Registry Collection Hotel in Europe, the Ajul Luxury Hotel & Spa Resort. With a presence in over 95 countries and approximately 9,100 hotels, Wyndham continues to expand its portfolio. Located in the coveted destination of Halkidiki, Greece, known for its pristine beaches, Mediterranean forests, and stunning views of the Aegean Sea and Mount Olympus, this 5-star resort boasts 171 rooms.
Registry Collection Hotels, carefully chosen to provide exceptional experiences in extraordinary locations, combine unique features, thoughtful design, and top-notch service. Each stay at a Registry Collection Hotel is meant to be indulgent and distinct, showcasing individuality and attention to detail. The Ajul Luxury Hotel & Spa Resort, owned and operated by Zeus International Hotels & Resorts, is a remarkable addition to the Registry Collection's existing portfolio of 16 properties in Mexico, Panama, Brazil, Dominican Republic, and Jamaica.
This new opening further strengthens the long-standing partnership between Wyndham Hotels & Resorts and Zeus International Hotels & Resorts. Currently, the collaboration encompasses 10 hotels in three countries, spanning various brands such as Wyndham, Wyndham Grand, Ramada, Dolce, Trademark Collection by Wyndham, and now Registry Collection Hotels. In addition to these properties, Zeus International owns and manages an additional 12 hotels across Greece, Romania, and Italy.
The Ajul Luxury Hotel & Spa Resort, a Registry Collection Hotel, is an opulent retreat located right on the beachfront. It offers 171 lavish rooms, ranging in size up to 85 square meters, along with 26 private villas measuring up to 580 square meters and 92 exceptional bungalows up to 135 square meters. Most accommodations feature private pools and stunning sea views, providing guests with a truly luxurious experience. The hotel boasts five magnificent swimming pools and grants access to a nearby picturesque pebble beach.
Nestled in a captivating forest setting, the hotel exudes tranquility and showcases traditional natural elements. Guests can enjoy leisurely walks through the lush gardens, which gracefully lead to the serene waters of Agia Paraskeui. Culinary delights await at the hotel's three restaurants, offering a unique gastronomic journey of Greek, Italian, and Mediterranean cuisine. Fresh local produce, including fruits, vegetables, and herbs, are used to create delectable dishes, complemented by a selection of premium beverages, signature cocktails, and carefully curated wines available at the three bars.
The hotel's Spa Center pays homage to the region's rich therapeutic tradition. It features an impressive outdoor pool with breathtaking views, allowing guests to relax and rejuvenate. Wellness classes are also offered on special decks by the beach. For those seeking more adventure, Ajul Luxury Hotel & Spa Resort provides two tennis courts, a basketball court, a beach volleyball court, an adventure park, and various outdoor activities. With over 600 square meters of event space, the hotel is also an exceptional choice for glamorous events and top-tier conferences.
Ajul Luxury Hotel & Spa Resort is a perfect haven for luxury seekers looking for an exquisite coastal getaway, combining unparalleled beauty with exceptional amenities and services.