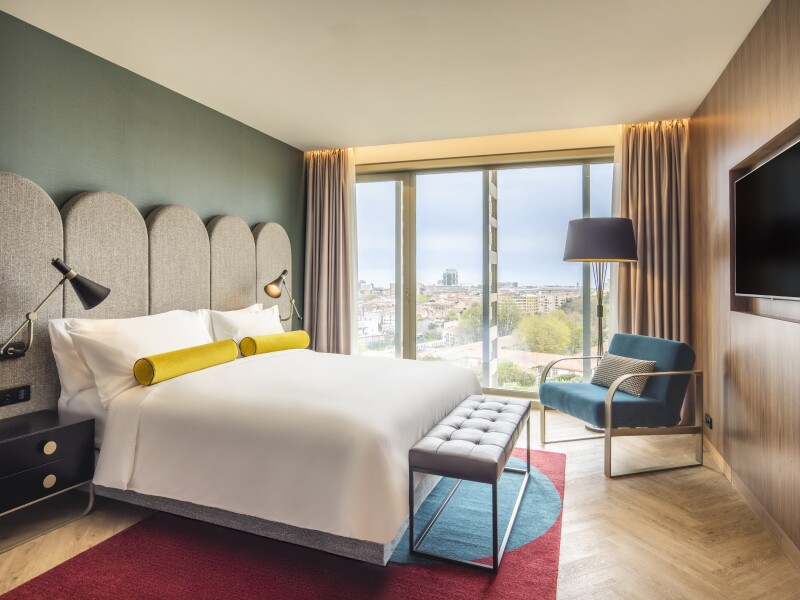 Renaissance Hotels has made its debut in Portugal with the opening of Renaissance Porto Lapa Hotel. Nestled in the charming and vibrant neighborhood of Lapa in Porto, this new hotel offers discerning explorers a stylish and sophisticated urban retreat just moments away from iconic landmarks like Lapa Church, Casa da Música, and Clérigos Tower.
Situated on the hills of Lapa, the hotel provides panoramic views of the city skyline. Drawing inspiration from the beloved city of Porto, the architectural firm Visioarq Arquitectos and interior designers from Broadway Malyan were commissioned to create Renaissance Porto Lapa Hotel as an "Art House in The Park." Reflecting the brand's theatrical design concept, the hotel is adorned in harmonious pastel pinks and champagne golds, with an unexpected touch of petrol blue, paying homage to the iconic Douro River that flows through Porto and Gaia. The interiors showcase vintage Portuguese tiles, which have been a staple in local buildings and pavements for centuries. The walls are adorned with original artworks by renowned Portuguese and international artists, including a tile mosaic installation by Pedrita Studio, a painting by Isabel Mello, and a unique piece made of corrugated iron and neon lights by Berlin-based artist Clemens Behr.
The champagne color scheme extends to the hotel's 163 stylish guest rooms and suites, featuring elegant walnut wood furnishings, chic design elements, and floor-to-ceiling windows that bathe the space in natural light. All guest rooms are equipped with modern amenities, including 55″ LCD flat-screen TVs, high-quality sound systems, work desks, and USB outlets. The four suites, mostly located on higher floors, offer spacious living areas and private balconies with stunning views of the Atlantic Ocean.
The hotel boasts one restaurant and two bars, all offering a gastronomic experience showcasing Portuguese cuisine with a Mediterranean twist. On the ground floor, guests can indulge in all-day dining at a.typical Restaurant and Bar, where the brand's signature Ritual takes place, marking the transition from daytime to nightfall. Four nights a week, the bar prepares a locally infused "punch bowl" with gins from Porto, fresh seasonal fruit, and hand-picked herbs. After the Ritual, the space transforms into an elevated venue where guests and locals can mingle over cocktails and enjoy live music. For panoramic views, the Sky Bar on the fifth floor provides a serene setting to savor locally inspired cocktails and Portuguese-style light bites.
Ideal for active travelers, the top floor of the hotel is home to a 55-feet outdoor heated infinity pool and a state-of-the-art Fitness Centre equipped with top-notch Technogym® equipment.
With over 5,850 square feet of flexible event space, Renaissance Porto Lapa Hotel is well-equipped to host a variety of gatherings. The event facilities are equipped with the latest technology, including an advanced translator system to accommodate events with multilingual speakers. There are a total of six meeting rooms, with the largest capable of comfortably hosting close to 600 guests for conferences and corporate events.
Guests at Renaissance Porto Lapa Hotel can rely on the expertise of the Renaissance Navigator, the brand's neighborhood expert, to discover the local culture and destination. History enthusiasts will find the neighboring Lapa Church a must-visit, as it stands as a reference point for the city's religion, art, and culture with a history spanning over 260 years. After exploring the church, guests can embark on the Liberal Porto route, immersing themselves in the city's history of The Siege of Porto in 1832. For a leisurely stroll around the neighborhood, the Navigator recommends visiting boutique cafes such as Café Guarany.