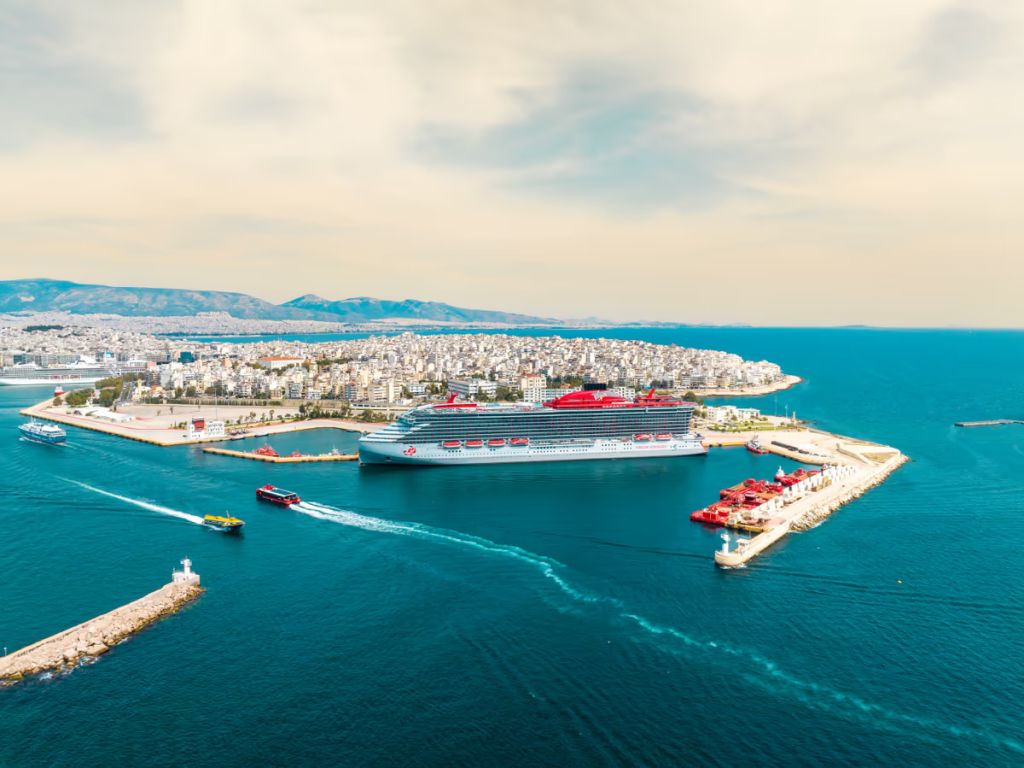 As the European summer season commences, the highly anticipated arrival of Virgin Voyages' third ship, Resilient Lady, has arrived. Joining the acclaimed fleet as the newest addition, Richard Branson's cruise travel brand is expanding its captivating selection of vacation destinations with Resilient Lady's inaugural summer season, starting from its new homeport in Athens, Greece. The ships of Virgin Voyages, designed exclusively for travelers aged 18 and above, draw inspiration from superyacht design, bringing a touch of glamour to the open seas with meticulously crafted spaces by renowned architects and designers like Tom Dixon and Concerte Amsterdam. With menus curated by Michelin-starred chefs, the experience has quickly become a paradise for food enthusiasts, featuring culinary influences from the Mediterranean's new regions.
Resilient Lady sets sail on May 14, 2023, embarking on a seven-night MerMaiden voyage (May 14-21) that follows the "Greek Island Glow" itinerary. Departing from Athens, this journey includes stops in Santorini, Rhodes, Bodrum, and an overnight stay in Mykonos before returning to Athens. Also premiering this season is the "Adriatic Sea & Greek Gems" itinerary, which explores breathtaking locations along the Adriatic Sea, encompassing Croatia's coastline, Greece's glamorous islands, and a bay in the Balkans. This itinerary offers a late-night stay in Dubrovnik, allowing ample time for Sailors to explore the picturesque city during the day and partake in its vibrant nightlife.
In addition to venturing into new destinations, Resilient Lady, alongside its Creative Collective comprised of esteemed producers such as Randy Weiner (known for Sleep No More and Queen of the Night), House of Yes, and MISCHIEF, will introduce an array of incredible new entertainment options. This includes the debut of five captivating shows, two exclusive soirées in The Manor, onboard parties, an expanded lineup of live music acts, and a festival stage featuring rotating performances.
Virgin Voyages is also unveiling exciting new food and beverage offerings. One of the highlights is "Razzle Dazzle by Night," a menu curated in collaboration with Chef Eric Haugen. To celebrate the launch of Resilient Lady, the brand will introduce "Opa Hour," paying homage to Greek culinary traditions. Held in the Dock and Dock House on all three ships, Opa Hour will feature a Greek-inspired food and beverage menu in addition to the regular offerings.
Since its launch in 2021, Virgin Voyages has garnered numerous prestigious awards in the consumer travel and cruise industry. Most recently, the brand swept all five awards in its category at the Cruisers' Choice Awards by Cruise Critic, including Best Overall Cruise Line, Best Dining, Best Cabins, Best Service, and Best Value for Money. Additionally, Virgin Voyages was included in Condé Nast Traveler's 2023 Hot List, a curated selection of the world's best new cruises.
Remaining true to its commitment to creating an Epic Sea Change for All, Virgin Voyages has partnered with two nonprofit organizations: All for Blue and Urban Act. These partnerships involve the brand's involvement in underwater and community clean-up efforts, as well as the creation of murals in Athens and the Greek Islands, aimed at promoting sustainable tourism and preserving our oceans.
After its inaugural season in Greece, Resilient Lady will embark on a trans-continental voyage, arriving at Station Pier in Port Melbourne, Victoria. From there, it will set sail through Australia and New Zealand from December 11, 2023, to March 27, 2024.