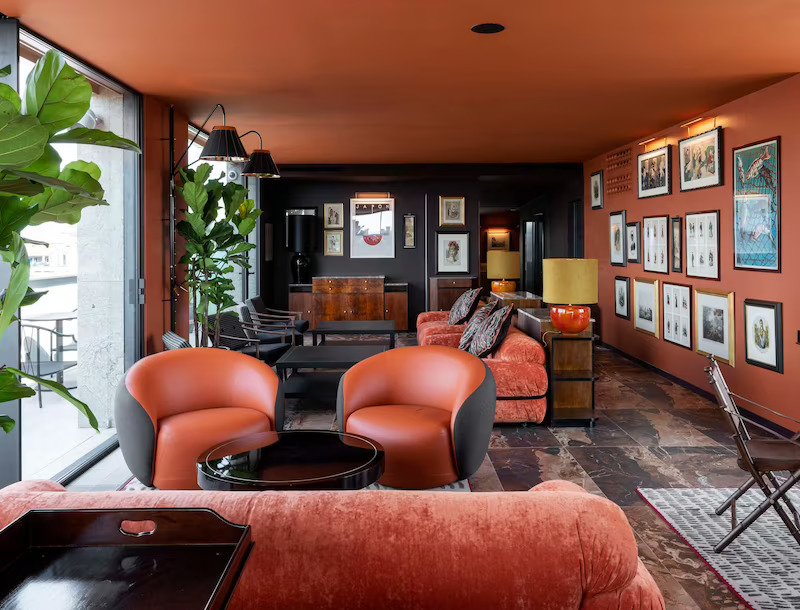 Radisson Hotel Group is broadening its collection of distinctive, art and design-inspired hotels with the addition of art'otel to its brand portfolio, expanding the group's offerings to ten distinct brands. The Group aims to provide travelers with authentic and immersive cultural experiences that allow them to become part of the local art and design communities in each destination.
Originally announced in May 2022, Radisson Hotel Group and PPHE Hotel Group are now working together to accelerate the global growth of the premium lifestyle brand, art'otel. This collaboration combines PPHE's premium lifestyle art'otel brand, which includes iconic properties and a promising pipeline, with Radisson Hotel Group's robust technology and distribution platforms, reward programs, and ambitious expansion plans.
Boris Ivesha, President and CEO of PPHE Hotel Group, expressed enthusiasm about the recent opening of art'otel London Battersea Power Station and the upcoming art'otel projects in London Hoxton, Rome, and Zagreb. He highlighted the brand's appeal to both guests and hotel owners, emphasizing its carefully designed properties, each featuring a renowned artist and a strong focus on curating exhibitions, events, and launches. These properties also offer exceptional service, destination restaurants, and bars. Ivesha expressed delight in partnering with Radisson Hotel Group, leveraging their technology platforms, reward programs, and expertise in target markets for art'otel's growth.
Federico J. González, Executive Vice Chairman of Radisson Hotel Group, noted that all their offerings encompass essential lifestyle elements. The addition of the premium lifestyle brand art'otel to their portfolio recognizes the strength of their current collection and pipeline. The group aims to unlock the brand's potential by utilizing their robust distribution and support infrastructure while expanding its presence in top-tier global markets. González emphasized their commitment to providing owners and guests with relevant opportunities and possibilities.
Recent research by Hotels.com indicates that lifestyle experiences extend beyond the luxury segment. Travelers seek luxurious browsing but may opt for more affordable options that prioritize experiences and experiential travel. With Radisson Hotel Group, travelers can choose from a range of lifestyle brands, including the luxury Radisson Collection, the upscale art'otel, the vibrant Radisson RED, and the urban design-focused prizeotel.
Radisson Collection represents a luxury lifestyle collection of iconic properties situated in unique locations. These hotels exhibit a strong emphasis on art through collaborations with renowned artists. Each Radisson Collection hotel retains an authentic feel that reflects its surroundings while offering contemporary living experiences, including bespoke design, exceptional dining options, fitness facilities, wellness amenities, and sustainable practices. The brand currently operates over 50 hotels and has recently opened notable properties in Milan, Vilnius, Bilbao, Riyadh, and Pula.
art'otel, as a premium upper upscale lifestyle brand, offers a contemporary collection of hotels, with each property inspired by a signature artist. Positioned in the most creative areas of captivating cities, these hotels serve as cultural, gastronomic, and social hubs. They feature warm and helpful team members, cosmopolitan guests, and a vibrant atmosphere year-round. The buildings themselves are as remarkable as the captivating art they house. In addition to the recently opened art'otel London Battersea Power Station, the brand has a robust pipeline, including upcoming openings in Zagreb, Rome, and London Hoxton. There are also several exciting projects under consideration in cosmopolitan cities and sought-after neighborhoods. Existing art'otel locations include Amsterdam, London Battersea Power Station, Berlin, and Cologne (with the latter two undergoing repositioning).
Radisson RED, an upscale lifestyle brand, offers a playful twist on conventional hotels. The brand breathes new life into its properties with informal services, a vibrant social scene, and stylish public spaces featuring standout design, art, and music.
prizeotel (midscale urban design):
prizeotel is a midscale lifestyle hotel brand, focusing on functional bold lifestyle design, sustainability and a vibrant social scene. prizeotel's eclectic character combines comfortable accommodation with an informal setting and service culture. prizeotel properties feature vibrant and modern spaces that provide welcoming multipurpose social areas, but also act as a peaceful environment for travelers to get a good night's rest and balance their hectic schedules. With a focus on convenience and efficiency, every item has been designed with a functional purpose in mind that ensures guests have everything they need, in a comfortable base from which to explore the city.