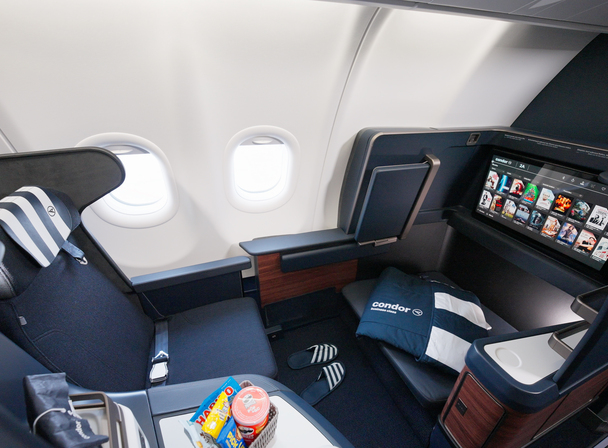 The best seat on the plane is now available: on board the new Airbus A330neo long-haul aircraft Condor offers its guests a completely new flight experience and more comfort than ever with the Prime Seat. In addition to Condor Business Class amenities, such as a freshly boiled organic egg for breakfast, the four Prime Seats in the front row of the cabin offer even more space, a bigger bed, opposite seating, a huge screen and other exclusive benefits. A Prime Seat can be booked for guests with a Business Class ticket from EUR 199.99 per route.
Prime Seat offers exclusivity and comfort
The Prime Seats are in the front row of the A330neo's Business Class and offer even more room to stretch your legs with a larger bed and wider legroom. Comfortable pyjamas are an additional feel-good factor. The Prime Seats offer an opposite seating option, including its own seat belt and with a table in the center. Travel partners can comfortably toast with a drink, chat or play cards. In addition, Prime Seat guests enjoy the best entertainment on the even larger 24-inch 4K monitor, with a screen diagonal of over 60 centimeters. A sweet and salty snack basket is served and remains at the seat throughout the flight. For those who would like to stay online above the clouds, the Prime Seat comes with a free internet package for unlimited text messaging.
New way of traveling on board A330neo
The new Condor A330neo impresses with numerous amenities for guests in all booking classes. Among the highlights for Business Class are full-lie-flat sleeper seats, which can be comfortably and continuously converted into a 1.99-meter-long flat bed. Each guest has direct access to the aisle and, thanks to generous storage areas and a cocktail table, plenty of space for personal items.
Condor guests enjoy a completely transformed and extensive in-flight entertainment program. They can watch over 250 movies and 160 series free of charge and in the highest 4K picture quality on their own screens. The new Bluetooth function allows the usage of personal wireless headphones. Guests who would like to stay connected above the clouds can use the high-speed broadband internet. Every seat is also equipped with a USB A/C port or socket.
On long-haul flights, internationally-inspired Taste the World menus with several courses allow all guests on board to get their culinary money's worth. Depending on the booking class, Condor guests are served a Standard, Premium or Gourmet Menu. Special menus, such as lactose- or gluten-free, can be ordered in advance up to 24 hours before departure.
Lufthansa is introducing a new premium product on long-haul routes under the name "Allegris" in all travel classes (i.e. Economy, Premium Economy, Business and First Class). "Allegris" has been developed exclusively for the Lufthansa Group.