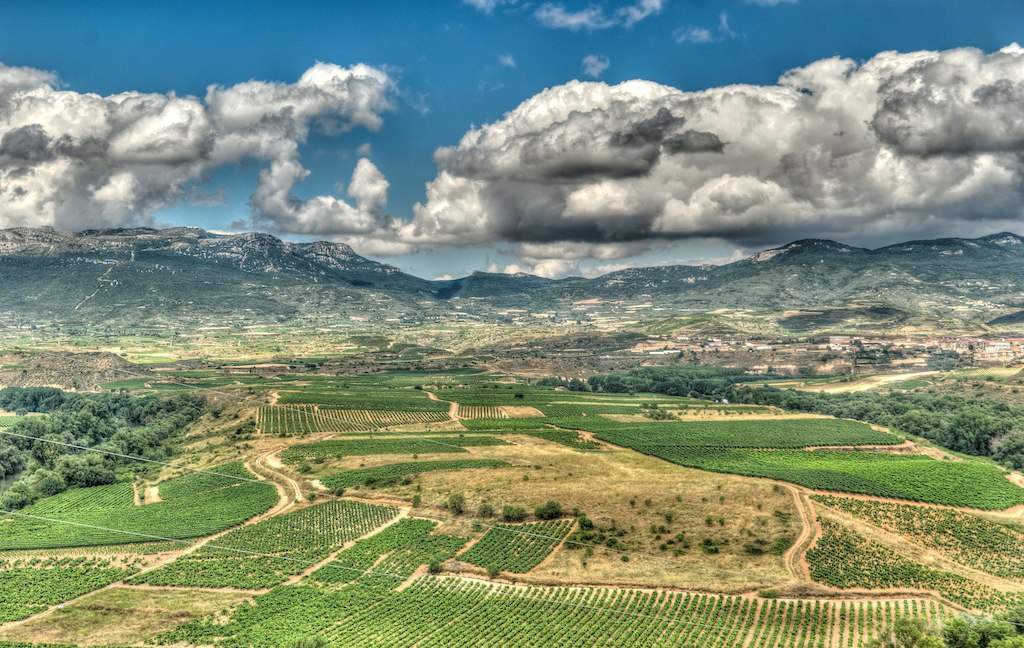 The World's Best Vineyards list is back in 2023 and will be hosted by Rioja, Spain's finest wine region. Showcasing the very best of wine tourism across the globe, the annual World's Best Vineyards list is to be revealed at a special live event hosted in Rioja in July.
As well as its celebrated wineries, charming towns and quaint villages, Rioja is home to Mediterranean forests full of wildlife with high mountain areas to explore and stunning lunar landscapes to discover. The region offers a vast range of fun and memorable outdoor activities for all, including mountain horseback riding, 4×4 driving routes and hot-air ballooning across and over the rolling hills. Known as the gastronomic heartland of Spain, Rioja offers guests delicious culinary experiences from pincho tours to haute cuisine, fine dining and everything in between. The Rioja region produces a range of high-quality agricultural food products, including extra virgin olive oil, sausages, and vegetables, which together create delicious local wine pairing menus.
Situated in the north of Spain on the banks of the River Ebro, Rioja is surrounded by the majestic Sierra de Cantabria and Sierra de la Demanda Mountain ranges resulting in a breath-taking and picturesque landscape. It is most well-known for its wide variety of grapes, rich soils, climates, and stunning wineries that never cease to amaze visitors. The region spans 65,000 hectares and is home to more than 600 wineries from world-famous, award-winning destinations with avant-garde architecture to small family-run historical establishments. Preserved generation after generation, each one has something unique to offer guests making it the perfect destination to celebrate this year's World's Best Vineyards.
The World's Best Vineyards annual list highlights the top vineyards to visit globally and aims to promote wine tourism around the world. Each year the list showcases unique vineyards with unrivalled visitor experiences, from modern architectural wonders, UNESCO-protected ancient cellars, and Michelin-starred restaurants to family-run wineries with intimate tours. The Voting Academy consists of over 500 leading wine experts, sommeliers and travel experts and they submit their nominations based on the different criteria that make the best destination vineyard, including quality of the overall experience, ambiance, cuisine, activities, views, staff, and value for money. The results are then collated and converted into the annual World's Best Vineyards list.
Andrew Reed, Managing Director Wine and Exhibitions at William Reed, comments: "Rioja is the perfect destination for this year's World's Best Vineyard list reveal which combines culture, history and wine tourism equally. With outstanding local restaurants, incredible landscapes, scenery and hundreds of vineyards, we are excited to host this year's event here and showcase everything the region has to offer."
Fernando Ezquerro, President of Denominacion de Origen Calificada Rioja, says: "It is an honour to host the prestigious World's Best Vineyards 2023 event and a great opportunity to show the world why Rioja is Spain's finest wine region. Rioja's history and traditions have led it to establish itself not only as the leading winemaking region in Spain, but also as the country's go-to destination for wine tourism, which has had a driving effect on the recovery and diversification of tourism in Spain. Our passion for hospitality and wine making makes Rioja such a special place to visit."
The World's Best Vineyards ceremony will take place on 12 July and will be supported by a four-day press trip comprising of Rioja Alavesa, Rioja Alta and Rioja Oriental, experiencing amazing wine tourism destinations including: Bodegas Beronia, Eguren Ugarte, Finca la Emperatriz, Barrio de la Estación, Marqués de Riscal, Vivanco and Bodegas Ysios.
The Top 50 list is compiled from all the nominations by the global academy of voters. The world is split into geographical regions, each headed up by an acknowledged expert as the Academy Chair. Each Academy Chair is responsible for recruiting 36 wine and travel experts. Each member of the Voting Academy must vote for 7 vineyards. There is no pre-determined checklist of criteria or predefined list to choose from – each vote is a nomination for a vineyard experience open to the public that they deem to truly be the best in the world.