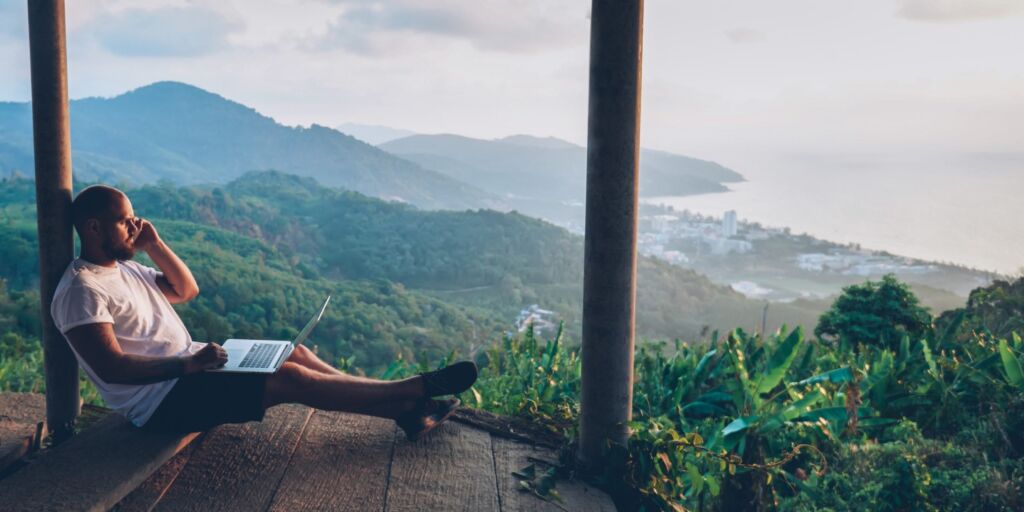 Americans struggle to unplug during the era of flexible work arrangements
A number of destinations around the world have created digital nomad visa programs to attract remote workers. The list of the countries that offer this opportunity has now 21 countries and is still growing.
People who can work remotely are caught in a legal grey area. On one hand, people who can work remotely cannot apply for a traditional work visa, which in many cases would require a contract with a local entity. On the other hand, they may want to stay in the country for longer than a tourist visa allows them.
Digital nomad visa fill a legal vacuum for remote workers who wish to spend extended periods of time abroad working independently.
Digital Nomad Visa Countries in Europe
Georgia
Georgia is one of the most attractive digital nomad visas on the market today. The scheme is available to travelers from up to 95 countries.
Length: 1 year, can be extended
Income to prove: $2,000 a month or have a bank statement showing $24,000
Iceland
Iceland has a long-term visa for remote workers, it is valid for 6 months. To obtain the Icelandic digital nomad visa, applicants must provide proof of employment and sufficient funds, as well as health insurance coverage.
Length: 6 months
Income to prove: €6,460 or $7,777 for a single applicant or €9,690 or $11,667 for a couple
Germany
The nomad visa of Germany is called Aufenthaltserlaubnis für selbständige Tätigkeit. It is basically a residency permit for self-employed people.
Length: 3 month, can be extended to 3 years
Income to prove: proof of self-sustainability
Norway
The Independent Contractor visa is designed for self-employed individuals who are working on a project for a Norwegian business. The visa costs €600 and requires proof of an annual income of at least €35,719.
Norway has a unique visa for digital nomads who wish to relocate to the Svalbard islands. Svalbard's digital nomad visa remains valid for the entirety of the traveller's life. Once the visa is obtained, you will not need a living permit.
Length: 6 month, can be extended up to 3 years
Income to prove:€35,719
Portugal
A Portugees visa allows its holder to stay in the country for longer than 1 year and unlike other digital nomad visas mentioned in this page, this remote work visa can be used as a pathway to permanent residency affter 5 years.
Length: 1 year up to 5 years
Income to prove: €600 per month
Romania
Romania has approved the digital nomad visa in December 2021. The minimum required revenue to get a digital nomad visa for Romania is approximately €3500.
Length: 1 year up to 2 years
Income to prove: €3500 per month
Croatia
Croatia launched a new visa programme for digital nomads also in 2021, as part of its 'Croatia your new office' campaign. Requirements include proof of remote work, sufficient yearly income, health insurance, security background checks, and a rent contract.
Length: 1 year, can be reapplied for after 6 months away
Income to prove: €2,232 per month
Czechia
The Czech Republic offers a special business visa -Zivno. The visa requirements include an eligible trade licence, enough funds in a bank account, health insurance, and proof of accommodation for at least 1 year.
Length: 1 year, can be extended
Income to prove: €5,587 in the bank per person
Estonia
It was the first country in the world to have an official digital nomad visa. Applications must be submitted in person at the nearest Estonian Embassy or Consulate, and the processing time is typically up to 30 days.
Length: 1 year
Income to prove: €3,504
Malta
Applications for Malta nomad residence permit are open for people who can continue in their current jobs whilst residing in Malta for a year. It can be renewed but is available only to residents of countries outside of the EU.
Length: 1 year and can be renewed
Income to prove: €2700 per month plus rental contract or property purchase.
Hungary
Hungary has introduced a new residency permit for digital nomads – the White Card, in 2021. It is one of the easiest digital nomad visas with an income requirement of only €2,000 per month.
Length: one year and it can be extended for one additional year
Income to prove: €2,000 per month – you need proof of last 6 months
Greece
The Greece digital nomad visa for non-EU/EEA citizens allows you to stay and do remote work in Greece for a foreign employer or your own foreign registered company.
Length: 1 year can be extended to a maximum of 3 years
Income to prove: €3,500 per month plus 20% for spouse/partner and 15% for each child
Cyprus
Cyprus visa gives the UK and non-EU citizens the right to stay and work remotely on the island for 12 months.
Length: 1 year can be renowned for 2 more years
Income to prove: €3,500 per month after taxes