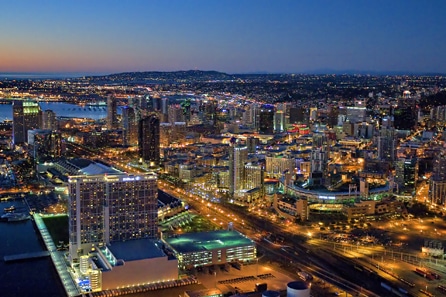 WestJet has resumed seasonal nonstop service between Vancouver, British Columbia, Canada via Vancouver International Airport (YVR) and San Diego International Airport (SAN). The nonstop flights operate two times weekly on Thursdays and Sundays through September. The resumption comes after WestJet suspended service to the city in March 2020 due to COVID-19.
"I welcome back the seasonal nonstop flights to Vancouver on WestJet," said Kimberly Becker, San Diego County Regional Airport Authority President and CEO. "This is an important route as it allows travelers to visit western Canada but also connect to other North American routes across Canada. We appreciate WestJet resuming service to Vancouver."
Located on the Burrard Peninsula in western Canada, Vancouver is one of the most livable cities in the world. Within its cityscape are the North Shore Mountains, Mount Baker in the state of Washington, Vancouver Island across the Strait of Georgia, and Bowen Island to the northwest. It's home to nine beaches, eight by the ocean and one by a freshwater lake. It has many diverse neighborhoods and is one of the most ethnically and linguistically diverse cities in Canada. One of the most popular attractions in Vancouver is Stanley Park. Sprawling more than 900 acres amid an urban landscape, the park offers hiking trails through rainforest, rhododendron and rose gardens, natural, cultural, and historical landmarks, playgrounds, and more.
This is WestJet's second nonstop destination from SAN. The airline resumed service between San Diego and Calgary, Alberta, Canada in September 2021.
WestJet launches flights from Calgary International Airport to London's Heathrow Airport.