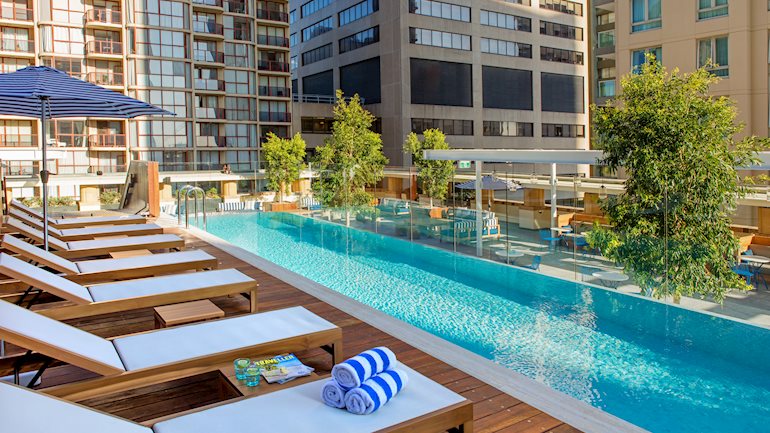 Australia's first-ever Kimpton, Kimpton Margot Sydney, has officially opened its doors on the day of love, 14 February, and is poised to kick off a return to travel, rekindling the love that both local and international guests have for the city of Sydney. As IHG Hotels & Resort's luxury boutique brand, Kimpton Hotels & Restaurants is celebrated for its signature heartfelt service, locally-loved restaurants and bars, and unique design ethos – with Sydney being no exception. Magnificent heritage-listed Art Deco architecture meets modern Australian style and signature Kimpton service, making the hotel one of the city's most exciting and anticipated developments of the decade.
From the grand, Scagliola pillared lobby evoking the spirit of the 1930s to bold patterns, plush furnishings and botanical displays which create a harmonious eclectic inner-city hideaway, Kimpton Margot Sydney shows off at every corner. Located in the heart of Sydney's "south-side", just down from the State Theatre and the QVB and close enough to be within walking distance to Surry Hills and Darlinghurst, Kimpton Margot Sydney is in a prime position to access the best retail, art and cultural institutions Sydney calls home.
Cocooned inside, away from the bustle of Pitt Street, are 172 incredibly spacious deco inspired rooms and suites – most with bathtubs and all with Mr Smith amenities. Each room features whimsical wall art from global artists, evoking a worldly cosmopolitan perspective and warmth akin to home. With close to 600 pieces of art adorning the property – spanning 9 levels – the hotel's signature installation in the lobby by Tony Twigg is a standout and celebrates the brand's approach to supporting emerging and artistic talent
Luke's Kitchen is the epitome of Kimpton's legacy of locally loved restaurants and will be the go-to spot for an à la carte breakfast, casual lunch or fun, dimly lit atmospheric dinner. Luke Mangan's superb new dining space infuses the hotel lobby with the delicious scents of local produce wafting from the open kitchen, and a menu that is light and fragrant. A fusion of Asian, European and modern Australian influences the menu and is structured so that guests can enjoy all day dining, moving from light morsels such as luscious prawn toast served with Tasmanian wild-caught spanner crab meat salad or Beluga caviar served with sour cream, chives and potato gaufrette, before progressing to more substantial mains including grilled Brooklyn Valley sirloin with lime, chilli and burnt leeks, or healthy seared tuna with black bean tabouleh and grilled baby corn.
A signature share main course designed for two or more guests is a two-day Dry-aged Wollemi duck that is served in a fragrant Indonesian curry style with crispy skin and a creamy coconut sauce, laced with crunchy vegetables and Asian spices of garlic, ginger and star anise.
Cellar By Luke, will highlight an indulgent wine experience, where guests can dine on daily culinary curations surrounded by walls of Australian and International wines. Also set amid the art-deco elegance of the lobby will be the hotel's 1930's-style The Wilmot Bar, replete with plush velvet lounges and an irresistible cocktail menu.