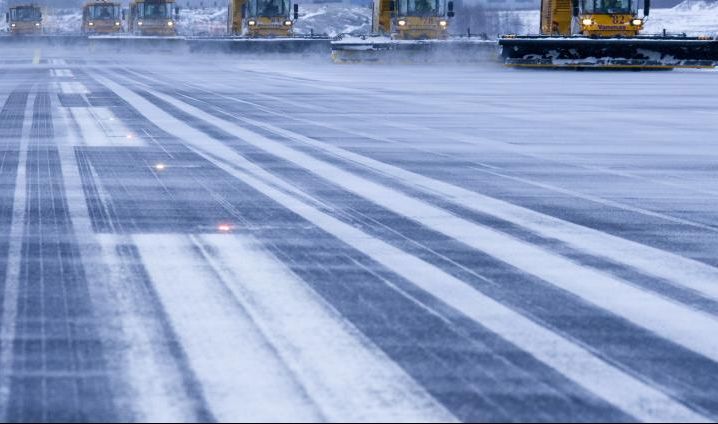 Finavia has started using NAVBLUE's collaborative platform at six of its 20 airports: Helsinki, Oulu, Kittilä, Kuusamo, Ivalo,
Rovaniemi
.
The airport company Finavia became the first airport company to adopt RunwaySense, NAVBLUE's collaborative web-based platform for runway condition reporting activities.
"We experience heavy seasonal weather variation at all our 20 airports and our highly developed winter maintenance is world-renowned. We are glad to start the upcoming winter season with NAVBLUE's RunwaySense." Henri Hansson, Technical Director at Finavia.
RunwaySense is a service that uses unique data provided by Airbus A320 and A330 aircraft equipped with Braking Action Computation Function (BACF) software in order to accurately report the condition of the runway it has just landed on, against the FAA's Take-off and Landing Performance Assessment (TALPA) Runway Condition Assessment Matrix (RCAM).
RunwaySense data is compliant with the ICAO Global Reporting Format (GRF) requirement, which comes into effect on November 4, and assists airports in monitoring runway conditions and targeting their runway clearing activities.
It provides a data report reflecting the aircraft's actual braking action. The accuracy allows airport operators to target their runway clearing activities, especially important for runways subject to snowy conditions, for more efficiency and less disruption. RunwaySense takes advantage of continuous operations on the runway to collect real-time information on the runway condition.
"We are proud that Finavia has chosen NAVBLUE and RunwaySense to support their runway condition reporting activities. Using this service will enhance their airport activity, especially at Helsinki Airport, an important transfer hub in Northern Europe. ICAO's GRF initiative is an important step for enhancing safe runway operations and we're pleased to be able to contribute", Thomas Lagaillarde, Head of Product Portfolio & Programmes at NAVBLUE.
Finavia will access RunwaySense data via SoftAvia's Global Runway Reporter Alert (GRRA) software.
Six of the 20 airports managed by Finavia will now benefit from the RunwaySense service: Helsinki AIRPORT (IATA: HEL, ICAO: EFHK), Oulu (IATA: OUL, ICAO: EFOU), Kittilä (IATA: KTT, ICAO: EFKT), Kuusamo (IATA: KAO, ICAO: EFKS), Ivalo (IATA: IVL, ICAO: EFIV), Rovaniemi (IATA: RVN, ICAO: EFRO).