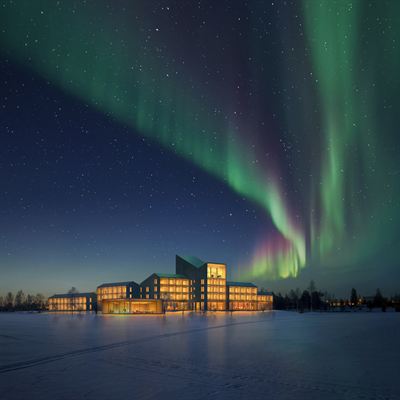 Finnair is taking to the skies virtually this holiday season, with eight special trips to Lapland to see Santa utilizing cutting edge virtual reality (VR) technology.
Finnair's VR flights start on December 25th and are available for just €10 per person, with profits going to UNICEF's fund to help children adversely impacted by the Covid–19 pandemic. But as well as being a brilliant way for children to fly on Santa's official airline and meet the man himself, these flights are an ideal showcase for how the travel industry could use new technology to enrich people's travel experiences.
The pandemic has accelerated interest in VR, but a lack of quality mainstream content has meant slow adoption beyond gaming. Finnair is now introducing special Santa flights that build on previous work showcasing Airbus A350 cabins at industry events, helping to make travel more accessible and fun despite the travel restrictions.
Finnair's first-ever VR flight has been developed in conjunction with Zoan, a Finnish VR studio, using Unreal Engine. This is the same 3D graphics platform that is usually used in the creation of the very best video games. For Laura Olin, Zoan's Chief Operating Officer, the most important thing when working with Finnair was ensuring that, while technology is the basis for the flight, it was made available and accessible to as many people as possible.
"Of course, most people don't have VR headsets, so the Finnair VR flight is browser-based. It'll offer a 360º view, so you can look around your seat at all times, but you can use your computer, your phone or a headset where you can utilize a browser if you have one."
This commitment to accessibility means the fewest possible barriers to eager travellers taking their very first flight in virtual reality. Olin says that, when Covid-19 struck, the opportunity for VR was obvious, but only if the experience could be made accessible.
"The core of what we do as a company is game engine based virtual reality," she says. "But when Covid started, we had no other option but to start figuring out how we could offer these experiences for people who don't have VR headsets."
Customers who take a Finnair VR flight will see the results from their virtual seat in Finnair's Nordic Business Class. They'll spend about 30 minutes flying beneath the Northern Lights enjoying festive soundscapes, decorations and refreshments served up by the virtual cabin crew before landing in Rovaniemi to see Santa's workshop. The VR flight will be packed full of surprises, and participants might even see a familiar festive character sharing their journey in one of the other seats.
Putting VR at the heart of travel
While Finnair's VR Santa flight is all about bringing festive cheer, it's just the start of an approach that will see virtual reality become a cornerstone of travel as people begin to take to the skies again.
"In the future, we see VR as a complement to physical flying," says Tiina Tissari, VP, Finnair Customer Experience and Products. "I can envision the value of VR as a way to help people choose their travel destinations from several options so that they could learn more about the options at hand and then decide where they're going based on that."
Laura Olin agrees. "If you are planning to have a real-life visit to someplace it probably will be fun to get to know where you are going virtually first, or maybe compare options, then afterwards it will be nice to dig deeper or see something you missed during the actual trip."
Tissari says that VR will also be useful when getting to know the aircraft before boarding. "If we introduce new elements to flights, like new seats or services, people could get familiar with that. We can use it to support new launches and experiences."
Ready for virtual take off
For now, though, excitement is building ahead of Finnair's virtual take off on Dec 25th. "The benefit of virtual flying, compared to physical, is that we're not limited to any capacity," says Tissari. That means an unlimited number of customers can climb aboard and take their kids to see Santa this holiday.
As for the future, Tissari is hopeful that this shows how Finnair can successfully take a new approach to using VR technology in travel.
"In the future, we see a lot more opportunities to collaborate with different technology companies," she says. "This first pilot has been done in a short time, so we haven't had the time to explore more opportunities, but we're keen on doing that going forward."