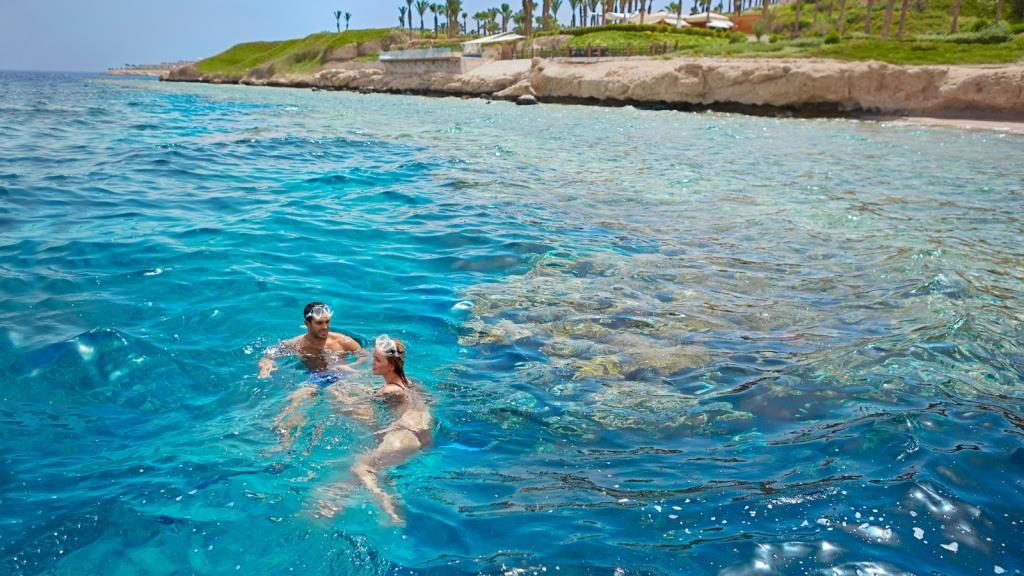 At Four Seasons Resort Sharm El Sheikh, every meeting or event holds the promise of enchantment and endless possibility. A short haul from both Europe and the Middle East, and located just 10 minutes from the international airport, the Resort unveils the second largest conference centre in this magical destination in early 2022. Whether planning an intimate gathering or large gala event, a corporate conference or a destination wedding, this Resort brings together natural beauty, year-round sunshine and the utmost in Four Seasons personalised service.
Nestled between the shores of the Red Sea and the stunning vistas of the mountain peaks, the Resort is an oasis of tranquillity and Egyptian wonders that are sure to impress event guests. A major expansion and enhancement project doubles the size of the Resort with new accommodations and event facilities with a unique layout mirroring an intimate Arabian village, while the Resort's lush gardens and private beaches offer beautiful and secluded spaces for remote working or relaxing.
Ranging in size from 60 to 750 square metres (645 to 8,000 square feet), Four Seasons Resort Sharm El Sheikh conference centre offers some of the best facilities for high-end meetings. Whether planning a small gathering or the most lavish gala event for up to 2,000 guests, hosts can take their pick from a huge choice of indoor and outdoor event spaces, each set in beautiful and unique surroundings. Guests could be enjoying a cocktail reception in the sun-kissed beachfront gardens, or taking in the grandeur of the new ballroom Tiran, with its breath-taking views of the Red Sea, desert and mountains.
This magnificent, dramatic setting is a wedding venue like no other. Whether it's an intimate gathering for 30 guests or a royal celebration for up to 2,000 guests, couples can host their wedding in any number of picture-perfect locations throughout the Resort. This includes the three gorgeous gardens overlooking the Red Sea, such as the Royal Palm Garden with its magical panoramic backdrop of lush palms, mountain vistas and sparkling sea blues. The hotel's skilled team of wedding specialists are on hand to make every dream come true, including on-site floral artist Malak Taher, who can customise any space with stunning bespoke arrangements.
Everything around the wedding is wrapped up in the Arabian fairy tale, from the luxurious and secluded accommodations that all guests enjoy, to enriching experiences such as coral reef diving and desert trek adventures. This is an ideal destination for the wedding couple to take an extended break with their friends and families, even making use of the luxury spa for bachelorette parties or those big day preparations. A skilled team of events specialists are on hand to look after every detail of the event, as well as keep guests engaged with fun activities and enriching experiences.
The Resort has the largest collection of luxury accommodations in Sharm El Sheikh, available with secluded terraces, private pools and dazzling sea views. These spacious and beautifully designed suites are ideal for event guests who want to work in peace and privacy, or relax while soaking up their wondrous surroundings.
There is no limit to how each event can be tailored and personalised, event guests and delegates can take advantage of the Resort's huge array of world-class leisure facilities. With relaxation in mind, seven swimming pools are dotted across the Resort, as well as a spa pool and poolside beverage services for those perfect moments of tranquillity. Guests can also feel the golden sand between their toes at the two private beaches, while the Resort's PADI dive centre enables beginners and experienced divers alike to discover the hidden treasures of the Red Sea. For activities on land, guests can experience the historical wonders of the desert by taking a four-wheel drive safari or camel ride. And when the day's adventures are over, the enchantment continues with al fresco dining at the Resort's 12 bars and restaurants, where guests can enjoy a delicious meal under the stars, surrounded by Egypt's majestic landscape. For more privacy and unique experiences, hosts can also book selected restaurants and the luxury spa for private functions.