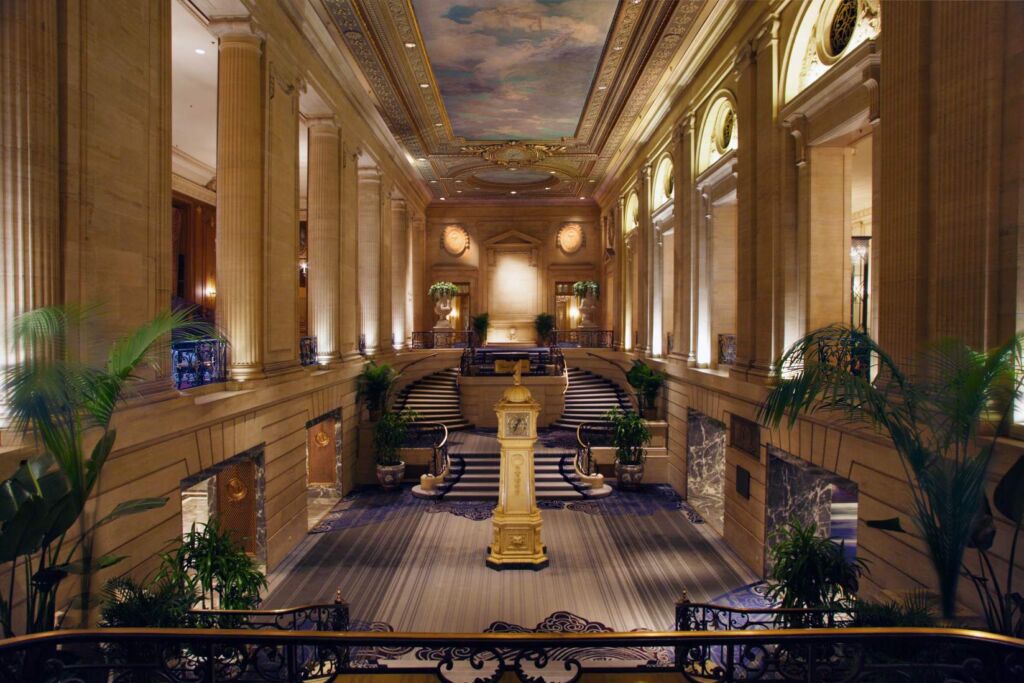 After being closed for more than a year, two of the largest and most historic Hilton hotels reopened in downtown Chicago this week. The 1,544-room Hilton Chicago and 1,641-room Palmer House, a Hilton Hotel are welcoming back guests with a number of celebratory experiences—and just in time for Palmer House's 150th anniversary.
Palmer House first opened on September 26, 1871. The hotel began as an extravagant wedding gift from Potter Palmer to his bride, Bertha, and was immediately regarded as one of the most luxurious hotels in Chicago. Just 13 days after its grand opening, Palmer House was destroyed by the Great Chicago Fire and was later rebuilt by founder Potter Palmer.
Palmer borrowed $1.7 million to rebuild the hotel and surrounding Chicago area, developing Lake Shore Drive and reimagining State Street, and welcomed its first guests again on November 8, 1873. Proving its staying power through the years, the Palmer House remains a steadfast beacon of light for the city of Chicago following a challenging year.
Known for many firsts and claims to fame, Palmer House is the birthplace of the original chocolate fudge brownie; the first fireproof hotel; the first to employ the vertical steam lift, which would later become the elevator; and the first hotel to use the lightbulb and telephone. The legendary Empire Room that first opened as a dinner club in 1933, quickly became one of the premier nightspots in the country hosting legendary performers of the silver screen.
Today, the grand history of the hotel is celebrated in the property's in-house history museum and archive. Guests can marvel at the striking grand lobby that dates back to the time when Bertha Palmer befriended Claude Monet in France, and began decorating the hotel with paintings and other artistic treasures inspired by her French heritage. The stunning lobby features include: Tiffany & Co. 24-karat gold "Winged Angels" that weigh 1.25 tons each; an intricately painted ceiling that features 21 Grecian murals by French artist Luis Pierre Rigal; Tiffany & Co. brass door handles; and 24-karat gold hinges and hardware throughout the hotel. Bertha's signature French Havilland bone china, valued at $1.8 million, is also on display.
Just a short drive down South Wabash Avenue sits Hilton Chicago, which has been one of the city's most cherished establishments for over 90 years. Its rich history boasts everything from hosting a banquet for Queen Elizabeth II to holding press conferences for former President Barack Obama. The hotel is conveniently located along the city's cultural mile on South Michigan Avenue, overlooking the beautifully landscaped grounds of Grant Park and Lake Michigan. Hilton Chicago's historic building includes the famous two-story Conrad Hilton Suite, one of 13 residentially inspired suites, and the largest hotel suite in the Midwest.
Throughout their history, the hotels have been intertwined. In 1945, Conrad Hilton went to Chicago to purchase the Stevens Hotel, the largest hotel in the world with three thousand rooms and three thousand baths. Hilton acquired the Stevens after a prolonged negotiation, and in the same day, Hilton bought the Palmer House. To manage both properties, Hilton hired a recently discharged U.S. Army Air Force Colonel, Joseph Binns. Hilton later reported in his autobiography, "I had gone to Chicago hoping to buy one gold mine and came home with two."
Reopening hotels of this size is no small feat. For months, team members have been preparing for arrivals. At Hilton Chicago, nearly 2,500 mattresses were flipped, 65,000 linens were laundered and 37,000 batteries were changed. The team at Palmer House vacuumed more than four miles of carpet and replaced 10,000 light bulbs. But the most exciting task of all at Palmer House is filling 14,600 gallons of water into the hotel's brand-new swimming pool, which uncovers the once-hidden vaulted glass-domed ceiling.