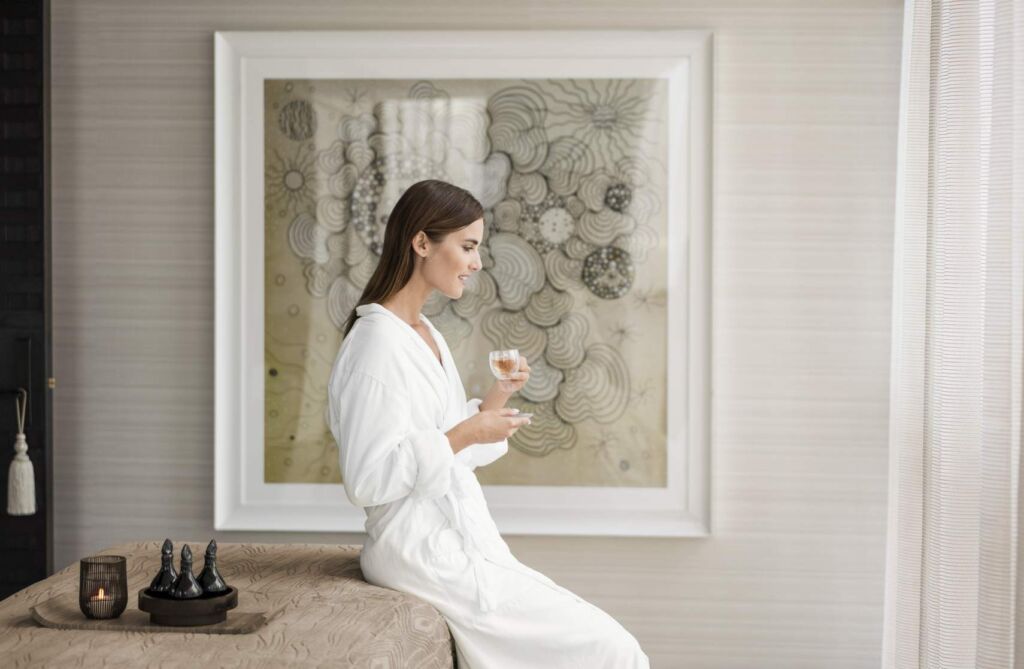 Four Seasons UAE unveils The Pearl Spa and Wellness brand, unifying and elevating the wellness offering across the group's three hotels and resorts in the United Arab Emirates. The brand's mantra is centred in wellness that connects, balances and inspires fulfilment and self-love. Guests can now enjoy signature treatments and rituals that are common between The Pearl Spa and Wellness Abu Dhabi, Jumeirah and DIFC with a host of experiences that are unique to each of the locations.
"Incorporating wellness into one's everyday life is empowering, enlightening and now more than ever, important," says Christelle Besnier, Senior Director of Spa, Four Seasons UAE. "We are proud of launching The Pearl Spa and Wellness UAE Collection, where our guests can take three different paths to self-love, balance and a healthy lifestyle. Whether at the distinctive Four Seasons Hotel Abu Dhabi at Al Maryah Island, the lush oasis at Four Seasons Resort Dubai at Jumeirah Beach or the inner-city cocoon at Four Seasons Hotel DIFC, guests can find the perfect suite of experiences to achieve their goals".
The Pearl Spa Experience is the signature journey designed for the three UAE Four Seasons spas. Guests can experience the same two-hour and a half ritual at each venue. The ritual includes a body exfoliation, a hair and body mask, body massage and a fresh facial. Every location delivers The Pearl Spa Experience with the same mastery, while evoking a true sense of place with products and fragrances unique to each environment. Notes of frangipani from the tropical resort energise the senses, black tea and myrrh radiate from the vibrant DIFC spa, while Arabesque aromas of za'atar and white fig provide a sense of calm at the capital hotel.
The Pearl Spa and Wellness Jumeirah – Four Seasons Resort Dubai at Jumeirah Beach
Set in a meditative enclave of lush greenery, The Pearl Spa and Wellness Jumeirah offers wellness seekers ten treatment rooms including the Arabesque-inspired VIP suite with a private courtyard. A tranquil indoor pool sets the perfect atmosphere for meditation, with natural light trickling in from the glass ceiling and reflecting softly off the aesthetic stone walls and columns. The fitness centre is equipped for cardio, bodyweight, balance and strength workouts with stand-out equipment such as Woodway treadmills, Technogym Skill line and Life Fitness ellipticals with live on-screen sports broadcast.
Guests can find their glow with bespoke treatments utilising some of the world's most celebrated skincare brands. The Trilogy of Pearls facial series, use exclusive serums from Dr Burgener, created solely for The Pearl Spa and Wellness Jumeirah, is inspired by the power of the sea and pearls. Chemical-free and vegan holistic treatments featuring Sodashi products as well as results-driven Biologique Recherche therapies with bio-electrostimulation, complete the impressive suite of experiences.
A wide range of massages, detox experiences, yoga styles and meditations are available to compose personalised wellness programs for those with specific goals.

The Pearl Spa and Wellness DIFC – Four Seasons Hotel Dubai International Financial Centre
Where the city is most kinetic, The Pearl Spa and Wellness DIFC offers a welcome sanctuary to those seeking a sense of inertia. The Spa's five treatment rooms are designed with a splash of modernity, with some offering dreamy Burj Khalifa views. The Pearl Spa and Wellness DIFC places treatments, fitness and recreation on the same level, quite literally, with the well-equipped fitness centre and iconic glass pool sprawled across the Hotel's seventh floor.
The spa menu features unique experiences suited for travel recovery and the bustling city life. The HydraFacial selection stands out for producing immediate results and is perfect for guests looking to rejuvenate "airplane skin" or achieve an instant glow before a night out. Chemical free and vegan products are also a highlight, including those used for the range of Arabian-Oud holistic face and body treatments. The Cold Detox Massage is another fan-favourite and is perfect for the hotter summer. Using ice-cool sticks, the massage also aids in recharging muscles for the perfect post-workout pick-me-up. Guests who book a spa treatment can lounge away at the pool deck against a skyscraper speckled backdrop.
The Pearl Spa and Wellness Abu Dhabi – Four Seasons Hotel Abu Dhabi at Al Maryah Island
Calm, luxurious and radiant with light, The Pearl Spa and Wellness Abu Dhabi celebrates the water with abundant fountains, waterfront views, and easy access to the pool terrace, located on the same, third level. All of the eight spacious treatment suites feature private showers for the utmost comfort and luxury. Two fully separate fitness centres welcome men and women, both having floor-to-ceiling, wall-to-wall windows overlooking the water. Zen relaxation rooms with waterfront views provide a relaxing sanctuary before, after or in-between treatments.
An immersive journey, the Gold Quartz Healing Therapy cocoons guests in heated quartz sand before applying a herbal poultices massage. Reiki infused eye patches combine with marma point face therapy to complete the experience, leaving guests feeling regenerated and radiant.
Those seeking impact and effective results would also appreciate the suite of Biologique Recherche and HydraFacial therapies.