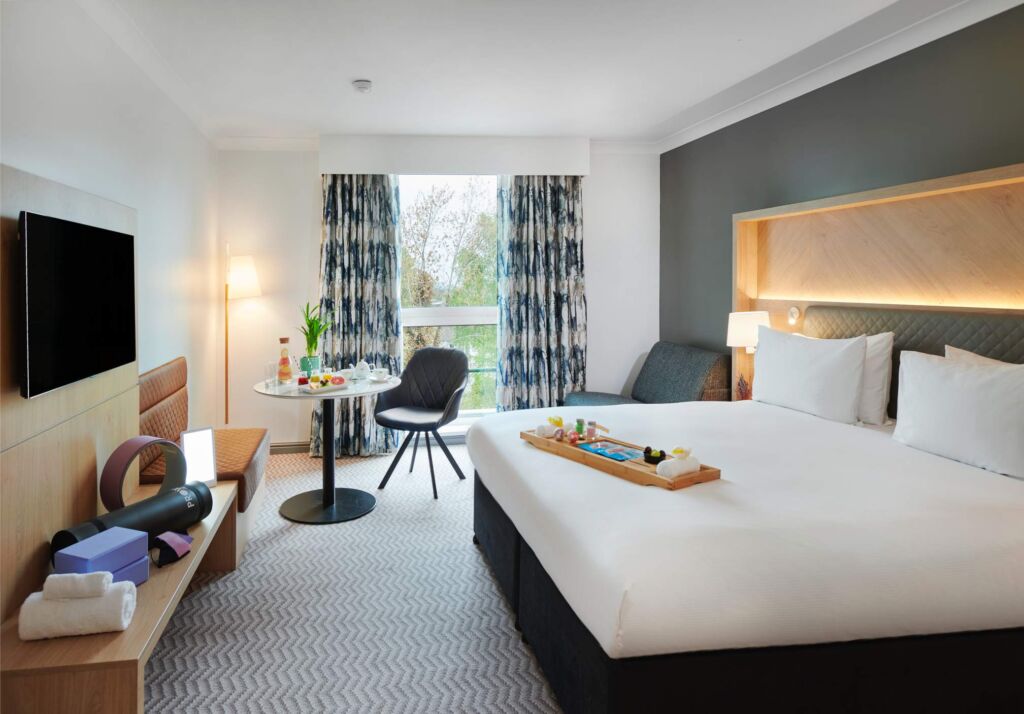 Coinciding with Global Wellness Day on June 12, 2021, Hilton London Croydon is launching new Wellness Guest Rooms for guests to enjoy a more relaxing and mindful experience during their stay. While taking care of yourself should be a priority every day, Global Wellness Day provides a reminder to pause and be free from the stresses of everyday life.
Donata Palev, general manager, said "Taking care of our wellbeing, both physically and mentally, allows us to thrive. Here at Hilton London Croydon we have created wellness bedrooms where guests can relax, recharge, get quality sleep, make time for themselves and increase energy levels, whether travelling for work or leisure. This is particularly important during these unprecedented times."
The new Wellness Guest Rooms feature eight elements of rejuvenation: Air, light, scent, taste, hydration, relaxation, fitness and sound.
Air: Our room features an air purifying plant to help improve air quality, relaxation and sleep.
Light: Our Himalayan salt lamps help relieve anxiety, whilst improving air quality, mood and energy levels. It is believed this type of light causes a chemical change in the brain that lifts your mood and improves sleep.
Scent: Lavender is believed to relieve stress, improve mood, promote restful sleep and lower skin irritation. Inside your room you'll discover the soothing aroma of lavender, and you're assured a peaceful rest with a lavender pillow spray.
Taste: Start the day with a fruit smoothie filled with vitamins and antioxidants and choose from a selection of healthy options from our breakfast menu. A well-balanced diet provides all of the energy you need to keep active throughout the day and nutrients you need for growth and repair to help you stay strong and healthy.
Hydration: Indulge with a selection of organic Hope & Glory teas and fruit infused water to feel refreshed and hydrated. Being well-hydrated also improves sleep quality, cognition, and mood.
Relaxation: Pamper yourself in the bath with the luxuries on the wellness tray, including a facial mask, bath salts, bath bomb and bathing flowers, then wrap yourself up in the plush bathrobe and try some deep breathing exercises. Relaxation slows our heart rate, reduces our blood pressure and relieves tension.
Fitness: Your room features a yoga mat, resistance bands, yoga blocks and a yoga ball, allowing you the tools for mind and body exercises. For more intensive exercise, guests can visit our 24/7 gym. When you exercise regularly, you may feel more competent and confident in your body, which in turn promotes mental wellbeing.
Sound: Lie down on your Hilton Serenity bed and relax with either your favorite guided meditation app or switch on the bedside radio to help de-stress from the day. Slow-paced instrumental music can induce the relaxation response by helping lower blood pressure and heart rate as well as stress hormones.
Hilton London Croydon is just 17 minutes on the train from London and a 30-minute drive from Gatwick Airport and provides a complement of services and brand amenities, including 168 guest rooms with Digital Key access, 15 meeting and events rooms for up to 400 guests (with an exclusive use zone), restaurant and bar with 24-hour room service, fitness center and free Wi-Fi in public areas for all to use and in bedrooms to Hilton Honors members who book directly with Hilton.
Hilton London Croydon has implemented Hilton CleanStay, Hilton's new industry-defining standard of cleanliness and disinfection, developed with RB, maker of Lysol and Dettol, to help guests enjoy an even cleaner and safer stay from check-in to check-out. Building upon the already high standards of housekeeping and hygiene at Hilton properties worldwide, Hilton CleanStay provides a focus on cleanliness that is visible to guests throughout their entire stay experience – in guest rooms, restaurants, fitness rooms and other public spaces.
The hotel is also offering WorkSpaces by Hilton reservations, providing a work-from-hotel solution for corporate guests and individuals seeking a new working environment to increase efficiency in their workday. When booked, guests can access a private, standard guest room and complimentary Wi-Fi during workday hours. During their stay, guests can also access hotel amenities, including room service and the fitness center.