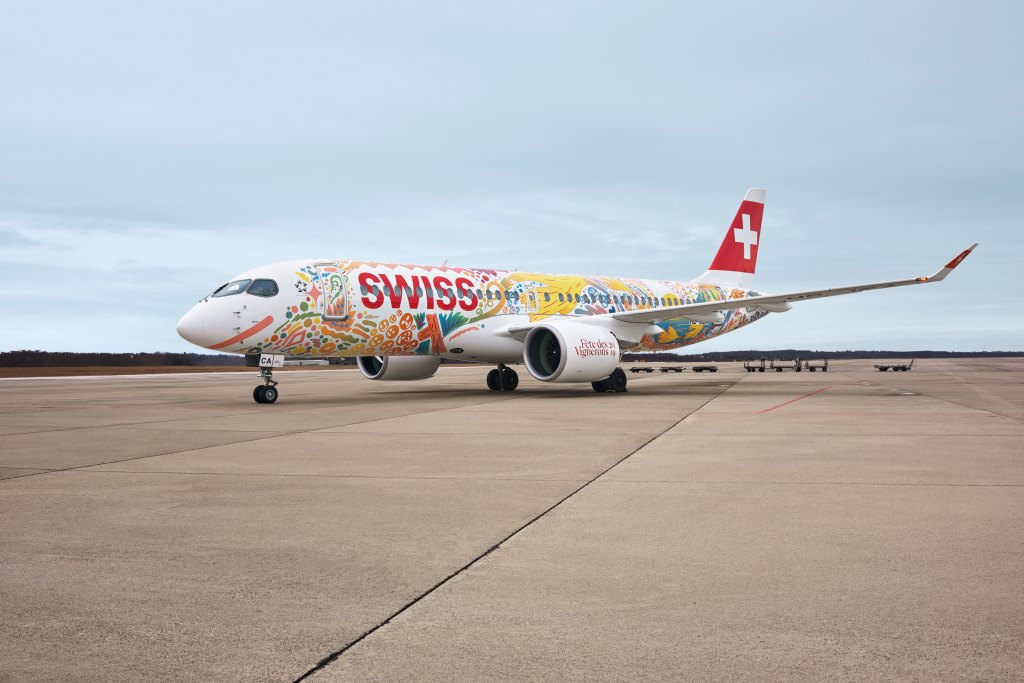 SWISS has seen a recent rise in bookings and in June and July SWISS will newly fly or resume services to 49 destinations from Zurich and Geneva. The airline will operate a total of 125 routes, 85 from Zurich and 40 from Geneva, with a particular focus on leisure and visiting-friends-and-relatives travellers.
With continued progress on the COVID-19 vaccination front and easings of international travel restrictions, Swiss International Air Lines (SWISS) has registered a recent rise in bookings for the coming summer season. SWISS Mediterranean destinations – such as in Spain, Portugal, Greece and Italy – are proving particularly popular. On the intercontinental front, flights to North America and the United Arab Emirates are in the greatest demand. SWISS is confident that the flight programme on offer will be well received by the market. The present programme is primarily aligned to tourist and visiting-friends-and-relatives travellers, though it has also been designed to meet the needs of the company's business travel customers.
SWISS will operate a total of 125 routes in high summer 2021 – 85 of them from Zurich and 40 from Geneva. The company will provide new or resumed services to 24 destinations from Zurich and Geneva in June and to 25 further points in July. In structural terms, however, this overall capacity is still substantially below the volumes offered before the present pandemic: even in high summer, it is only expected to be at some 50 to 55 per cent of its 2019 levels.
A wide range of popular destinations
SWISS will resume recently-suspended services to numerous destinations from Zurich and Geneva over the next few weeks. From Zurich these include the European destinations of Amsterdam, Bordeaux, Brindisi, Cork, Florence, Heringsdorf, Ljubljana, Marseille, Milan and Oslo. Long-haul services to Cairo and Los Angeles will also be restored. And new services will be offered from Zurich to Billund and Tallinn.
Travellers from Geneva will enjoy direct SWISS services to Alicante, Biarritz, Brindisi, Catania, Corfu, Faro, Heraklion, Ibiza, Mykonos and Thessaloniki. SWISS will also be newly adding Funchal, Ponta Delgada, Santorini and Split to its Geneva-based network.
Still full rebooking flexibility
SWISS continues to offer its customers full rebooking flexibility. Tickets for all fares which are issued on or before 31 July 2021 remain rebookable free of charge any number of times up to this date. One further free rebooking is also possible thereafter. The flight can be rebooked for any date within the ticket's validity up to 31 July 2022. Subject to availability, travellers may also change their travel route, such as from Zurich-Johannesburg to Zurich-New York. Rebookings may entail additional costs if, for instance, the original fare category is no longer available on the new travel date, or in the event of a change of destination.
SWISS lobbying for digital health certificates
SWISS is systematically advocating the development and adoption of digital health certificates. "It's a major aim of ours to make our customers' air travel simple and reliable," explains Tamur Goudarzi Pour. "And what SWISS travellers need for this summer is a standardized and internationally recognized digital health passport certificating their vaccinations, their COVID test results and/or their COVID recovery."
On selected SWISS routes, customers can already upload their COVID-19 test results online before they embark on their travels. These will then be verified to ensure that the traveller knows before they depart whether they meet the authorities' requirements at their destination. SWISS is also trialling the IATA Travel Pass on its Zurich-London Heathrow route, and is further broadly trialling the Swiss-based BlueIcareUs Alliance initiative.