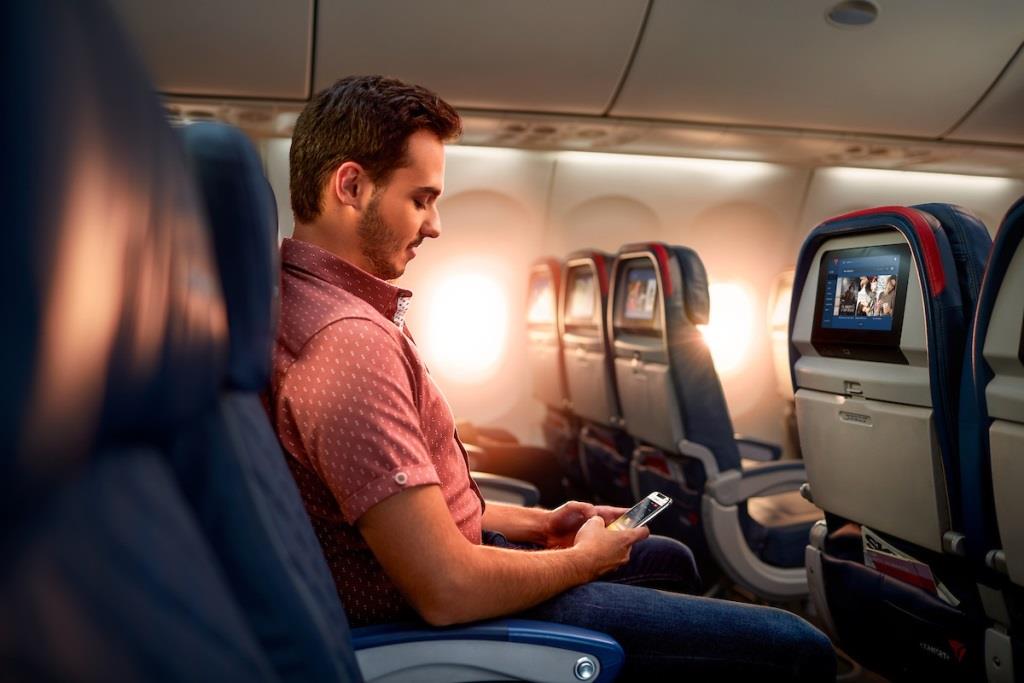 Customers returning to travel this summer will find a personal theater at 30,000 feet courtesy of Delta Studio, with new content coming onboard just in time for summer. Delta refreshes its in-flight entertainment options, celebrating Pride Month and featuring new hit movies, TV shows and podcasts. With a lineup that includes new hit movies, TV shows and podcasts from top studios – including Disney Media and Entertainment Distribution, Warner Bros., Universal, Sony Pictures, Paramount Pictures, ViacomCBS, HBO, Hulu and more – customers will have even more ways to enjoy their next flight on Delta.
"We want customers to have even more to look forward to onboard this summer, and that starts with giving them the very best entertainment at their fingertips," said Jaclyn Gonzales, Manager – In-Flight Entertainment. "From hit movies to premium TV shows, we've worked hard to make sure a great experience awaits onboard."
The summer refresh features more than 200 films, with 21 new releases that span a range of genres including action, comedy, documentary, drama and family. In June, customers can catch up on award-winning films, like "Nomadland," this year's Academy Award® Winner for Best Picture, Best Director and Best Actress; "The Father," for which Anthony Hopkins took home this year's Academy Award® for Best Actor; and "Judas and the Black Messiah," which features Academy Award®-winning Best Supporting Actor Daniel Kaluuya.
Delta is adding 166 new episodes of favorite TV shows onboard as well, with more than 17 new episodes and TV movies from premium partners HBO, Hulu, SHOWTIME® and ESPN. Key additions include Hulu Originals "Shrill" and "Animaniacs" and the SHOWTIME® Original Series "The L Word®."
More Ways to Celebrate LGBTQ+ Pride Month, additional curated collections
Delta is also celebrating Pride Month this June with a new curated spotlight collection featuring 13 films and series that celebrate love, diversity, acceptance and self-pride among the LGBTQ+ community..
A reflection of Delta's efforts to consciously promote inclusion, the collection was curated in partnership with EQUAL, an employee business resource group that serves as a consultant to the business and provides key insights on decisions related to the LGBTQ+ community.
Titles highlighted as part of the 'Celebrate Pride' collection include:
"The World to Come"
"RuPaul's Drag Race"
"Pariah"
"Schitt's Creek"
"Supernova"
"THE L WORD®" on SHOWTIME®
"Milk"
"Brokeback Mountain"
"Pose"
"Paris is Burning"
"Love, Victor"
"The Celluloid Closet"
In addition, a curated 'Across the Pond' collection will feature a variety of popular films and series set in the U.K. and surrounding countries, including favorites like "The Office (UK)," "Titanic" and new release "1917".
The airline will also spotlight ESPN's "30 for 30" podcasts – one of the top-performing series and podcasts onboard – adding 18 new episodes in June.
With seatback screens onboard nearly all of Delta's mainline fleet*, customers have even more ways to sit back and enjoy their next flight.