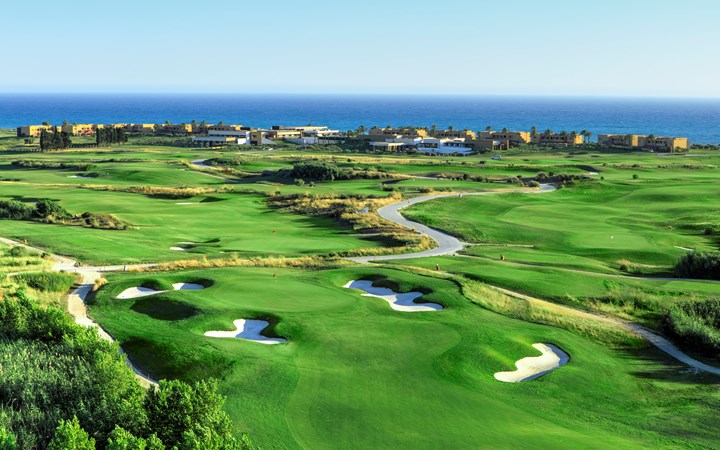 With Italy soon to be on the all-important green list, Verdura Resort, Sicily is now open for the summer season, with many reasons to welcome guests back.
NEW: Rocco Forte Private Villas
Verdura Resort is launching the first 20 branded Rocco Forte independent villas, overlooking the resort's sparkling bay. The new villas guarantee ultimate privacy and security for those who seek exclusive accommodation, combined with the unique services that have made Verdura Resort famous throughout the Mediterranean. Set on the hillside of the resort's expansive grounds, the 3 and 4 bedroom villas range from 200sqm to 300sqm and have large private pools set in landscaped gardens. Designed and styled by Olga Polizzi, their architecture is inspired by Sicily's natural beauty and incorporates the characteristic features of a traditional Sicilian 'baglio' building: wooden beams, flat roofs and external stairs. Ideal for multi-generational stays and groups of families and friends.
COMING SOON: Verdura Resort's Spectacular New Golf Course
After a significant renovation project, Verdura Resort's new East Course, their second 18-hole course, will be ready to unveil nine holes in August, with the second nine scheduled for completion in October. World-renowned golf architect Kyle Phillips has returned to the site of his original design in Sicily to work his magic again. The signature ninth hole offers trademark, incredible views across the Mediterranean, while asking some serious questions of accuracy, strategy and distance control with a slight dogleg design. Keen golfers can enjoy 27 holes in total in August, with 36 returning in the autumn.
Sicilian Secrets with Pierfilippo, Verdura Resort's 'U Canuscituri'
U Canuscituri in Sicilian means 'a connoisseur of the island'. Pierfilippo, Verdura Resort's U Canuscituri, hosts weekly outdoor lectures at the resort and shares a hidden side of Sicily with guests. Passionate about sharing his deep love and knowledge of his home, this local insider introduces guests to local communities, new flavours and fresh ways to explore and enjoy Sicily's beauty and bounty and can arrange special experiences around the island. Spend the day exploring small villages on the Sicani Mountains, and learn the history of the Sicanians, thought to be the oldest inhabitants of Sicily with a recorded name. Visit the archaeological site, visit the museum and meet shepherds, bakers, farmers, agronomists and artists to discover the history of the region and unlock the local secrets.
Fun for all the Family: Sports Academies with the Stars
Verdura Resort is home to nine fun sports activities and academies this year. Children can enjoy training with football coaches from Juventus, as well as trying their hand at fencing, beach volleyball and rugby. Verdura Resort's Golf Academy is led by a team of PGA professionals whilst the Junior Academy is coached by Giacomo Dovetta, rated one of the world's top 50 junior coaches by US Kids Golf. Alternatively, put your best foot forward with some hip-hop dancing or improve your moves with Karate and Muay Thai.
Partnership with Treedom
'Foresta Verdura Resort' is now enriched with 680 new plants, bringing the 230-hectare park's count up to 7,700 trees, including prickly pear, olive, orange, pomegranate and lemon varieties. To reinforce its commitment to the environment, Verdura Resort has partnered with Treedom, the first web platform in the world that allows individuals to plant a tree remotely and follow its growth online. To mark International Earth Day, Verdura Resort planted 200 new orange trees in Kenya, Tanzania, Haiti, Guatemala and Sicily on 22 April. As part of this initiative, the resort will help support the local farming communities in which the trees are planted, as they are able to use the fruits from the trees as a food resource or for income. Verdura Resort offers guests, customers and partners the chance to donate an orange tree and follow its lifecycle.