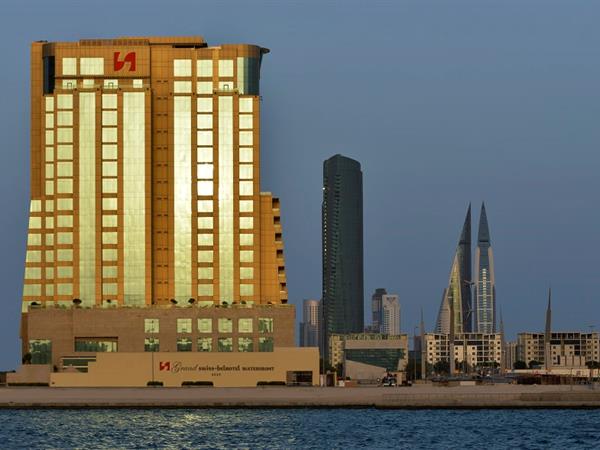 Swiss-Belhotel International expands its presence in the Middle East with the first 5-star hotel in the region – the Grand Swiss-Belhotel Waterfront, Seef, Bahrain. It marks the entry of the upscale brand in the Middle East bringing unique experiences to affluent travellers to the Kingdom. The spectacular hotel was inaugurated under the patronage of H.E. Zayed Rashid Al Zayani, the Minister of Industry, Commerce and Tourism for the Kingdom of Bahrain.
Present at the ribbon-cutting ceremony were also H.E. Sheikh Fahad bin Salman bin Abdulla Al Khalifa of Al Wajeha Al Bahrya Co LLC, Mr Laurent A. Voivenel, Senior Vice President – Operations & Development, EMEA & India; Senior Vice President – Group Human Resources & Talent Development, Swiss-Belhotel International, and Mr Fakhri Hindiyeh, General Manager of Grand Swiss-Belhotel Waterfront, Seef, Bahrain.
H.E. Sheikh Fahad Salman bin Abdulla Hamad Al Khalifa said, "We are committed to supporting the growth and development of tourism in Bahrain and ensuring the highest standards of quality. The Grand Swiss-Belhotel Waterfront, Seef, Bahrain reflects the extraordinary spirit and genuine hospitality of Bahrain in a contemporary setting. We are delighted to bring this premium and elegant hotel to fruition in collaboration with the Swiss-Belhotel International team and want our guests to experience beautiful moments whether travelling for work or pleasure or simply enjoying a staycation. We hope our guests will feel inspired and enriched by their stay at The Grand Swiss-Belhotel Waterfront, Seef, Bahrain."
Mr Laurent A. Voivenel stated, "We are proud to announce the opening of the Grand Swiss-Belhotel Waterfront, Seef, Bahrain and thrilled to partner with H.E. Sheikh Fahad bin Salman bin Abdulla Al Khalifa of Al Wajeh Al Bahrya Co LLC. It is a significant milestone for us and a tremendous step forward in our growth momentum. This spectacular upscale hotel, with arguably the biggest room sizes within its league, is the perfect property to introduce our 5-star brand the 'Grand Swiss-Belhotel' in the Middle East. We strongly believe it is an excellent addition to not just our portfolio but also the destination and look forward to delivering unforgettable and immersive experiences to our guests. Our top priority is the health, safety and well-being of our guests, team members and business associates."
Centrally located on the sea banks of the upscale Block 346, also known as Sea Front, in Al Seef district in Bahrain. The Grand Swiss-Belhotel Waterfront, Seef, Bahrain is merely 12.6 km from Bahrain International Airport, and is situated between the picturesque Al Reef Island and Water Garden City overlooking the Arabian Gulf. Only a few minutes away from the property are the City Centre, Bahrain's Financial Harbour, World Trade Centre, and Diplomatic area, making it the ideal choice for leisure and business travellers.
Featuring 193 uniquely designed rooms and suites, and 6 well-appointed chalets where sophistication meets contemporary style, the Grand Swiss-Belhotel Waterfront, Seef, Bahrain is equipped with outstanding facilities. Accommodation choices range from Superior Rooms to Deluxe Rooms, Executive Suites, The G Club Balcony Rooms and Suites, the gorgeous 16th-floor Suites and Chalets.
Placing guests at the heart of a fascinating environment are the charming chalets boasting distinctive facilities and incredible experiences with beautiful spaces, a private swimming pool, large balconies overlooking the tranquil Seef and Reef Island and the mesmerizing Arabian Gulf, two-car garage, ensuite bathrooms and kitchenette.
Grand Swiss-Belhotel Waterfront, Seef, Bahrain promises to take diners in Bahrain on extraordinary dining adventures with fantastic food and beverage venues to suit every occasion and mood. Exceptional menus, breath-taking settings, authentic cuisines, and world-class service paired with the chefs' creativity and passion, define the dining experiences at the property. Part of the multiple dining venues is Azure Cafe, Waterfront Restaurant, Sea Banks Pool Bar, Fattoush Lebanese restaurant, El Maestro Asador steakhouse, and Maestro bar.
Laurent stressed, "The Grand Swiss-Belhotel Waterfront, Seef, Bahrain" offers everything guests need to enhance their experience. A genuine and warm welcome with a rich selection of facilities and amenities set the scene for an unforgettable stay. From sunrise to sunset every moment here is crafted around our guests and designed to delight and reawaken the senses to reconnect with family and friends in complete harmony."
The Grand Swiss-Belhotel Waterfront, Seef, Bahrain's extensive guest services and facilities also include a fitness centre offering the latest exercise and cardio machines from Precor, sauna, steam bath, temperature-controlled outdoor swimming pool, two multi-purpose meeting rooms and a ballroom for up to 400 guests, business centre, concierge, 24-hour in-room dining, laundry and dry cleaning, spacious parking area and valet service.
Data from the International Monetary Fund (IMF) has suggested Bahrain's economy will grow by 3.3 per cent this year thanks to a range of government-enacted initiatives including the launch of a five-year tourism plan and the nationwide vaccine rollout. Another important development in the Kingdom is the opening of a new terminal at the international airport. It is expected to increase capacity by around five million people. Bahrain is also an early adopter of the vaccine passport and is among the few countries to have its national vaccine passport.