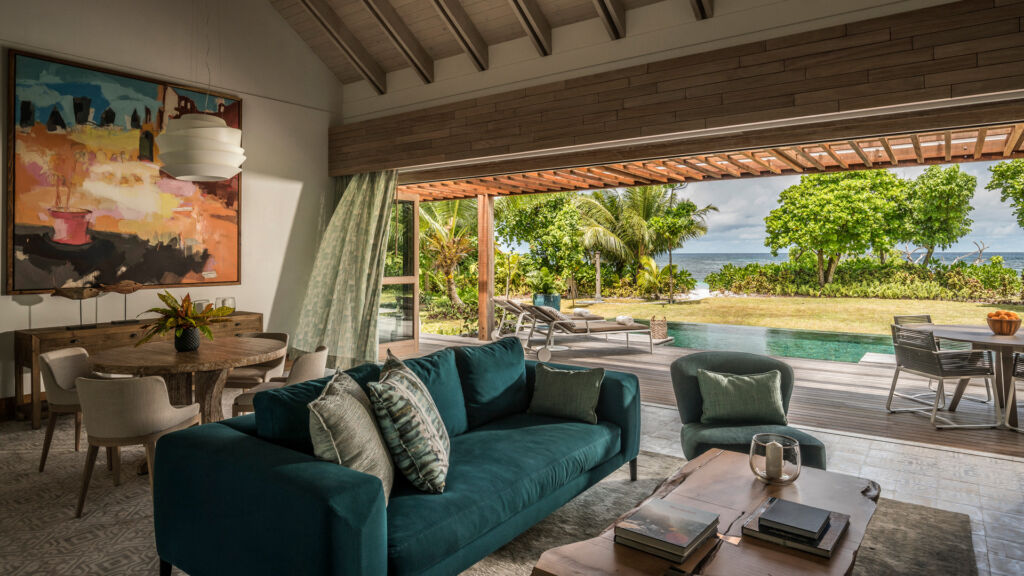 Four Seasons Resort Seychelles at Desroches Island will fully reopen its doors on March 15, 2021, having welcomed guests for stays in its Private Retreats only since mid-December.
As a destination, Seychelles will reopen international borders to all countries, aside from South Africa, with no quarantine requirement, as from March 25, 2021, allowing guests from across the world to soon enjoy carefree castaway days on the shores of Desroches, where health and safety remain front of mind through Four Seasons new global Lead With Care program and contactless Chat experience.
Located in the remote beauty of the Outer Amirantes, Desroches Island is reachable via a 35-minute scenic domestic flight from Mahé, with guests stepping straight off the flight on to the island's private runway and directly into the Resort as part of the seamless arrival process. As the only Resort on the four-mile (6.4 kilometre) long island, guests have every opportunity to design each day with their own custom blend of discovery and relaxation, with an extensive choice of island activities available.
"We are so thrilled to be fully reopening the Resort," says Nick Solomon, Resort Manager. "Over the past few months we have had chance to welcome guests for stays in our multi-bedroom Residence Villas, but to once again be reopening the entire Resort, is the moment we have been waiting for. Whether guests are looking to explore our nine miles (14.5 kilometres) of beaches, cycle through towering palm trees while on the lookout for wild-roaming Aldabra tortoises, or heading below the water to discover one of 14 classified dive sites, there is no end of the options available to enjoy here in Desroches, and with the utmost care, the team and I are looking forward to helping guests make the very most of their vacation with us."
Twice the Paradise – A Seychelles Discovery
For the opportunity to experience both Four Seasons Resorts in Seychelles, the new Twice the Paradise – A Seychelles Discovery offer provides all the reason to stay longer in the island destination, with the benefit of two complimentary nights at Four Seasons Resort Seychelles for all bookings of seven nights or more at Four Seasons Resort Seychelles at Desroches Island. Permitting greater flexibility for international flight connections or aiding departure PCR test requirements (when applicable), the complimentary nights on Mahé are offered in a Garden-View Villa may be taken in any order in conjunction with the Desroches stay.
Domestic Flights and Private Jets
As from March 15, return domestic scheduled flights to Desroches will operate on Thursdays and Saturdays, while private charters will be available daily. For guests looking for the widest flexibility, the Resort's Island Retreat offer includes round trip private charter flights for a minimum stay of three nights, plus daily breakfast, lunch and dinner.
Private jets are welcome in Seychelles with prior government approval and with Desroches having its own runway, jets may land directly to the island (subject to fees and local authority approval).