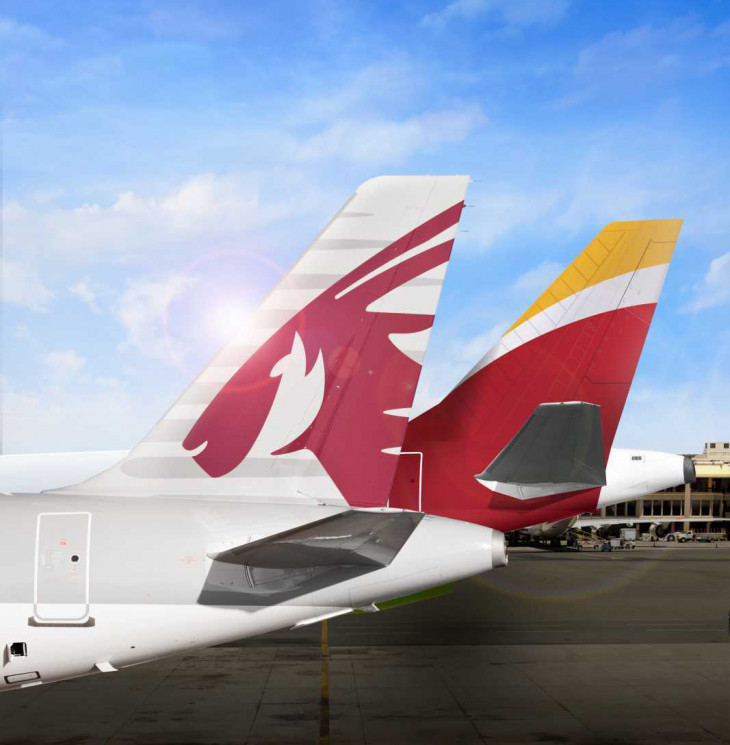 Iberia and Qatar Airways have extended their codeshare agreement. This collaboration will strengthen the connectivity of both airlines and offer its customers more destination options around the world.
Iberia has increased its network of routes in codeshare with Qatar Airways from 29 to 36. In addition to putting its code on the direct route Barcelona – Doha, which joins Madrid – Doha, from the Qatari capital, Iberia customers will be able to continue to Luanda in Angola, Brisbane in Australia, Maputo in Mozambique, Auckland in New Zealand, and Cape Town and Johannesburg in South Africa.
In total, Iberia already offers its customers 36 routes in 19 countries in codeshare with Qatar Airways: Angola, Armenia, Australia, Bangladesh, Ethiopia, Hong Kong, Indonesia, Kenya, Malaysia, Mozambique, New Zealand, Pakistan, Qatar, Seychelles, Singapore, Sri Lanka, South Africa, Tanzania and Vietnam.
Likewise, Qatar Airways customers can now book 40 codeshare destinations with Iberia; the last to join were Dakar, Sao Paulo, Santiago de Chile, San Salvador and Guatemala City.
All these codeshare flights are now on sale and can be booked to fly today.
Iberia's Executive Director, Javier Sánchez-Prieto, commented: "The extension of the codeshare agreement with Qatar Airways is very good news. At Iberia we work so that, once countries eliminate their restrictions, we can offer our clients a network of destinations that is as global as possible. Collaboration with our partner in the one world alliance makes it easier for us to reach new markets in Africa and Australia and improves the connectivity we offer between Spain and the rest of the world, with a service of such high quality as the one that characterizes Qatar Airways. ".
For his part, the Executive Director of Qatar Airways, Akbar Al Baker, stated: "We are delighted to expand the codeshare collaboration with Iberia, the main Spanish airline and one of the most prominent in the connection between Europe and Latin America. Despite the challenges of 2020, our priority has been to maintain attractive connectivity for our customers. Qatar and Iberia have been benefiting from this collaboration since 2017, which has given their customers greater flexibility in travel options and impeccable connectivity. As international traffic recovers, we hope to continue expanding our collaboration with Iberia, as well as continuing to offer our clients the 5-star service they expect ".
As partners of the one wolrd alliance , both Qatar Airways Privilege Club and Iberia Plus will maintain the status of customers in the respective loyalty programs of both airlines, allowing them to benefit from access to the Premium Lounge lounges they have all over the world , a greater baggage allowance or priority check-in and boarding, among other advantages.