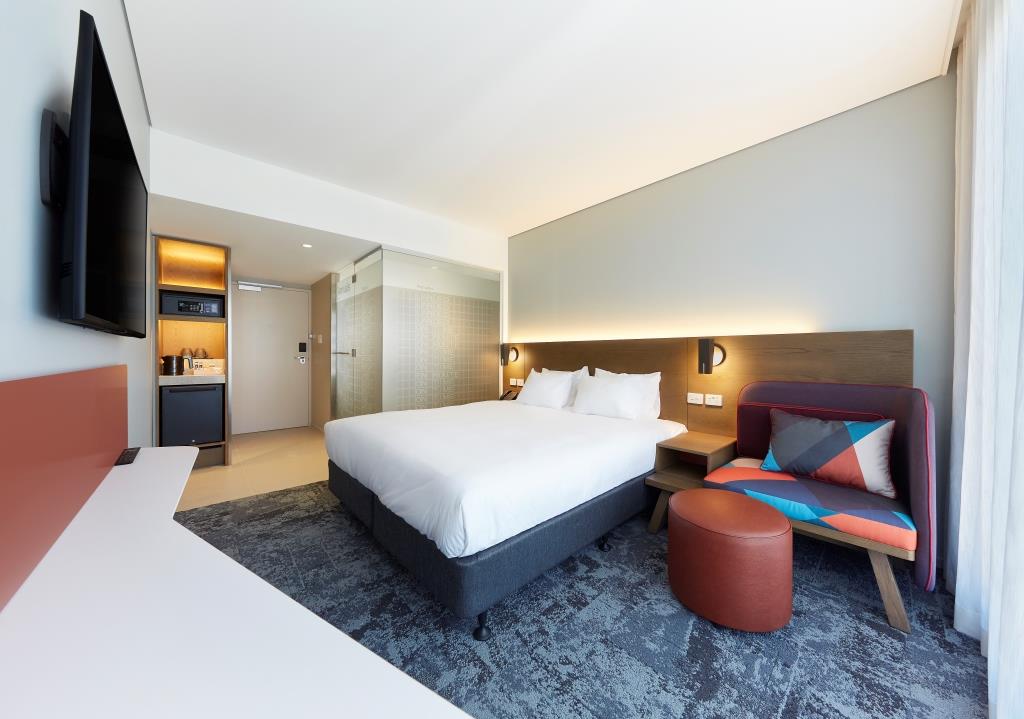 Holiday Inn Express has today opened its first airport hotel in Australia: Holiday Inn Express Sydney Airport. Opened in partnership with Pro-invest Group, the new-build hotel is located on the doorstep of Sydney's domestic airport terminal and minutes away from the international terminal, making it an ideal home to welcome the increasing number of Trans-Tasman and domestic arrivals, as travellers start to step out and explore.
The 247-room, 8-storey hotel is inspired by the jet-setting ambiance of the local surrounds, featuring aeronautically-themed motifs throughout the hotel. Starting at the lobby entrance, two large vintage propellers are displayed, followed by wayfinding signage in the guest lifts as a nod to those found around the airport terminal. The gym and meeting room walls are reminiscent of runways, and the hotel has its own 'business lounge' inspired by the classic airport concept. The airport motifs continue throughout the hotel guestrooms, with bathroom shower screens printed with airport arrival and departure signage.
Each room at Holiday Inn Express Sydney Airport features everything the smart traveller needs – including power showerheads to freshen up, a choice of pillows, black-out blinds and high-quality bedding for the perfect night's sleep, and free uncapped Wi-Fi to catch up on news and reconnect with family and friends.
The hotel also features two meeting rooms, flexible workspaces, free business centre, self-service laundry and on-site carparking. Early departures and late arrivals will also appreciate extra steps taken for convenience, including Grab & Go breakfast options and snacks, beverages, and barista-made coffee available 24/7.
Holiday Inn Express Sydney Airport is the seventh Holiday Inn Express hotel opened by Pro-invest Group, since 2016, following the launch of Sydney Macquarie Park, Brisbane, Adelaide, Newcastle and Melbourne Southbank hotels in Australia, and Queenstown in New Zealand.