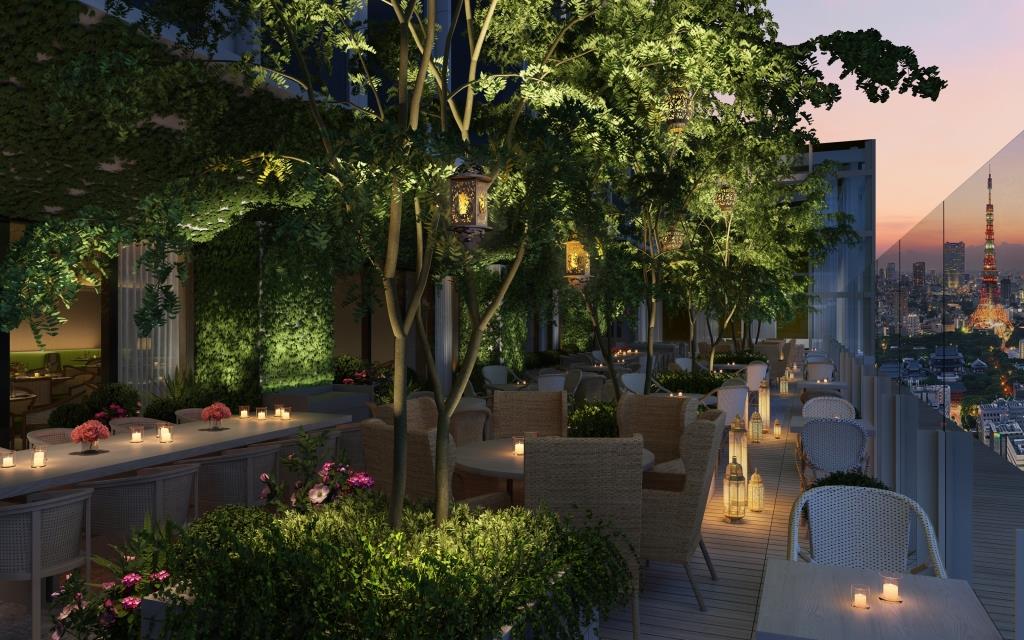 The premiere of The Tokyo EDITION, Toranomon represents a very delicate balancing act between the refined, elegant, simple and pure approach of Japan's culture, style and traditions and EDITION's passion, emotion, sophistication, perpetual subversion of the status quo and desire to break rules to create something entirely new and that has never been seen before. As a result of this unlikely combination, a new entity emerges out of these two disparate approaches whose sum is greater than its individual parts. This symbiosis is what makes the end result so magical. The Tokyo EDITION, Toranomon is a true bespoke, custom-made hotel embodying the best of the East and the best of the West. It defies categorization and simply cannot be placed into a box. It has its own unique and original identity. It's an urban resort in the middle of a dynamic world-class, 24-hour, international gateway city filled with excitement and promise. Designed in partnership with renowned architect Kengo Kuma–the architect of the Olympic Stadium in Tokyo and many other iconic buildings–the hotel allows you to experience the essence and spirit of Tokyo without ever having to leave the premises.
The Tokyo EDITION, Toranomon brings together a dream-team collaboration between Marriott International, Ian Schrager and Mori Trust, led by its brilliant visionary president and CEO, Miwako Date. It also marks a very special "homecoming" of sorts for Marriott International CEO Arne Sorenson and EDITION brand creator Ian Schrager. The opening is especially poignant for Sorenson, who was born in Tokyo and feels a special connection to the city, and Schrager, who has been profoundly influenced by and long revered the purity, simplicity, elegance and refinement of Japanese culture and aesthetics. This has become the foundation of his career, evident throughout his work and many projects dating back to Studio 54 in 1977.
The Tokyo EDITION, Toranomon is also a microcosm of all the best that the vibrant city of Tokyo has to offer, with something for everyone, both a respite from the fast pace of city life and a lively and dynamic destination both day and night. Centrally located near the metro stations of Kamiyacho, Roppongi-Itchome and Toranomon and steps away from Tokyo's best neighbourhoods and attractions, the hotel is housed within Tokyo World Gate, a new 591ft (180m), 38-story mixed-use skyscraper, where it occupies floors 31-36 and commands jaw-dropping unobstructed views of the Tokyo skyline and the absolute best view of the landmark Tokyo Tower from anywhere in the city. Guests feel as though they can reach out and touch the 1,000ft (305m) tower!
With an infinite array of possibilities, the 206-room hotel's public space features over 10 distinctly unique entertaining and working spaces to suit every mood. The restaurants, bars and entertainment areas are a cacophony of black, blue and jade and were inspired by the precious stones and extremely rare elements—sapphire, Japanese jade and gold. Throughout the spaces, authentic, natural, honest materials such as walnut, oak, bronze, travertine, glass and silk are juxtaposed with yamato-bari, a traditional Japanese wood cladding, and exotic greenery to create an eclectic mix of elements that cannot be categorized as one type of design or look. However, there is a clear reverence to Japanese culture in the most subtle of ways.
The restaurants are spearheaded by world-renowned, award-winning Michelin-starred chef Tom Aikens known for his ability to creatively execute a variety of different cuisines from around the world in an inventive and totally original way.
The Tokyo EDITION, Toranomon officially opens on Tuesday, 20th October 2020.
Check new hotels in Tokyo opened in 2019 and 2020