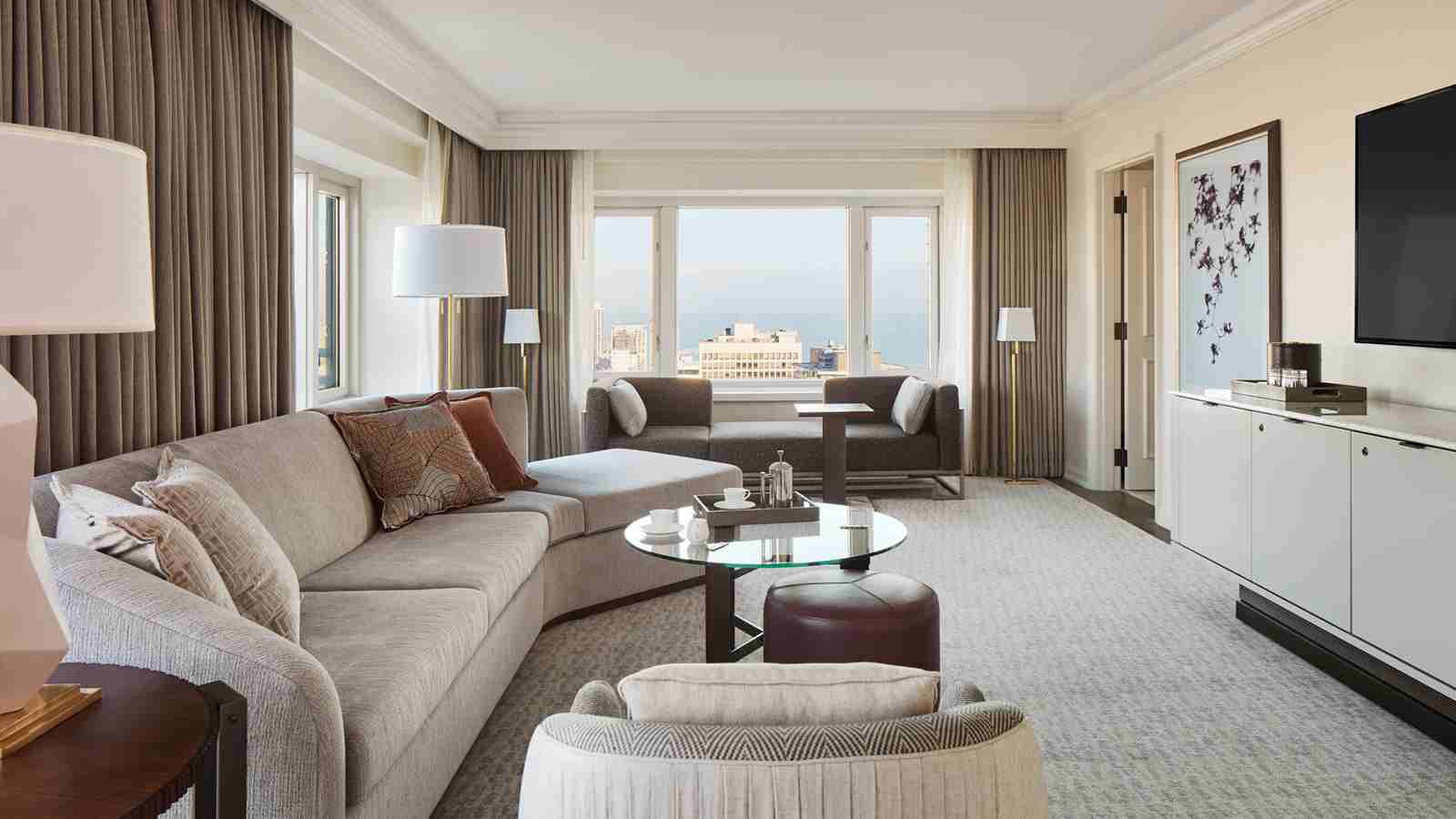 For guests seeking a quintessential Chicago experience, Four Seasons Hotel Chicago is now open following a transformative multimillion-dollar renovation. Re-emerging as a vibrant hub of culture, style and energy, the fully revitalised Hotel offers a taste of Chicago's rich history and unique spirit through all-new designs and experiences with inspired food, drink, art and music.
"Our reimagined Five-Star hotel captures the essence of Chicago and connects guests to everything that makes Chicago the showpiece that it is," says Stephen Wancha, General Manager.
That connection to the city begins from the moment of arrival on Magnificent Mile, where one can immediately sense new-fashioned luxury and style. The Hotel's new interior design draws on Chicago's quality of light and urban environment, all while introducing a residential, elegantly relaxed, and contemporary touch. The feel is rooted in the city while also providing an oasis amid the downtown bustle.
The redesigned lobby encourages guests to linger longer with the additions of a day bar and social lounge that evoke a sophisticated yet inviting living room vibe. Setting the backdrop is an extensive art collection, curated as a permanent and ever evolving exhibition under the thoughtful and creative eye of Chicago-based art consultant Shashi Caudill. Creating a multisensory ambiance that progresses throughout the Hotel, a masterfully orchestrated and diverse music program (beginning November 1, 2020) is inspired by Chicago's music scene, from custom compilations to DJs and live music, featuring local legends and emerging acts in genres that span jazz, blues, house and more.
Dining at Four Seasons Hotel Chicago is an experience in and of itself, with its new signature Adorn Bar & Restaurant as the Hotel's crown jewel. Chicago's first restaurant in partnership with James Beard award-winning Chef Jonathon Sawyer, Adorn presents globally-inspired cuisine rooted in the bounty of America's Midwest, with a lively, convivial vibe. "I've been drawn to the Chicago food scene and it's liberating to have this opportunity to cook for a dynamic city where locals have an appreciation of food, and travellers are also looking for unique and engaging food experiences," says Chef Sawyer.
Blending the Hotel's art and culinary craftsmanship is the new Framing of Flavor experience, a personal and guided art tour by Caudill concluding with a custom tasting menu presented by Chef Sawyer that connects the global landscape of both the art collection and Adorn's menu.
Home to the highest suites in the city, all new accommodations with residentially-inspired comforts and Chicago-centric sophistication warmly welcomes guests to unrivalled views of downtown Chicago and Lake Michigan. While basking in quietude and comfort, guests can reserve a number of deliver-to-door specialty experiences, from classic ice cream confections to custom crafted cocktails.
Couples, friends and families will find as much entertainment or relaxation as they wish, from swimming in the 50-foot (15 metre) Roman-inspired indoor pool naturally lit by the domed glass ceiling to unwinding in The Spa, an intimate respite where tenured therapists and estheticians perform locally-inspired treatments including the Lake Shore Hydrating Facial.