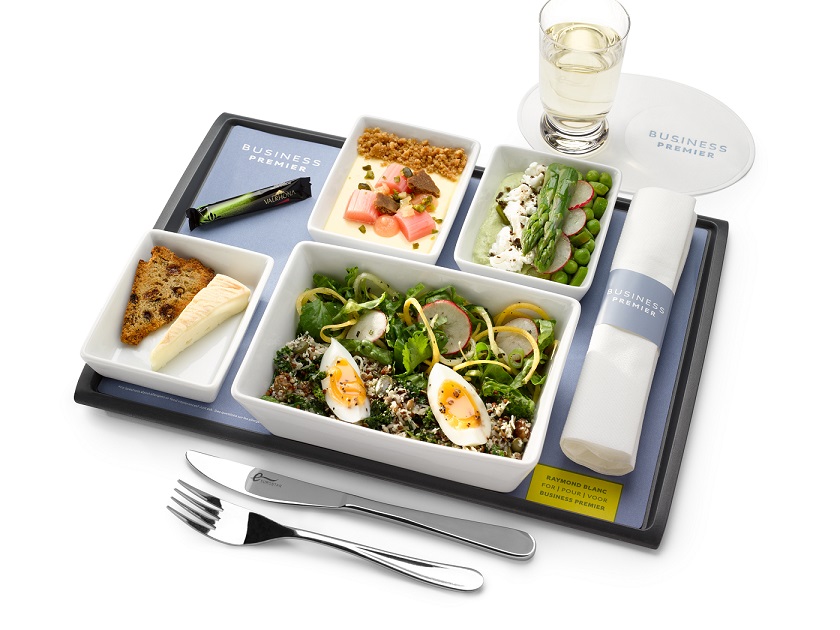 Eurostar is reinstating its full on-board catering offer, following changes made due to the Covid-19 pandemic. Travellers in Standard class will once again be able to choose from a range of carefully selected food and drinks in Café Métropole, whilst those in Standard Premier and Business Premier can sit back and enjoy a delicious meal served to their seat. The return of on-board catering completes the full service, following the re-opening of Eurostar business lounges in August.
Business Premier passengers can look forward to their usual effortless and enjoyable travel experience, from fast-track check-in to exclusive business lounges. Once on-board, a three-course menu designed with Michelin-starred chef Raymond Blanc OBE will be served, which has been awarded the highest three-star rating by the Sustainable Restaurant Association.
To reduce contact during food service some changes have been made, with lids kept on dishes served at seat and accompaniments such as bread and pastries served in packaging to ensure minimal contact. In addition, anti-viral wipes and hand gel are now offered to travellers with at seat food service, and menus will shortly be available online using a QR code.1 In Café Metropole, customers are advised to pay by card if possible, to remove contact with cash.
To provide more flexibility on bookings, all Eurostar fares are now available to exchange with no fee, up to 14 days before departure.2 The flexible fares applies to all bookings until 31st December and are valid for any dates of travel at the time of purchase.
Both on board and in stations, Eurostar has introduced new hygiene measures to provide customers with a comfortable and safe experience. A new seat map ensures travellers are seated at a safe distance apart respecting social distancing guidelines. Trains are deep cleaned before every journey, and cleaning teams are on board to regularly disinfect high contact areas. All travellers must wear a mask on board and in stations, in line with government regulations.
Eurostar is launching an exclusive new booking platform for business travellers.