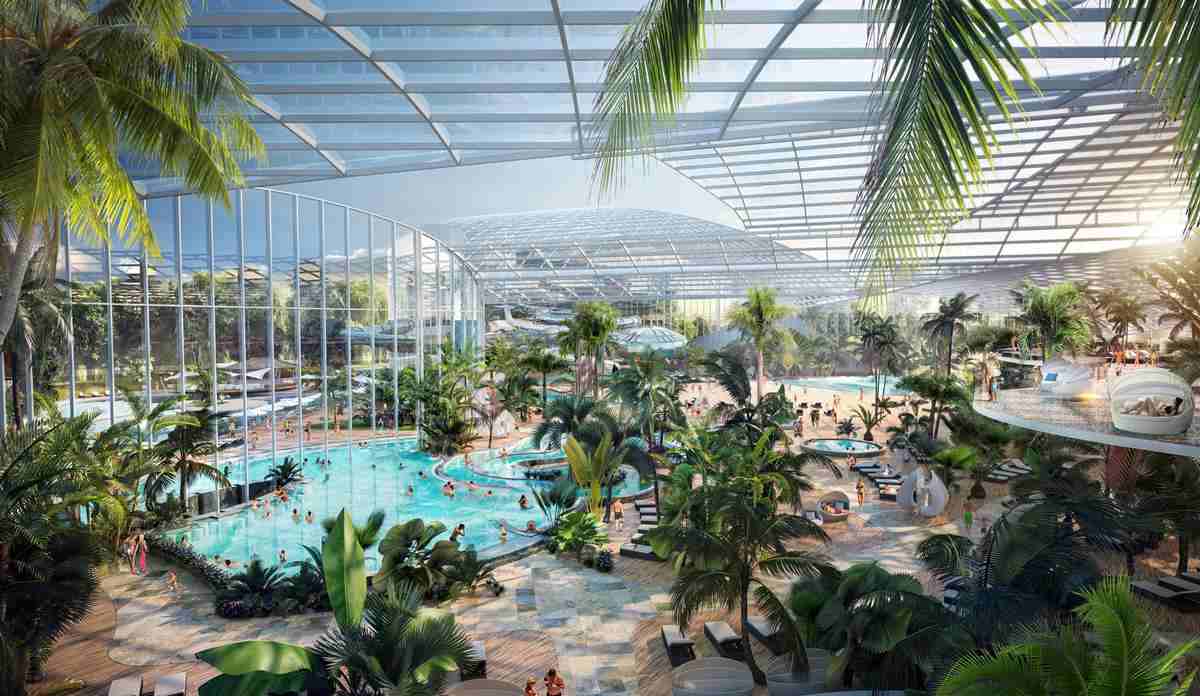 Therme Group has confirmed its 28-acre wellbeing project in the UK is on track to begin construction. Therme Manchester will combine hundreds of water-based activities with wellbeing treatments, art, nature and technology to create a unique experience never before seen in the UK. With an estimated cost in the region of £250m, it is forecast to attract up to two million visitors per year, within five years, making it the most visited water-based attraction in Europe. Global wellbeing organisation Therme Group, plans to open Therme Manchester in 2023.
Therme Manchester's natural environment, with thousands of plants and trees, will be created by world-leading designers, artists, architects and engineers to achieve the highest levels of experience, quality and sustainability. Combined with hundreds of activities for all, visitors will have an experience far beyond anything offered in a hotel, gym or holiday resort, at a fraction of the cost.
The central focus of the project is a two-acre wellbeing garden in the shape of a Rose, the national flower of England. This bio-diverse garden for all seasons will be an evolving work of art, with petal-shaped terraces and beautiful pools and water features. It will act as a focal point for socialising, learning and discovery.
A large family zone will include waterslides, a wave pool, indoor and outdoor pools, steam rooms, exotic palm tree relaxation areas and dozens of other fun, relaxing and healthy activities, all in a perfect tropical environment.
A dedicated adults' area will have warm-water lagoons among spectacular botanical gardens, swim-up bars, therapeutic mineral baths and beautifully designed steam rooms and saunas. Daily programming will include water-based fitness classes, and beautiful gardens will surround the area, creating spaces for yoga, Pilates and other activities.
Therme Manchester helps to address the vital modern-day need for physical and mental wellbeing for all, of which there is a growing awareness worldwide. It redefines the concept of wellbeing, with activities for children, adults and seniors offering both fun leisure time and the benefits of an active, healthy lifestyle.
A wide range of individual wellbeing treatments will be available, with programmes tailored for guests of all ages and needs. With advanced body scanners and skilled therapists, each guest can have a unique programme designed especially for them, inspired by traditions from across the globe.
Throughout Therme Manchester there will be a range of bars, cafés and restaurants offering everything from snacks and light bites to à la carte service. Menus will be expertly created to appeal to all visitors while offering healthy choices that both adults and children will love.
Nature and art are integrated in the Therme Manchester experience, as essential elements in maintaining and restoring physical and mental health. Thousands of trees and plants will create a bio-diverse environment and Therme Manchester will work in collaboration with world-leading artists to create accessible art experiences, which provide opportunities for active engagement, reflection and contemplation.
Therme Group announced the appointment of Adrian Ion as Executive Vice President for Corporate Finance and Chief Financial Officer. Mr Ion will be based at Therme Group's London offices and will assume responsibility for financial oversight and direction of finance related matters across Therme Group, and serve on the Group's Executive Board.