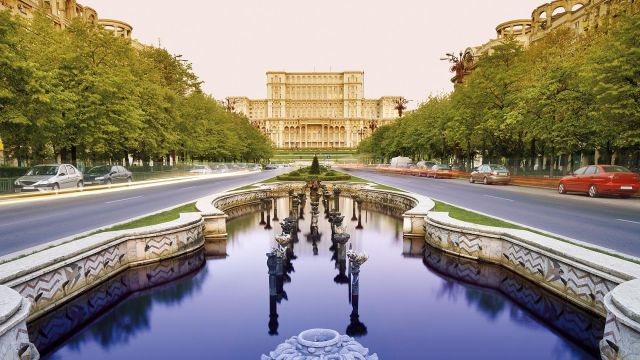 Wizz Air announces today eight new routes from Bucharest to Cagliari (Sardegna/Italy), Copenhagen, Bergen (Norway), Hamburg, Karlsruhe / Baden-Baden, Memmingen (Germany), Santorini and Mykonos (Greece). Passengers can already book tickets from as low as RON 119 on www.wizzair.com or via the WIZZ mobile app.
While the most exciting destination announced may seem to be Cagliari, in the sunny Sardegna, Bergen is a hidden treasure, as the second largest city in Norway and also the country's largest port. The city is known as the Gateway to Fjords of Norway and a Unesco World Heritage City as well as Unesco City of Gastronomy. Copenhagen is yet another very popular northern destination now accessible thanks to WIZZ's low fares, while the three new routes to Hamburg, Karlsruhe and Memmingen will further strengthen the connections between Bucharest and Germany. Cagliari is the 11th destination offered by Wizz Air from Bucharest to Italy and the 2nd in Sardegna besides Alghero. Bergen is the second destination in Norway after Oslo which Romanians will be able to enjoy with Wizz Air while Copenhagen is the second city in Denmark after Billund offering great travelling opportunities in Wizz Air's ever-growing network from Bucharest. Together with the three new routes to Germany, Wizz Air is now offering six services from the Romanian capital to this country. Shortly after announcing the route to Heraklion, another two destinations in Greece, are added to Wizz Air's network in Bucharest: Santorini and Mykonos. Both with a rich history and with interesting places to visit, are perfect for a relaxing holiday by the sea, where you can enjoy the authentic tastes and local cuisine. Together with these eight new services Wizz Air now offers 61 routes to 20 countries from Bucharest.
Since 2007 the airline has carried more than 22 million passengers on its Bucharest routes. Together with the eight new routes announced today Wizz Air will offer over 3 million seats in the airline's Bucharest network in 2020. WIZZ's fast-growing operations in the country will further stimulate the local economy, by increasing employment in Cyprus' aviation and tourism sectors and supporting more than 2250 local jobs in the associated industries*** in 2020.
Today's announcement comes as the new era of sanitized travel recently began at Wizz Air. The airline announced a range of enhanced hygiene measures, to ensure the health and safety of its customers and crew. As part of these new protocols, throughout the flight, both cabin crew and passengers are required to wear facemasks, with cabin crew also required to wear gloves. Wizz Air's aircraft are regularly put through an industry-leading fogging process with an antiviral solution and, following WIZZ's stringent daily cleaning schedule, all of the airline's aircraft are further disinfected overnight with the same antiviral solution. Sanitising wipes are handed to each passenger upon entering the aircraft, onboard magazines have been removed from the aircraft, and any onboard purchases are encouraged to be made by contactless payment. Passengers are requested to follow physical distancing measures introduced by the local health authorities and are encouraged to make all purchases prior to the flight online (e.g. checked in luggage, WIZZ Priority, fast security track), to minimize any possible physical contact at the airport. Click here to view Wizz Air's new health and safety video, for more information.