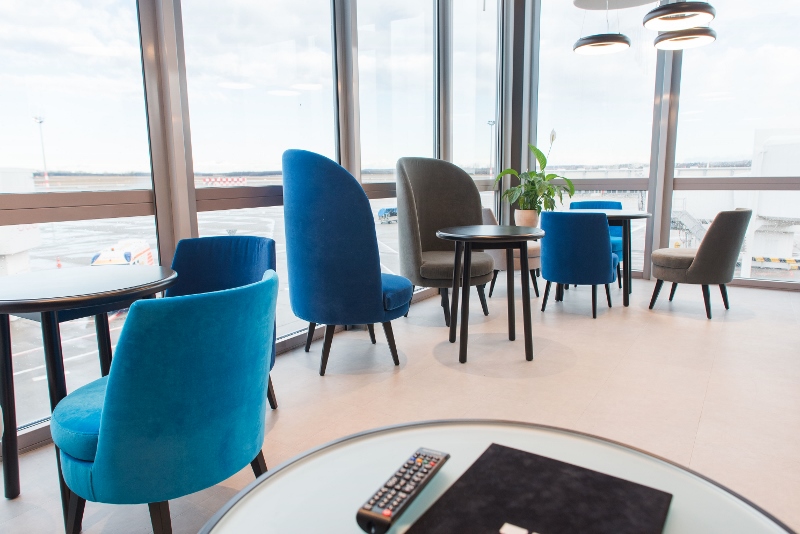 The first Hungarian corporate lounge has been opened at Budapest Airport to serve the business partners of Tungsram.
The 70 sqm Tungsram Lounge embodies a new, innovative tool for cultivating business relationships and symbolizes a milestone in the strategic partnership between Tungsram and Budapest Airport.
The Tungsram Lounge, which is located next to gate A8 of Terminal 2A, operates from 12th February. It is quite special among the other lounges of the airport as it is the first corporate lounge that can be used only by the customers and business partners of Tungsram by invitation.
"We offer professional and innovative solutions thus it was evident to bring innovation into the way we show and promote ourselves to our international customers", said President & CEO of Tungsram Group Joerg Bauer at the opening of the lounge. "That is why we have developed this lounge where our partners can wait for the departure of their flight in the greatest comfort – this is not an ordinary solution."
Joerg Bauer also emphasized that Tungsram considers itself the industrial ambassador of Hungary therefore it was very important for the lounge to reflect Hungarian traditions.
"This lounge symbolizes brilliantly the partnership between Budapest Airport and Tungsram", said CEO of Budapest Airport Zrt. dr. Rolf Schnitzler referring to the partnership agreement signed by the two companies more than a year ago. "We feel truly honored that as a Hungary-based global brand Tungsram chose the Liszt Ferenc International Airport to be its showcase. We are quite certain that the new business lounge and Tungsram's presence on the exclusive advertising platforms of the airport will contribute massively to the international recognition of the company."
The 72 sqm lounge can welcome 15-20 people at a time and has been developed with state of art interior design solutions in the course of a few months. Naturally, it is illuminated by Tungsram lamps. The lounge is open from 5:30 to 21:00 every day however, only for invited VIP customers who can also hold business meetings in the included well-equipped meeting room. The lounge is operated by Malév Ground Handling; they are in charge of the variety of food and beverages that mostly reflect the Hungarian gastro culture in the form of finger food, but they are also able to serve special needs. The guests can also order warm meals from the menus of the airport restaurants.