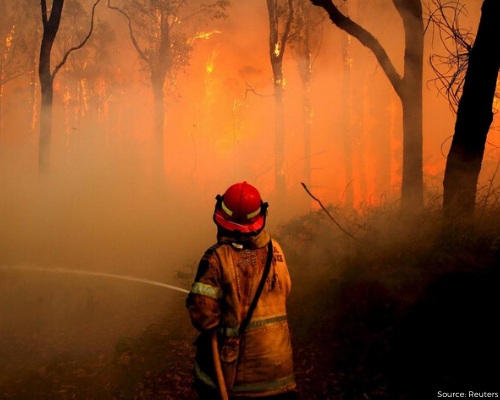 During the worst drought on record, catastrophic wildfires have ravaged Australia for months. Over 4.9 million hectares of land has been burnt in NSW alone, over 120 fires are still burning and surviving animals are facing dire food and water shortages and loss of habitat. Wildfires destroyed more than a thousand homes, at least 24 people have died.
With people displaced and wildlife populations gutted, here are ways to help.
Australia wildfires. Organizations that are helping:
The Australian Red Cross is accepting donations to its Disaster Relief and Recovery Fund.
GIVIT is an Australian organization that matches donated goods with items that are specifically requested by victims of the Australia wildfires.
The Salvation Army Australia is an international Christian movement, united by faith and giving hope where it's needed most. Donations are funneled to various forms of assistance, including mental health support and housing.
The lay Catholic organization has more than 60,000 members and volunteers who assist people in need across Australia.
Rural Fire Brigades are often more than just an emergency service. Firefighters and community workers in rural fire brigades are in the thick of it.
The Port Macquarie Koala Hospital, and National Parks and Wildlife Service crew leaders, have spent weeks searching for koalas following the devastating bush fires in the Port Macquarie area.
RSPCA NSW is doing all they can to protect the animals in threatened or affected areas. Over the past few days, RSPCA NSW has also taken part in evacuations, gathering animals and taking them to safety.
The nonprofit accepts funds for its work.
Hundreds of koalas have died in the fires and more have been injured or burned. Donations go to medical treatment and planting trees for koalas.
WIRES, or the NSW Wildlife Information, Rescue and Education Service Inc., is Australia's largest wildlife rescue organization. WIRES is rescuing and caring for as many sick, injured and orphaned native animals as possible. In December WIRES 1300 line received over 20,000 calls and volunteers attended over 3,300 rescues.