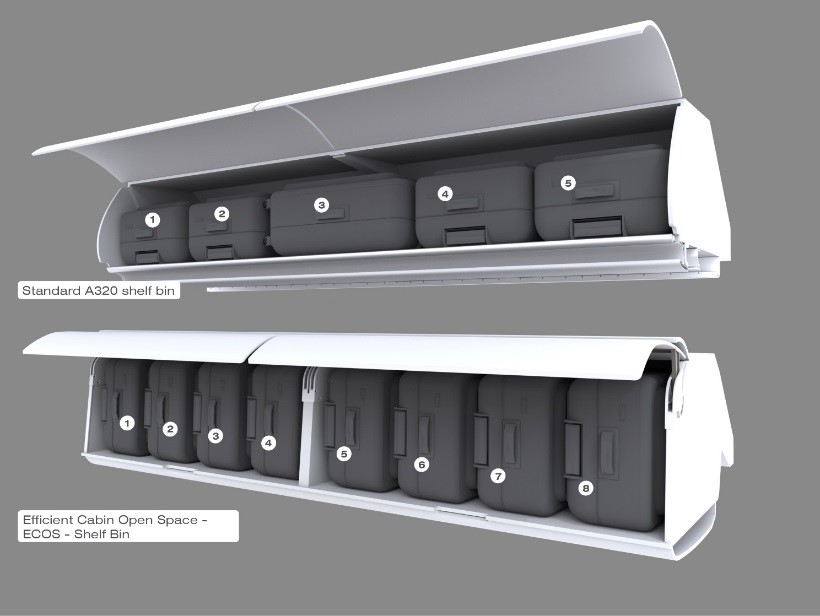 Air France chooses new, more spacious luggage compartments by Safran to equip its Airbus A320 fleet
On its domestic and European network, Air France is continuing to improve its customers' travel experience by offering them more space to store their cabin luggage as from 2020.
Air France is the first airline in the world to choose Safran Cabin's latest ECOS luggage compartments to equip its A320 and A321 single-aisle short and medium-haul aircraft.
The ECOS "Efficient Cabin Open Space" system offers up to 60% more storage capacity than the luggage racks currently available. It consists of new bins, ceiling and cove panels that provide a lower shelf height for ease of loading and visibility. The new luggage compartments are also equipped with easy to reach doors which do not encroach into the cabin aisle. Robust, lightweight and easy to maintain, the ECOS system is simple and fast to install, requiring no aircraft modifications. It provides an easier and smoother boarding experience, greatly reducing the time spent searching for luggage space on board or the need to put certain bags in the hold. Aircraft turnaround times will also be reduced to improve efficiency and on-time performance.
In total, Air France plans to gradually equip its 40 A320s and 11 A321s with 1,342 new luggage compartments between September 2020 and September 2022.
On edge stowage
The ECOS luggage stowage system is the first to offer on edge luggage stowage with wheels at the back, increasing luggage capacity by 60% compared with standard luggage compartments.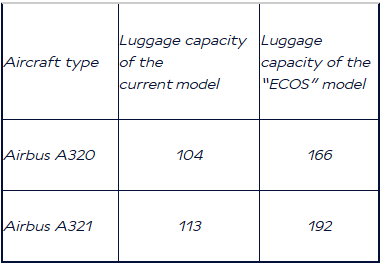 "Air France will be the first airline to offer these innovative luggage compartments. They will enable us to meet the high expectations of our customers wishing to travel with cabin bags only to save time during their trip. Boarding will be smoother and faster, both for them and for our crews. This represents a significant improvement in comfort and operational efficiency", said Catherine Villar, SVP Customer Experience Air France.
Norman Jordan, CEO of Safran Cabin, said: "Safran Cabin is proud to be providing Air France with the ECOS interior system and to be supporting Air France in its objectives to improve customer satisfaction."