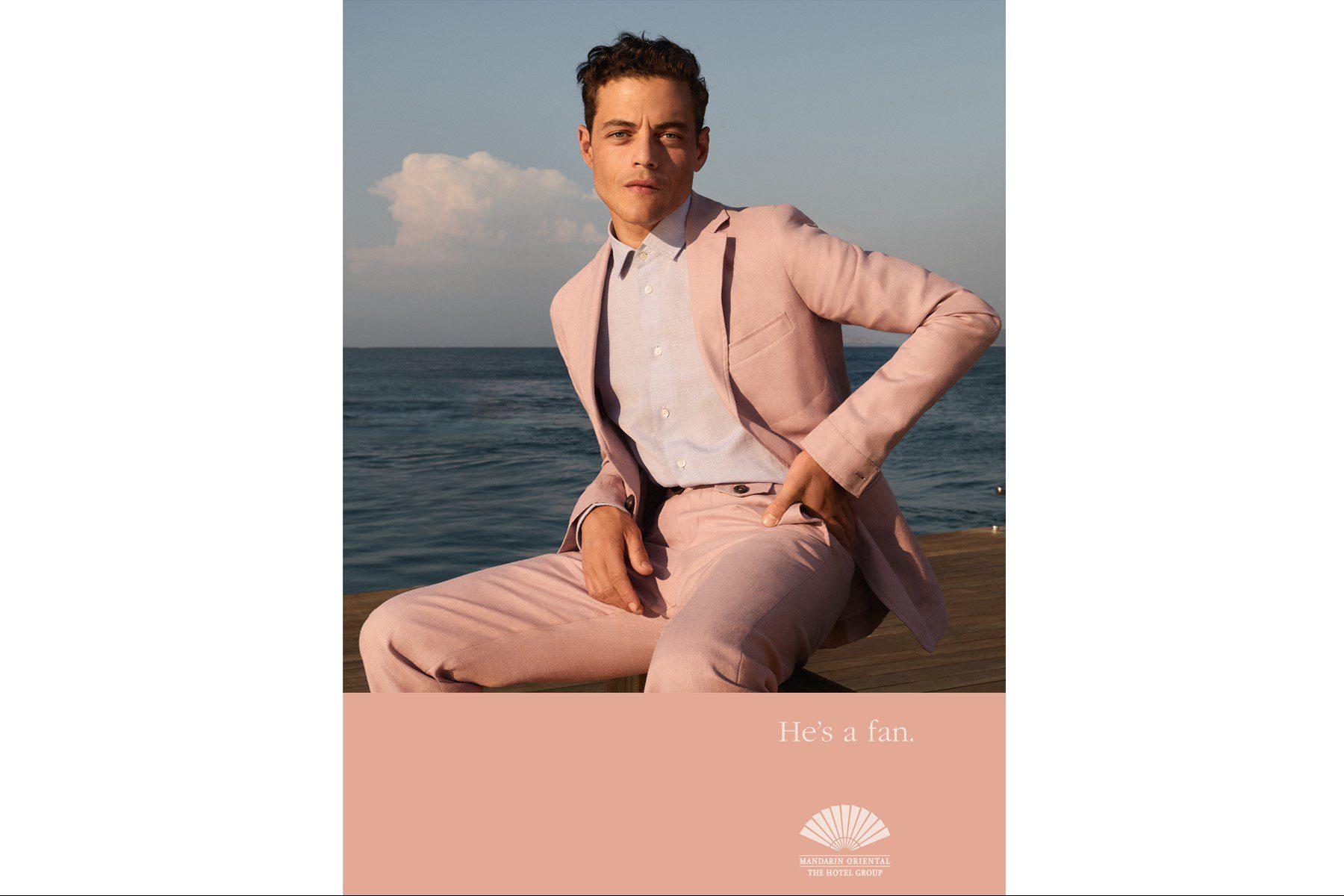 American actor Rami Malek is the newest celebrity fan to join Mandarin Oriental's 20 year global advertising campaign "He's a Fan/She's a Fan".
The campaign elegantly connects Mandarin Oriental's well-recognised symbol – the fan – with international celebrities who regularly stay at the Group's hotels. In appreciation of their support, the Group donates to each celebrity's individual choice of charity.
Malek most recently won a Golden Globe for his ground-breaking performance as Freddie Mercury in Bryan Singer's film Bohemian Rhapsody. Other film highlights include roles in A Night at the Museum with Ben Stiller and Larry Crowne with Tom Hanks and Julia Roberts. Malek has also acted in many television productions and received an Emmy as 'Outstanding Lead Actor' for his part in the series Mr Robot.
Outside of acting, Malek is known for his sharp sense of style and appears regularly on the world's 'Best Dressed' lists, including 'Best Dressed Men 2019', with GQ calling his looks "neat, elegant and perfectly put together."
What makes a stay truly luxurious for Malek is "attention to detail, discretion and excellent service". His favourite Mandarin Oriental hotels include Mandarin Oriental, Bodrum in Turkey, which he loves for its "tranquillity and peace". He also says that Mandarin Oriental, Barcelona will always hold a special place in his heart, as it was here that "I got to hang out with the members of Queen after one of their gigs".
Well-known portrait photographer Mary McCartney photographed Rami at Mandarin Oriental, Bodrum.
"The award-winning campaign has been driving awareness of the Mandarin Oriental brand for 20 years and we are delighted to welcome Rami Malek as our newest ambassador," said Jill Kluge, Mandarin Oriental Hotel Group's Chief Marketing Officer. "By focusing on celebrities who evidently appreciate the finer things in life, we have been able to showcase our hotels in a truly unique and interesting way," she added.
Mandarin Oriental's existing fans are: Chen Kun, Isabelle Huppert, Lucy Liu, Morgan Freeman, Cecilia Bartoli, Caterina Murino, Sir Peter Blake, Karen Mok, Christian Louboutin, Sophie Marceau, Liam Neeson, IM Pei, Michelle Yeoh, Jane Seymour, Kenzo Takada, Jerry Hall, Vanessa Mae, Vivienne Tam, Barry Humphries, Frederick Forsyth, Darcey Bussell, Bryan Ferry, Dame Helen Mirren, Maggie Cheung, Hélène Grimaud, Geoffrey Rush, Adam Scott, Dev Patel, Christoph Waltz, Stanley Tucci and Rami Malek.