The countries that have seen the greatest growth in flight bookings from travelers in Italy in the last 12 months are the United States of America (USA), China and Turkey, according to an analysis conducted by Travelport, the leading travel commerce platform.
From 1 October 2017 to 30 September 2018, bookings made in Italy through all global distribution systems (GDS) to the USA increased by close to 30,000, up 5% on the previous 12 months. Bookings to China from Italy over the period rose by 26,366, up 9%, and to Turkey by 18,098, up a significant 27%.
Global distribution systems (GDS) are vast hi-tech reservation networks that allow travel agents, travel management companies and large corporations, among others, to search and book airline seats, hotel rooms, rental cars, and other travel related items. Globally in 2017, Travelport alone processed 1 trillion transactions through its platform.
Sandro Gargiulo, Travelport's Country Manager for Italy and Malta said: "It's interesting to see that flight bookings to the USA and China, two of Italy's top trading partners outside of Europe, have grown so significantly over the past year. We know that business is one of many reasons people choose to travel. Increases in flight capacity from airlines such as Air Italy will also have played a role. The company reported just last month, for example, that its new intercontinental flights from Milan Malpensa to Miami and New York had already reached load factors of more than 90%, despite only being launched in June. Turkey's tourism industry continues to go from strength-to-strength. According to the Turkish Statistical Institute, income from the sector increased by 30%, year-on-year, in the second quarter of 2018. The growth we're seeing from Italy to Turkey is of course helped by the increasing number of short, affordable and direct flights to the country."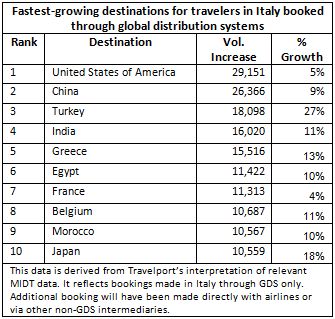 India and Greece completed the top five positions in the table compiled by Travelport. India saw an increase of 16,020 (+11%) in bookings made from Italy through all GDS, while Greece recorded a rise of 15,516 (+13%).
Mr. Gargiulo added: "Travelport has invested significantly in developing cutting-edge analytics products for travel agents and airlines because we recognize the impact they can have on their revenue. Even relatively straight forward booking analysis, like we have done here, can help travel agents evolve the packages they offer in line with traveler demand and support airlines in identifying needs to increase or decrease flight capacity on certain routes."
Later this week, Travelport will hold its exclusive Travelport LIVE Europe event in Rome. The event will bring together over 200 business leaders from across the region to discuss the challenges and opportunities disruptive technologies, like big data, pose to the travel industry in Europe. It will include presentations and panel discussions featuring global, regional and local leaders from Travelport, as well as noteworthy third-party speakers such as Bibop G. Gresta, Chairman and Co-Founder of Hyperloop Transportation Technologies.