Aloft Hotels, along with Tishman Hotel Corporation and MetLife Investment Management, today announces the opening of Chicago's newest hotel, Aloft Chicago Mag Mile. The newly-built hotel from Marriott International's tech-savvy and design-forward brand Aloft, features 337 urban-inspired guestrooms and just over 5,600 square feet of creative, art-inspired meeting spaces, making this the largest Aloft property in North America. Guests will enjoy amenities such as Splash, the indoor pool perched atop the hotel on the 19th floor; Aloft's signature W XYZ® Bar with an extensive cocktail menu and regular live music programming; Re:fuel by Aloft℠, serving up delicious gourmet-grab-and-go options around the clock; and the state-of-the-art Re:charge fitness center. This property is the first urban example of the updated brand design vision, reflecting Aloft's history and evolution as a future-focused brand for how tech-savvy, global travelers want hotels to be.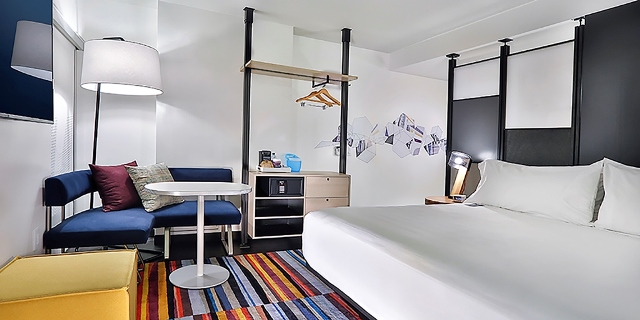 The hotel's 337 guestrooms feature 65-inch LED televisions, plush platform beds, in-room mini refrigerators, custom Aloft bath amenities by Bliss® Spa, and walk-in showers with rainfall showerheads. Accommodation choices range from king and double queen rooms to one-bedroom and two-bedroom suites, all with complimentary, fast internet access.
Since the property occupies the site of the original location of the Museum of Contemporary Art (MCA), the hotel's atmosphere is infused with art – recalling the acclaimed gallery shows the museum once hosted there. A photo of the original MCA will welcome guests in the lobby with the background on how the art program was approached for Aloft Chicago Mag Mile. This theme is most notably displayed in Aloft Chicago Mag Mile's meeting and event spaces, which are named after contemporary artists who had exhibited at MCA in the past: Warhol, Escher, Mondrian and Lichtenstein. The various reproduced works from the artists are now on display in each of their namesake meeting rooms. The Warhol room, for example, has poppy flowers as the focal point, displayed as an expansive wall covering. At that time, the museum's on-staff photographer captured all the shows' works, mostly in black and white. Fast forward nearly 50 years: the design team has recreated large-scale reproductions of this archival footage with mono-color enhancements. These works can be seen throughout the corridors on floors three through 19.
Other nods to artist history weaving the theme throughout the hotel include: Reproductions of a Chuck Close show in the Presidential Suite and a rooftop-level event space named after Jan van der Marck, who was the first director of the MCA. The 19th floor showcases a "Party People" exhibit that features patrons of the gallery shows at MCA donning tiaras and ballgowns at the sought-after events during that time. Art plaques accompany each piece to tell a bit about the artist and the show that this particular work was featured in.