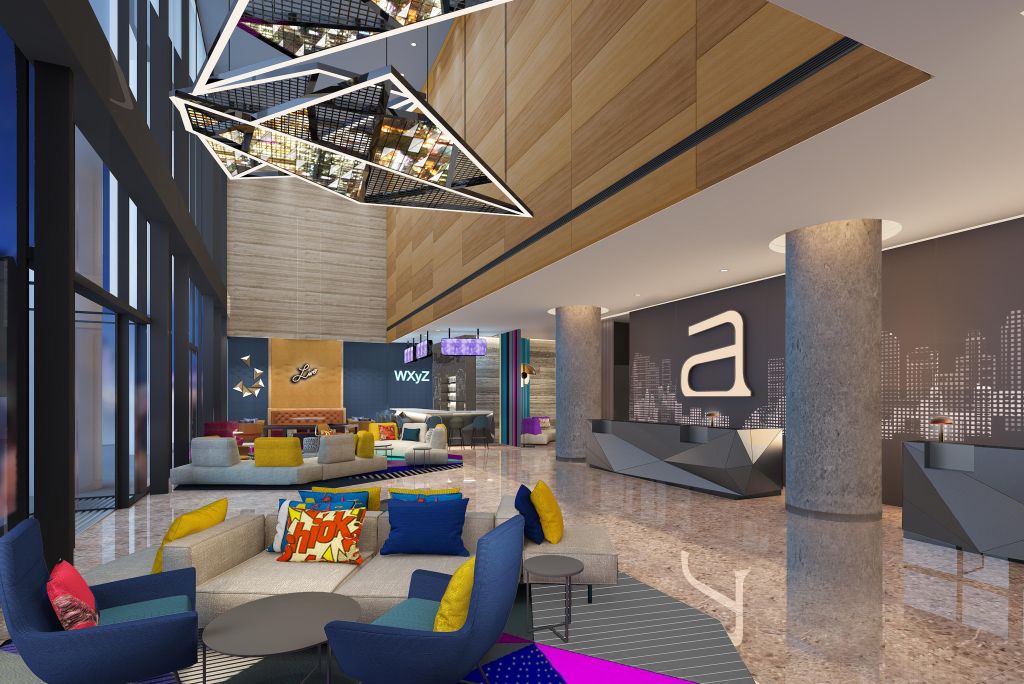 Aloft Singapore Novena
. This remarkable property stands as the largest Aloft hotel in the world, introducing the brand's dynamic and flexible spaces to the lively Balestier neighborhood, one of Singapore's most vibrant districts, renowned for its diverse culinary scene, rich culture, and entertainment options.
"We are thrilled to expand our global portfolio and introduce the Aloft Hotels brand to Singapore," expressed Matthew Boettcher, Vice President and Global Brand Leader of Aloft Hotels. "Singapore is not just a financial hub; it's a melting pot of cultures, cuisines, and ideas, making it the perfect destination for a dynamic brand like Aloft. We eagerly await the opportunity to welcome both business and leisure travelers to experience Aloft's unique spaces, infused with a strong sense of connection and personality."
Aloft Singapore Novena Design
Designed by the award-winning KKS International, Aloft Singapore Novena embodies a "different by design" philosophy that celebrates individuality and a passion for music. The hotel entrance features a magnificent 2.5-meter crescendo sculpture inspired by musical notes, artfully crafted from glass and light, radiating a spectrum of colors symbolizing the energy and vitality of every guest.
The lobby is adorned with an 85-inch video wall showcasing electronic art by renowned artists like Refik Anadol and Jonathan Monaghan. Striking ceiling panels provide a visually stimulating display of light, creating an immersive atmosphere.
The 300-room Holiday Inn Singapore Little India rebranded from Park Hotel Farrer Park on 7 September ahead of a renovation that will see it relaunch with a vibrant fresh identity and positioning.
Aloft Singapore Novena comprises two towers, offering an impressive total of 781 rooms and four suites, each ranging from 18 sqm to 46 sqm. Guestroom designs draw inspiration from the lively shophouses found in the historic neighborhood, reflecting the charm of Singapore's colorful past. Each room is thoughtfully furnished with a plush mattress and a 55-inch flat-screen television. Complimentary Wi-Fi access, local calls, and ample in-room USB charging ports ensure guests stay seamlessly connected.
Aloft Singapore Novena Dining Options
The hotel introduces diverse dining options, including Yuè, a modern Chinese restaurant; 21 on Rajah, a halal-certified buffet restaurant serving innovative Mediterranean and Asian cuisine; and the signature W XYZ® bar, the social hub offering invigorating cocktails and light bites. For those on the move, Re:fuel by Aloft provides 24/7 grab-and-go options for flavorful light meals and drinks.
Additional facilities include the 24/7 Re:charge Indoor and Outdoor gym, as well as a Splash Pool for relaxation and socializing on the open deck.
Aloft Singapore Novena boasts five modern meeting spaces, equipped with cutting-edge audio-visual technology and a stunning LED video wall. The hotel's outdoor event lawn provides an alternative space for gatherings such as birthday parties or intimate wedding receptions.
Location
Aloft Singapore Novena is just a 10-minute drive from Singapore's Central Business District and in close proximity to the cultural enclave of Little India. Iconic landmarks such as the Singapore Botanic Garden and Orchard Road's bustling shopping district are easily accessible, offering guests a blend of natural serenity and the vibrant heart of Singapore.
How to reach Aloft Singapore Novena from the airport?
Transportation Options
Taxi
The most convenient way to reach Aloft Singapore Novena from Changi Airport is by taking a taxi. Taxis are readily available at the airport's taxi stands, and the journey typically takes around 20-30 minutes, depending on traffic. Singapore's taxis are known for their reliability and comfort.
Airport Shuttle
Changi Airport offers an Airport Shuttle service known as the "Airport Shuttle Bus." While this service might not take you directly to the hotel, it can drop you off at Novena MRT Station, which is a short walk from Aloft Singapore Novena. The journey duration varies depending on the specific route, but it's an economical option.
MRT (Mass Rapid Transit)
For an affordable and efficient option, consider taking the MRT. Changi Airport is well-connected to Singapore's MRT system. You can take the East-West Line (Green Line) from Changi Airport MRT Station to Novena MRT Station. From Novena MRT Station, it's a convenient 5-minute walk to Aloft Singapore Novena.
Private Transfer
For travelers seeking convenience and comfort, booking a private transfer in advance is an excellent option. A private driver will meet you at the airport and take you directly to your destination. This choice is ideal for those with a lot of luggage or those looking for a more personalized experience.
Rent a Car
Another option is to rent a car at Changi Airport, it might be convenient if you arrive late or have bigger travel plans than a simple trip from Krakow Airport to Singapore.