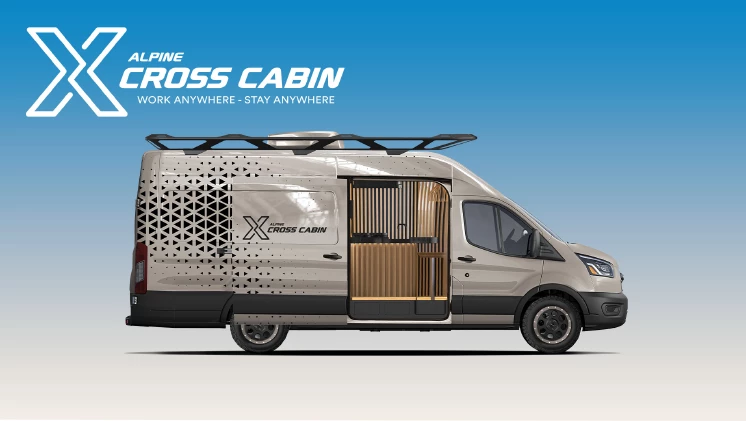 Today Alpine announces, that the Cross Cabin development is nearing completion and interested customers can pre-order their vehicle at the Caravan Salon Düsseldorf 2023 with an expected pick-up date in early 2024. Alpine partnered with VanWeekend for high-quality vehicle production and to ensure a German-wide retail and service network.
The Alpine Cross Cabin van (production version) will make its debut at the Caravan Salon Düsseldorf 2023, Germany and can be seen at the Alpine outside booth next to hall 13, booth FG 13-01 on 25.08.2023 for press and bloggers, and from 26.08. – 03.09.2023 for regular event visitors.
"After receiving overwhelming visitor and media feedback on our Cross Cabin concept van earlier this year at CMT Stuttgart and other major industry events, we decided to move along with this project and bring the vehicle to a production stage. While doing so, we closely listened to suggestions and comments from the audience to cut unnecessary items and functions, while further innovating solutions to combine mobility, remote work and quality leisure time. We are also happy to announce our partnership with VanWeekend, which are experts in van customization and manufacturing. This partnership will guarantee a timely, high-quality manufacturing process with excellent craftsmanship to build the Cross Cabin van. Customers can then order their Alpine Cross Cabin from any participating VanWeekend dealer in their local area. We are delighted to enter a new era for Alpine to evolve into an outdoor mobility brand and bring pure Emotion in Mobility to digital nomads, remote office workers and anybody excited to go on workations to enjoy the beauty of working in nature", said Steve Crawford, Director of Alpine's European Brand Business Division.
Work Anywhere – Stay Anywhere: The Alpine Cross Cabin Van
The Alpine Cross Cabin offers a new type of mobility space, featuring both the comfort of a traditional camper van, yet allows users an optimized ergonomic space for conducting remote work anywhere they like.  In other words, a seamless crossover of functionalities for an ideal work-life balance, what explains the Cross Cabin naming.
For the interior design concept, Alpine adopted the Japanese aesthetic of minimalism and tidiness – having items at hand when needed, but securely stored away (or even hidden in plain sight) if not in use. This guarantees a clutter-free, harmonic interior environment that feels professional and relaxing at the same time. The wall-trims are created utilizing wood with a bamboo trim, formed into shape to be used as sitting benches, while allowing to neatly blend-in fold-out beds from the seating benches, state-of the art Alpine Adventure Audio In-Cabin speaker systems and LED mood lights. The floor is trimmed out using Japanese Tatami-style mats, to complete the feeling of minimalism and functionality – a design never seen before in any camping van or motorhome.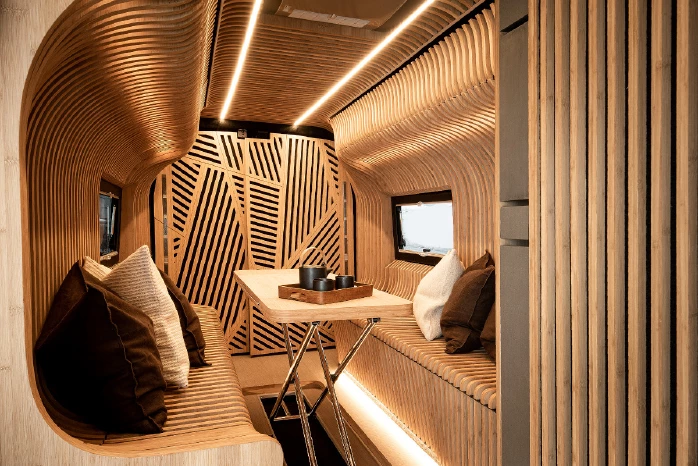 The Alpine Cross Cabin Production Version
The Alpine Cross Cabin van is based on a FORD Transit L4 H3 TTS-Diesel 96kW / 131PS, measuring 6.7m in length and 2.90m in height (including roof rack). The vehicle is manufactured by VanWeekend – one of Germany's leading manufacturers for custom camper vans. "We are proud to partner with Alpine and to be selected to produce this unique workation van in our facilities in Rheinland-Pfalz. Our team is excited to build the first road-ready Cross Cabin to be on display at the Caravan Salon Düsseldorf 2023 and start with series production later this year", said Aaron Steinrock, CEO VanWeekend. The first production lot of the Alpine Cross Cabin will be delivered to customers within early 2024.
Elevate Your Productivity – Working in the Alpine Cross Cabin
The core element of the Alpine Cross Cabin is the "Smart Table": hidden in the floor if not in use, this table can be lifted up to be either a large office desk or a dining / conference table. The tabletop can be opened in the center to reveal a 27" monitor and integrated full-size keyboard, allowing professional work when connecting a laptop PC.  Working remote requires a fast and stable mobile Internet connection: the Alpine Cross Cabin features the high-speed "Alpine x alphatronics STREAM" 4G / LTE mobile router with external antennas, allowing for perfect video conferencing in HD quality, video streaming and cloud-based work. The vehicle cabin is soundproof to the outside, to ensure uninterrupted video conferencing at busy places or in heavy rain. An innovative LED lighting concept turns the interior into any mood setting the user desires.
Home Sweet Home – Living in the Alpine Cross Cabin
Cooking in the Cross Cabin is a camper's dream come true: the whole kitchen unit can be rotated 90-degrees out of the van's side door and lowered down to the ground – allowing the user to cook outside the van if desired. There is an 800W stove, a kitchen sink, as well as a 70-liters 'Dometic' fridge integrated in the kitchen unit. The bathroom includes a retractable 'Clesana' toilet, shower plus water basin and an integrated 'HEKI' roof light. The Cross Cabin also features an 'Autoterm' Diesel auxiliary heating system, plus a Pundmann electric 6-liter water boiler (powered by the Diesel parking heater, 12 Volts providing 200 Watts and/or 220 Volts providing 500 Watts). The energy management was realized using a CombiMaster 12/2000-60 inverter / charger 230 Volts – 100 Amperes. Customers can even upgrade to 200 or even 400 Ampere systems. This enables the use of household appliances at 230 Volts sockets, but also the use of a induction hob in the kitchen. In addition, there is a DC-DC charger that charges the body batteries with 50 Amperes while driving. The control and monitoring of the electricity and water management is realized via an 'Arvikon' interface, which can be operated entirely from the driver's seat with the Alpine iLX-F115D or an external 7-inch control panel in the cabin. A full sized bed can be easily constructed by folding open the seating benches and attaching the mattresses.
Additionally available vehicle options include 150 Wp solar panels on the roof for independent electricity generation, a 4-meter awning that can be extended electrically, a 'TRUMA Aventa Comfort' air condition, a roof rack with integrated terrace and 'Delta Classic B' rims with 'LODER' tires. Options can be selected individually or as packages.
Sound, Entertainment & Driver Support Systems:
The installed cabin sound system uses four ultra-slim Alpine Adventure Audio In-Cabin speaker panels – perfectly integrated within the wooden wall trims in the living area, an Alpine multi-channel DSP amplifier and 2 powerful, hidden Alpine 8" subwoofers to keep users entertained. A multi-zone sound concept allows settings for the working area as well as the living area and includes settings for video conferencing and music enjoyment. There is also an optional 24" smart TV by alphatronics that can be rotated 180-degrees towards the cabin or the cockpit and tugged away if not in use in a thin cabinet next to the shower room.  We also installed our largest motorhome navigation system – the Alpine Halo 11 – including the brand new Alpine Navi Stick, as well as the Adventure Audio sound systems for the driver's area, allowing excellent entertainment and navigation during long drives.
With Alpine's brand new 360-degree camera system, drivers can see the Cross Cabin van virtually from above with Top View technology, ensuring save maneuvering during parking. This camera system also fully eliminates blind spots all around the vehicle, contributing enormously to accident prevention. Customers can even see what is happening behind the vehicle with Alpine's new "Freeview" e-Mirror system: it appears like a usual rear mirror attached to the windshield but uses a high resolution display and camera to create a wide-angle rear-view for the driver.