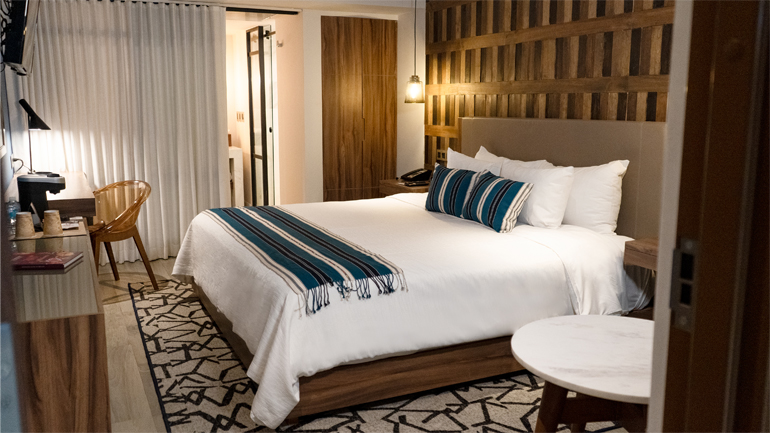 Guadalajara, often hailed as the culinary capital of Mexico, is a city where the flavors and ingredients of Jalisco come to life. Nestled in this vibrant city's historic district of Chapalita, the newly opened Hotel Indigo Guadalajara Expo is a testament to the rich tapestry of culture, history, and gastronomy that defines the region.
As part of IHG Hotels & Resorts' luxury and lifestyle collection, Hotel Indigo brings a unique character to every location it graces, and the Guadalajara Expo property is no exception. Chapalita, the neighborhood where the hotel stands, is a treasure trove of nature and architectural wonders. Named after Lake Chapala, it's a rare haven in the city where you can witness the graceful flight of orioles, hummingbirds, blue jays, and other avian species amidst lush greenery.
Originally constructed for the 1970 World Cup, this hotel holds a piece of history within its walls. It once hosted legendary soccer players like Pele and the Brazilian national team. After undergoing a remarkable renovation, the property now seamlessly blends classic Mexican and contemporary design elements to pay homage to its storied past while providing guests with a modern, immersive experience.
Chapalita is a neighborhood that loves to embrace the joys of life. Hotel Indigo Guadalajara Expo, managed by Operadora Javipa, enjoys a prime location near Glorieta Chapalita, a park where artists and musicians gather to celebrate the area's playful spirit. Nearby, you'll find iconic fountains, including Hermana Agua, designed by Mexico's avant-garde architect, Fernando González Gortázar. The neighborhood also boasts an array of art deco and Mexican modernist buildings, such as Finca Las Rosas, a creation of the renowned Luis Barragán, now housing a boutique, coffee shop, and a lively events terrace.
Guadalajara's culinary scene is legendary, and Hotel Indigo pays homage to it wholeheartedly. JAL Cocina de Raíz, the hotel's on-site restaurant, tantalizes your taste buds with the flavors and ingredients that define Guadalajara and Jalisco's cuisine. For a panoramic view of the city, head to Setenta, the rooftop bar, aptly named in reference to the property's historic ties to soccer.
Beyond its culinary delights and cultural attractions, Hotel Indigo Guadalajara Expo offers a range of amenities to ensure a comfortable stay. These include a fitness center equipped with cardio and weight-training equipment, a business center for the business traveler, a gift shop to pick up souvenirs, and versatile event spaces. The hotel features one ballroom with three breakouts and six meeting rooms with different configurations, making it an ideal venue for events of various sizes. Additionally, an auditorium provides a platform for presentations and gatherings.
Hotel Indigo Guadalajara Expo invites guests to discover the heart and soul of Guadalajara, offering a truly immersive experience that blends history, culture, and culinary delights. Whether you're here for business or leisure, this unique hotel promises an unforgettable stay in one of Mexico's most captivating cities.