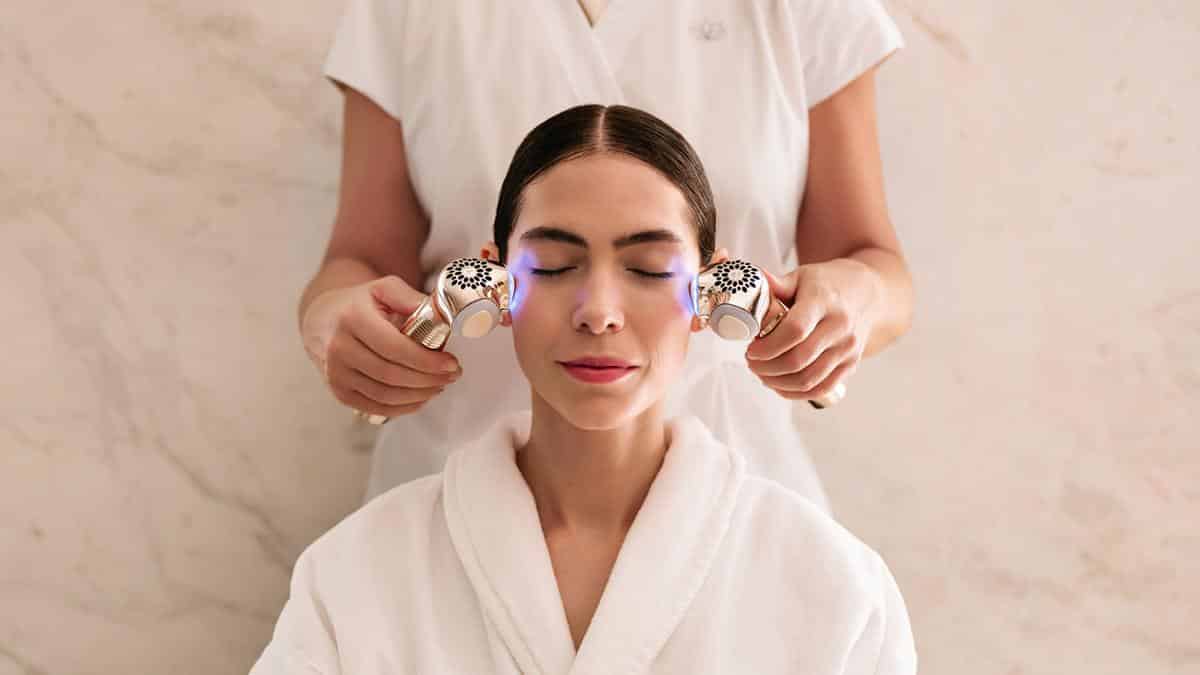 Renowned luxury French beauty brand Lancôme has made its grand entrance into the Latin American spa arena with the inauguration of a lavish hotel spa in São Paulo, Brazil.
Traditionally acclaimed for its fragrances, Lancôme has steadily expanded its portfolio to encompass skincare and makeup products, falling under the umbrella of the L'Oréal conglomerate. The brand's ventures into wellness have previously materialized in the form of branded spas in France and Australia, alongside a noteworthy spa collaboration with Accor's prestigious Sofitel brand.
Presenting its newest gem, the Lancôme Absolue Spa has unveiled its opulent offerings within the enchanting confines of the Oetker Collection's Palácio Tangarál, a sublime haven nestled in the heart of São Paulo. Surrounded by lush greenery, this urban oasis promises an escape from the city's hustle and bustle.
Architect Patrícia Anastassiadis, a native of Brazil, embraced the concept of an urban sanctuary for the Lancôme Absolue Spa. The design seamlessly marries the tranquility of the verdant Burle Marx Park's foliage with the sophistication of the cityscape.
Step inside, and you'll find an array of rejuvenating facilities awaiting your indulgence. The spa boasts six exquisite treatment rooms, including an intimate chamber for couples seeking shared serenity. Dry and wet saunas invite you to embrace relaxation, while a luxurious jacuzzi tempts with its therapeutic waters. And that's not all – a serene relaxation area and both indoor and outdoor heated pools complete the sensory journey.
Turning to the spa's treatment menu, Lancôme's cutting-edge technology takes center stage. Exclusive facials, featuring innovations like the Absolue Cryo Sculptor (priced at R$890, US$181, €165, £142), offer a holistic approach to skin regeneration. This 90-minute experience alternates between hot and cold temperatures to stimulate an immediate lifting effect, leaving skin visibly hydrated, replenished, and radiantly revitalized.
Adding to the spa's allure is The Absolue L Extrait treatment (R$1,340, US$272, €249, £214). This 90-minute ritual harnesses the power of Absolue L'Extrait elixir, crafted from the regenerative cells of the Lancôme rose. Delicately applied with soothing petals, the elixir's essence fosters firmer, suppler, and more luminous skin.
The Lancôme Absolue Spa menu extends beyond facial care, featuring an array of offerings to pamper body and soul. Day spa packages, reflexology, body scrubs, and a plethora of massages, from lymphatic drainage to aromatherapy, candlelit indulgence to hot stone therapy, cater to diverse preferences. Whether seeking relaxation, rejuvenation, or relief from stress, the spa's lineup has something to offer every guest.