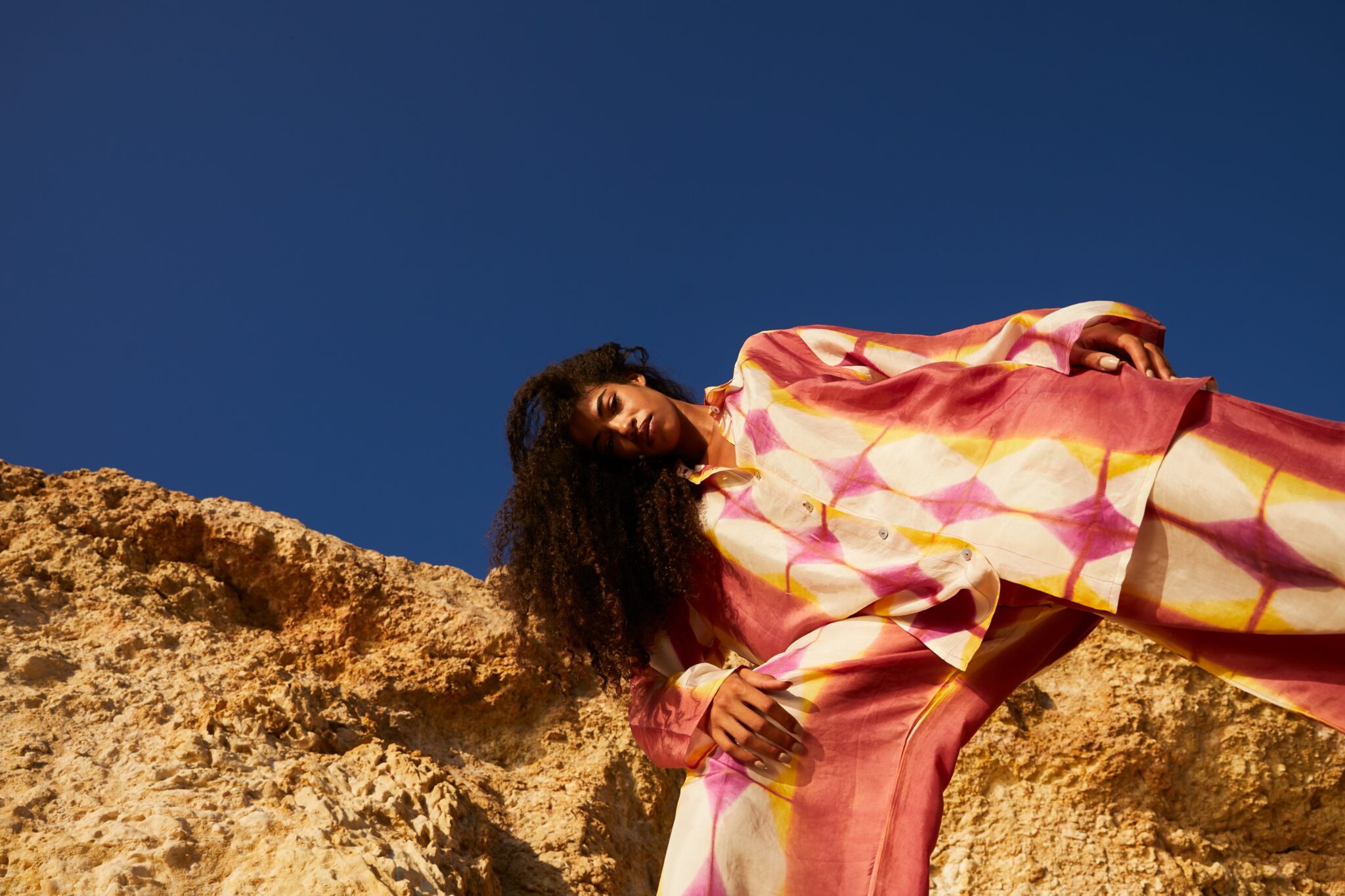 Get ready to embrace the carefree spirit of summer with W Hotels' exciting collaboration with SUNCHASERS, an ethically crafted, unisex clothing brand hailing from the sun-soaked shores of Venice Beach, California. Known for its vibrant tie-dye artistry and luxurious cotton and silk fabrics, SUNCHASERS has partnered with W Hotels to create an exclusive collection that celebrates the essence of summer and the allure of two iconic destinations – Ibiza and Miami Beach.
The W Hotels x SUNCHASERS Escape capsule collection pays homage to the sun-kissed havens of Ibiza and Miami Beach, where W Hotels boasts its two famed ESCAPE properties. This unique collection features hand-dyed, one-size-fits-all loungewear sets comprising long-sleeved shirts and pants, made with 100% silk and expertly crafted in India. The exquisite custom patterns and color schemes are inspired by the rich and vibrant vibes of these two iconic vacation spots.
"We are thrilled to partner with SUNCHASERS for this bold and breezy summer capsule," said Carly Van Sickle, Senior Director, Global Brand Marketing, W Hotels Worldwide. "Our collaboration not only brings together the vibrant spirit of SUNCHASERS' fashion but also aligns it with our own W summer campaign aptly named 'Sun Chasers.' By merging SUNCHASERS' innovative and sustainable ethos with the immersive WET Deck experience, we are offering guests an unforgettable summer experience that epitomizes our shared commitment to authenticity, vibrancy, and exploration."
To celebrate the collaboration's launch, W Ibiza will host shopping events throughout the summer on the WET Deck, allowing guests to indulge in this exclusive collection. The AWAY spa pop-up boutique, located on Level 0 of the property, will also offer the stunning loungewear sets for purchase. Inside the hotel entrance, guests will find two small-scale installations that beautifully showcase the entirety of the collection, offering a tantalizing taste of the vibrant designs.
In addition to the captivating capsule collection, W Hotels will offer an exclusive Summer Package – the SUNCHASERS Escape – at W South Beach and W Ibiza. The package at W Ibiza includes a suite booking, breakfast, a Balinese cabana at GLOW Rooftop with 100 Euro B&F credit, a 2-piece SUNCHASERS set, and complimentary transportation to and from the airport. The package at W South Beach includes two SUNCHASER sets, a luxurious Mindful Escape Spa Treatment at the AWAY Spa, and other delightful perks. Both packages are available for booking from July 14 to October 31.
"At SUNCHASERS, we strive to inspire individuals to express their true selves through vibrant colors and joyful designs," said Carola Bernard, Founder of SUNCHASERS. "Partnering with W Hotels allows us to extend this message of originality and celebration to a global audience. Together, we aim to create a unique and memorable fashion experience that symbolizes the spirit of summer."
The W Hotels x SUNCHASERS Escape Capsule will be available until February 2024, featuring four different colorways inspired by Miami Beach and Ibiza: Green Bliss, Orange Sunset, Pink Sunrise, and Golden Sands. The collection can be purchased online at shopsunchasers.com and on W Hotels the Store. Additionally, fans can explore the collection at SUNCHASERS' Abbot Kinney Flagship store, as well as at the AWAY spa at W Ibiza. Get ready to immerse yourself in the radiant hues and vivacity of summer with this captivating collaboration between W Hotels and SUNCHASERS.