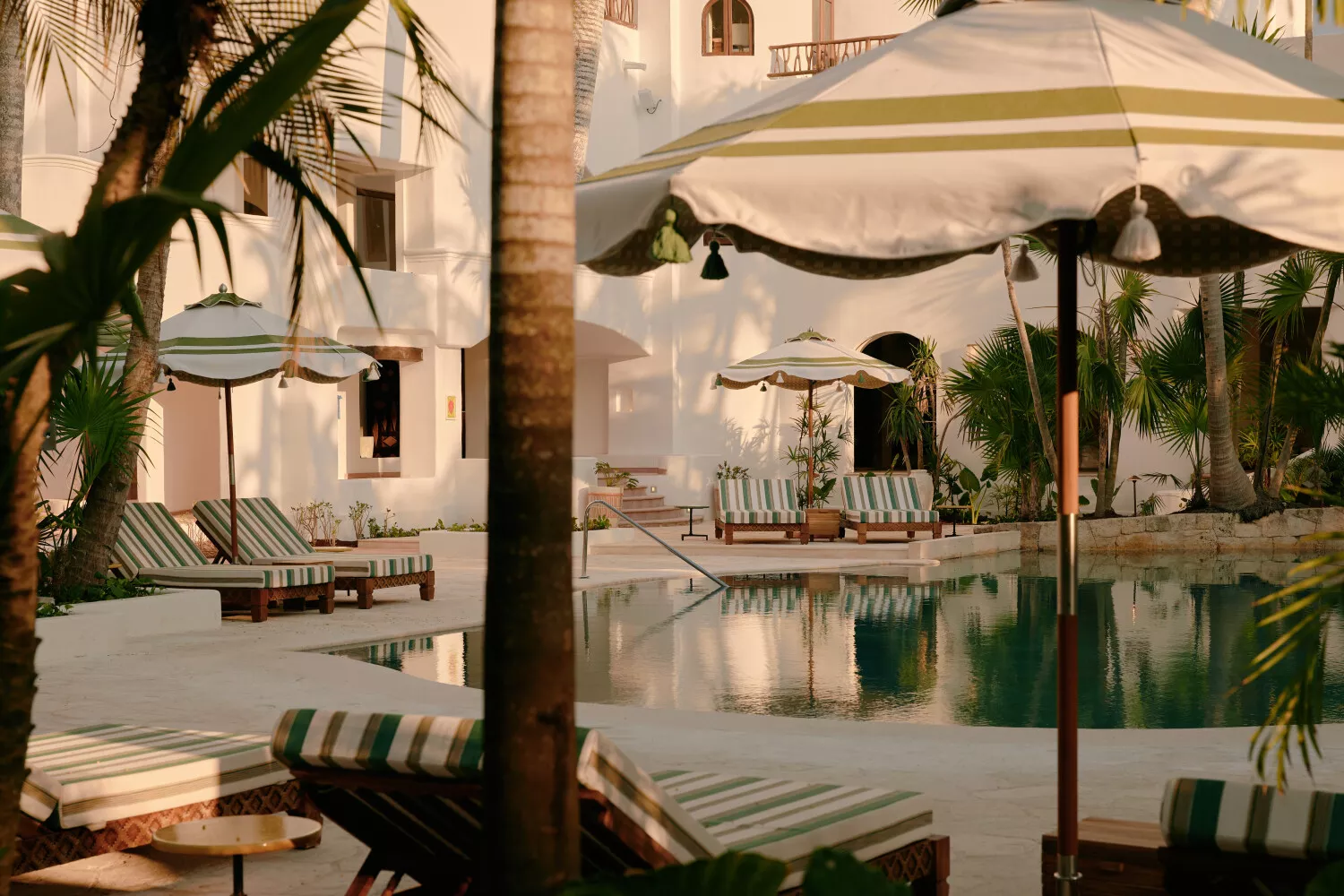 On August 3, 2023, the iconic Maroma, A Belmond Hotel, nestled amidst 200 acres of lush tropical jungle and pristine white sands along Mexico's Caribbean coast, will reemerge with a celebration of Mayan design, traditions, and culture. After meticulous reimagining, this storied hideaway now welcomes guests with 72 beautifully appointed rooms, suites, and villas adorned with local materials, artisanal patterns, and traditional craftsmanship. Together with four dining destinations, including the gastronomic restaurant Woodend by renowned Michelin-star chef Curtis Stone, and Casa Mayor by Executive Chef Daniel Camacho, Maroma offers a soulful and unforgettable summer experience.
Mexican Craft and Design: A Testament to Heritage
Internationally acclaimed design studio Tara Bernerd & Partners pays homage to Mexico's rich heritage while preserving the original Mayan-inspired architecture of Maroma. Collaborating with local artisans, the studio showcases a stunning array of pan-Mexican art and design, featuring handcrafted furniture and decor exclusive to Maroma. From ceramicist José Noé Suro's hand-painted Jalisco clay tiles to Henequen Textiles' woven rugs sourced from agave plants, each piece captures the essence of Mexico's vibrant creativity.
The revamped Maroma embodies effortlessly chic hacienda-style living, encouraging guests to explore the property's public areas, discovering hidden corners adorned with handwoven textiles from Oaxaca, traditional Saltillo floor tiles from Guadalajara, and Yucatan doors crafted from heavy timber frames. Curved lines, organic forms, and sweeping Caribbean Sea views harmonize with nature, while the redesigned pools, adorned with Sukabumi tiles inspired by the region's cenotes, complete the inviting oasis.
A Luxurious Coastal Retreat
The 72 rooms, suites, and villas at Maroma offer a private sanctuary along its pristine beachfront. Guests can indulge in breathtaking ocean views and direct beach access from the new one- and two-bedroom beachfront suites, some featuring private pools and gardens. For the utmost privacy, the two-bedroom beachfront pool villas and the expansive 3,939-square-foot Villa Maroma with four bedrooms, a full kitchen, and a private pool, offer an exclusive escape.
Maroma's commitment to sustainability and community shines through in every detail, including its partnership with Collectiva Concepción for traditional Manta staff uniforms and hand-embroidered guest kaftans. The fragrance brand Xinú has crafted a custom scent and bath amenities inspired by the regional Amate tree, while culinary offerings embrace the Yucatán's rich diversity with a focus on sustainability and local sourcing.
A Sanctuary of Wellness and Spirituality
Maroma Spa by Guerlain, set to open in November, invites guests on a journey of rejuvenation and spirituality. Inspired by nature's elements and the revered Melipona bee, guests can experience healing rituals like the Bee Healing Ritual, which harnesses the power of honey and Guerlain's Abeille Royale collection. Other holistic wellness experiences include sound therapy, meditation, and constellation massages, all rooted in ancient practices and natural healing. The spa also features a unique apothecary, where guests can learn about local herbs and create their own healing therapies.
Unraveling the Allure of Riviera Maya
Maroma provides a gateway to Mayan culture and the picturesque beauty of the Yucatán Peninsula. Guests can immerse themselves in the artisanal cooking process during the Nixtamal Journey, embark on The Journey Around the Agave to explore the world of tequila and mezcal, and indulge in stargazing with an astronomer to discover Mayan constellations.
As a proud member of the EarthCheck program, Maroma actively supports biodiversity through conservation initiatives, including expanding hives of the endangered Melipona bee. The hotel's onsite nursery nurtures endemic plants, and a comprehensive conservation program safeguards endangered bird species and sea turtles.
Enchanting Celebrations and Memorable Events
Maroma sets the stage for magical celebrations, providing an array of indoor and outdoor venues to create unforgettable moments. Amidst the palm-fringed shores, fragrant gardens, serene pools, and lush jungles, the hotel offers a timeless backdrop for weddings, honeymoons, and corporate retreats. Private activities, including curated gastronomic experiences and water sports, add an extra touch of exclusivity to each event.
At Maroma, luxury, heritage, and sustainability converge, creating a captivating destination that celebrates the soul of the Yucatán and the allure of the Riviera Maya. With its thoughtful restoration, commitment to Mexican craftsmanship, and dedication to preserving the environment, Maroma invites guests to embark on a transformative journey where tradition and modernity intertwine seamlessly.