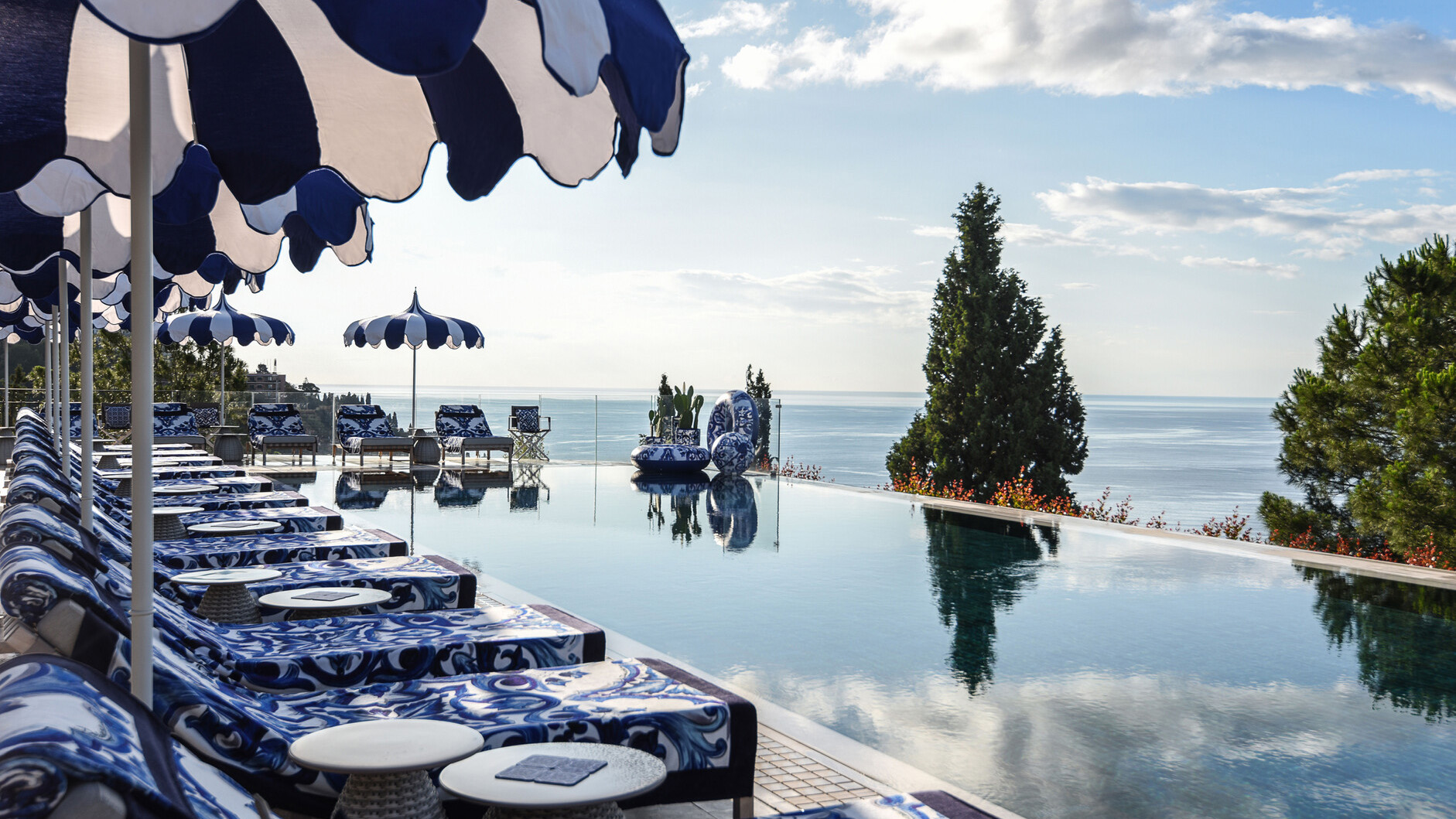 San Domenico Palace, Taormina, celebrating its second anniversary as a Four Seasons hotel, is proud to announce its exciting collaboration with Dolce&Gabbana. The hotel's iconic pool area and enchanting gardens will be transformed into a stunning Dolce&Gabbana "Blu Mediterraneo" oasis for the duration of the 2023 season. Inspired by the rich heritage of Italian craftsmanship and featuring a striking deep blue and white motif reminiscent of majolica pottery, this collaboration is deeply rooted in the cultural essence of the Italian south.
The transformation includes an array of Dolce&Gabbana products, ranging from umbrellas, towels, cushions, and pillows to cabanas, trays, coasters, and decorative objects. To complete the experience, guests will have the pleasure of indulging in icy granitas served from a custom-designed Granita Trolley adorned in blue and white. With flavors like almond, coffee, and lemon, this refreshing treat offers the most delicious and stylish way to beat the Sicilian sun's scorching rays.
Perched majestically on a promontory overlooking the Ionian Sea, the iconic San Domenico Palace has a storied history. Originally a Dominican monastery dating back to the 14th century, it was transformed into a hotel in 1896. After undergoing extensive renovations, the hotel reopened as a Four Seasons property in July 2021, marking the beginning of its third year under the esteemed luxury brand's banner.
Immerse yourself in the unparalleled allure of San Domenico Palace, Taormina, as it collaborates with Dolce&Gabbana Casa to create an extraordinary ambiance. Experience the essence of the Blu Mediterraneo and discover the timeless beauty and craftsmanship of Italy in every detail.
Mandarin Oriental Bodrum collaborate with Louis Vuitton for the summer of 2023. The collaboration entails the opening of a pop-up store, a revamp of the renowned Blue Beach Club & Bar, and the introduction of a new edition of the Louis Vuitton City Guide, focusing on Bodrum as a summer resort.
Louis Vuitton opened a beach and set up a pop-up boutique on the island of Xiamen in the Taiwan Strait.