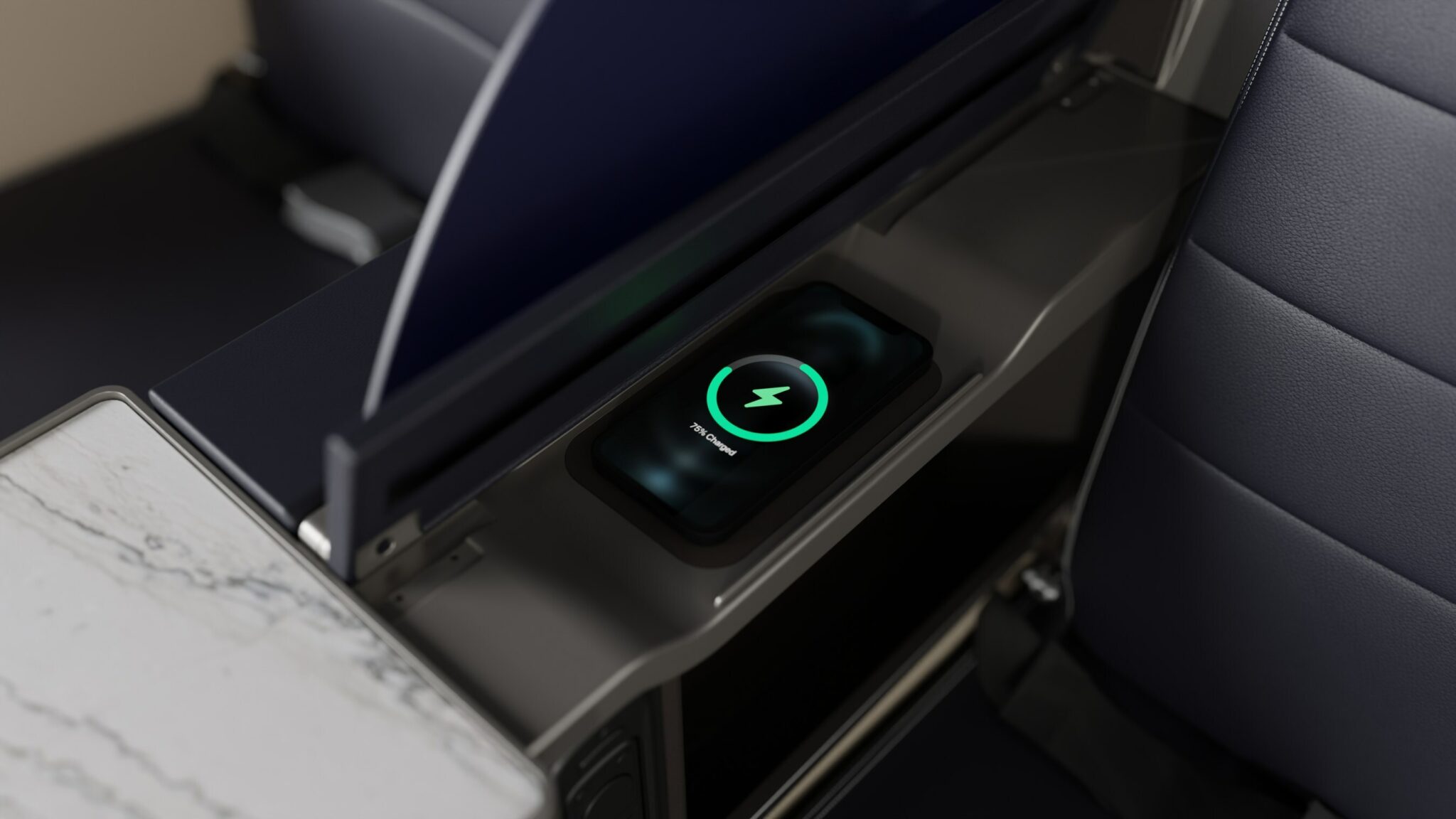 United debuts wireless charging onboard
United Airlines has unveiled its new United First® seat for domestic flights, featuring innovative amenities designed to cater to the modern traveler. The seat, which will debut on the first 737 aircraft this month, offers a wireless charging station in every armrest, as well as vegan leather upholstery, 13-inch seatback screens, 18-inch tray tables, Bluetooth connectivity, privacy screens, and ergonomically designed cushions. The rollout of the new seats will continue throughout the summer, with the airline aiming to have them installed on 200 domestic planes, including 737 NGs, A321neos, and 737 MAXs, by 2026.
According to Mark Muren, United's Managing Director of Identity, Product, and Loyalty, the new United First seat is designed to meet the evolving needs of travelers by providing more charging options, spacious areas for devices, food, drinks, and personal items, as well as enhanced privacy. United aims to disrupt industry norms and anticipate future requirements to accommodate the changing ways people live and travel.
The new United First seat offers several key features:
Multiple Device Charging: Passengers can charge multiple electronic devices simultaneously using three types of charging docks—wireless, AC household-style outlet, and USB-C. The wireless charger is conveniently located in the armrest compartment, providing line-of-sight to notifications and freeing up hands and the tray table.
Enhanced Seatback Entertainment: To meet the growing demand for a dual-screen experience, United has upgraded its seatback entertainment. The 13-inch, high-definition screens are Bluetooth capable and come with a remote for those who prefer not to use the touch screen.
Ample Space for Work and Relaxation: The seat design includes dedicated areas for devices, food, drinks, and more, enhancing the overall passenger experience. The larger tray table, measuring 18 x 8.5 inches, features a built-in tablet holder and sufficient space for most standard laptops. Additionally, authentic Italian quartzite cocktail tables and bottle holders are located between each seat, allowing passengers to comfortably place gadgets, drinks, and snacks without relying on a single tray table.
Privacy and Adjustability: Upholstered with vegan leather, the spacious seats offer increased privacy with an 11 x 19-inch divider between neighboring seats. Winged headrests and tray tables that deploy from outer armrests reduce passenger contact. The seat also boasts a 5-inch recline range, an adjustable aisle armrest that lowers completely, and an ergonomically designed seat cushion positioned 1 inch lower to accommodate varying heights.
In addition to introducing the new seats, United plans to update existing domestic first class seats on over 200 aircraft by 2025. The redesign will include new seat cushions, vegan leather upholstery, and winged headrests for United First seats on select 737, A319, and A320 aircraft.
United's latest announcement marks its first update to domestic first class seat design since 2015. The development of the new United First seat involved collaboration with a team of experts, including United's engineering and inflight teams, Dr. Matthew Reed, a biomechanics researcher from the University of Michigan, and design firm Priestman Goode.