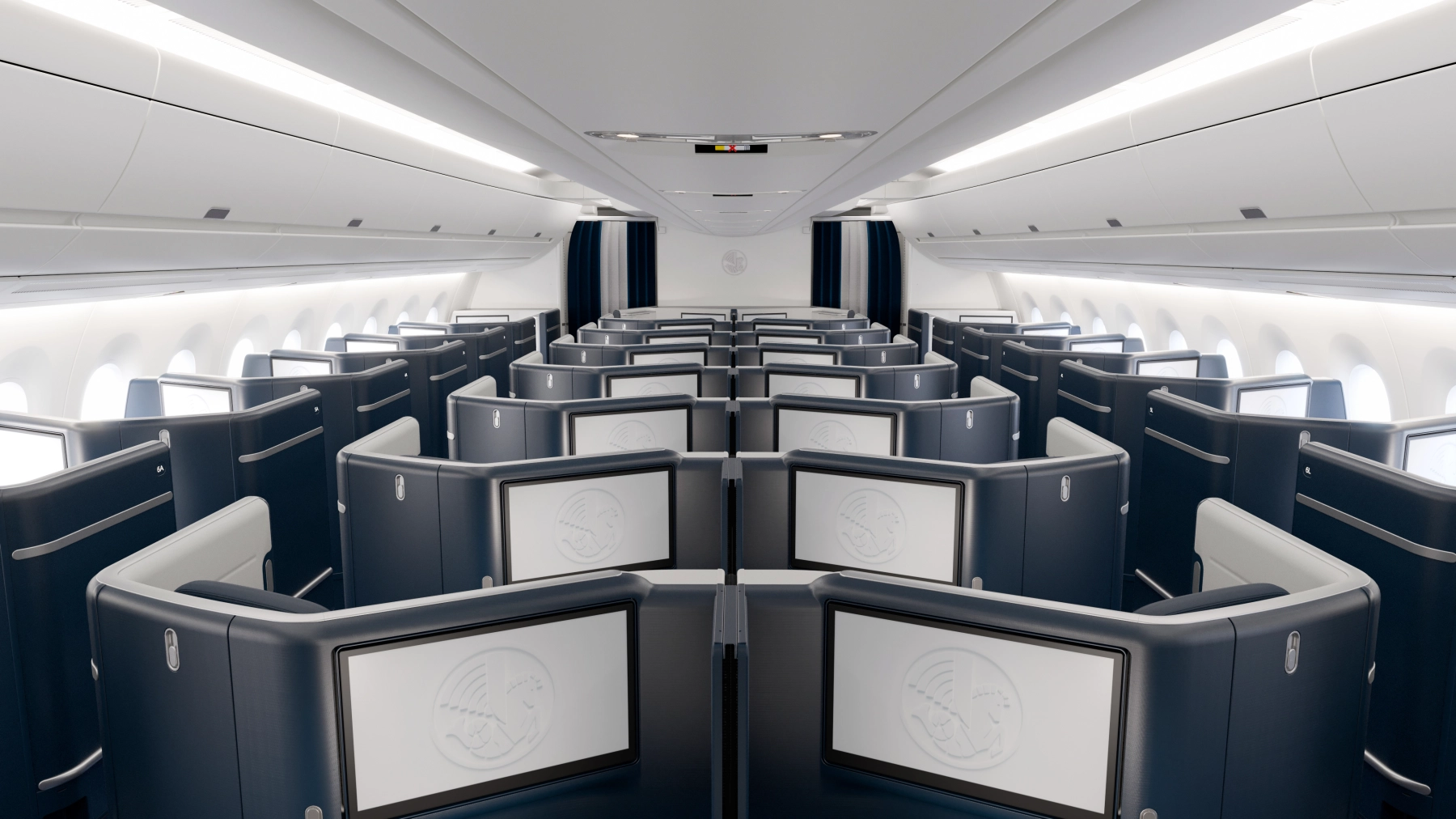 Air France's unveiling of their fresh A350 cabins, set to join their fleet as soon as next month. The new seats bear a resemblance to those found on the 777, but incorporate several passenger enhancements, including a new seat interface tablet adjacent to the vanity unit. While the existing A350 fleet will not be retrofitted, the next 20 aircraft will feature this updated interior design, featuring 48 Business seats, 32 Premium Economy seats, and 212 Economy seats. Additionally, this new seat design will complement the 12 newly-introduced 777s sporting the same interior.
Designed exclusively for Air France, this innovative product is the result of a collaboration between STELIA Aerospace, the commercial brand of Airbus Atlantic, Mark Collins from Design Investment, and SGK Brandimage, a design and branding consultant. As passengers step onboard, they will be greeted by a backlit winged seahorse, symbolizing the company's founding mythology and rich heritage. The cabin's generously sized windows come equipped with automatic window blinds, allowing travelers to adjust the lighting intensity throughout their journey. Air France has opted for noble, soft, and natural materials such as wool, brushed aluminum, and full-grain French leather in the crafting of these seats. The seat padding has been enhanced for added comfort, and each seat is elegantly embroidered with the company's iconic red accent.
Business class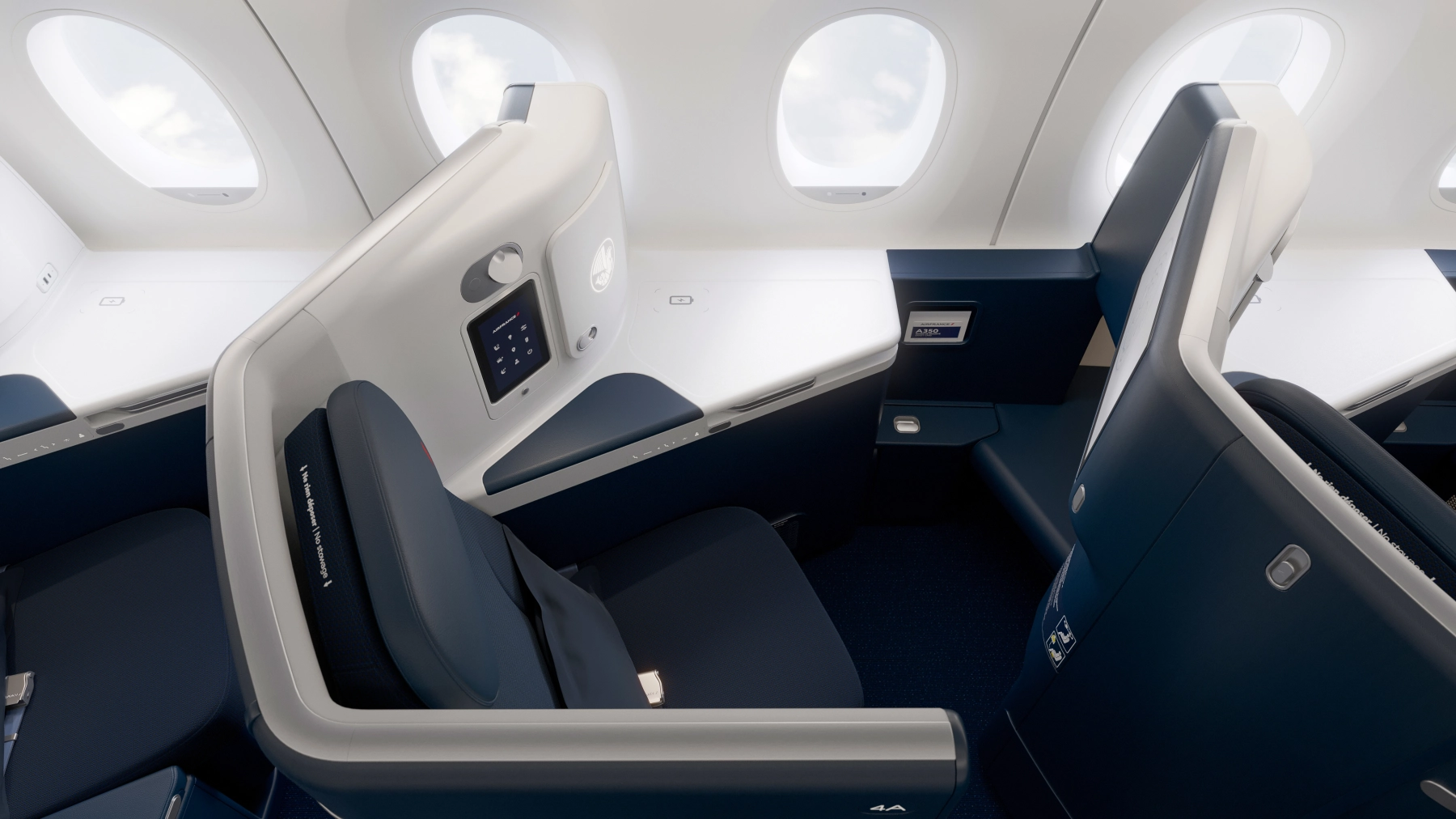 The personal storage unit on the new seats differs slightly from those on the 777, protruding a bit rather than maintaining the previous streamlined elegance. Nevertheless, it accommodates a noise-reducing headset, a vanity mirror, and personal belongings. An additional storage area has been incorporated at the foot of the seat, providing ample space for small travel accessories. In the Business cabin, the front row seats, while not designated as "business plus," offer extra footwell space that is truly spacious, enhancing overall comfort. Each front row seat also features an individual closet with a vanity mirror and extra storage space.
Air France consistently strives to provide the highest standards in the market, and their latest Business seat exemplifies this commitment. Each seat boasts a wide 20-inch 4K Ultra High-Definition anti-glare screen, currently the largest in Air France's long-haul fleet. Passengers can enjoy entertainment using their personal headphones, thanks to Bluetooth connectivity.
Air France's Premium Economy
Air France's Premium Economy cabin comprises 32 seats, meticulously designed in collaboration with Collins Aerospace. The airline presents a fresh recliner seat model, already available on its initial Airbus A350 and currently being installed on the 12 Boeing 777-300 ER undergoing refurbishment. Each seat provides an impressive 94 cm of legroom and features a spacious 48 cm seat pan. The seat back reclines to a comfortable 121 degrees and has been widened to offer enhanced privacy and comfort.
Notably, the seat cushions have been redesigned to extend up to the shoulder level, providing an even softer and more luxurious experience. These cushions are upholstered in a navy-blue herringbone fabric with a specially refined finish. The 4-position headrest can be adjusted to cater to individual preferences. The package is completed with a noise-reducing audio headset, ample storage space, an individual reading light, and USB A and C ports for connectivity.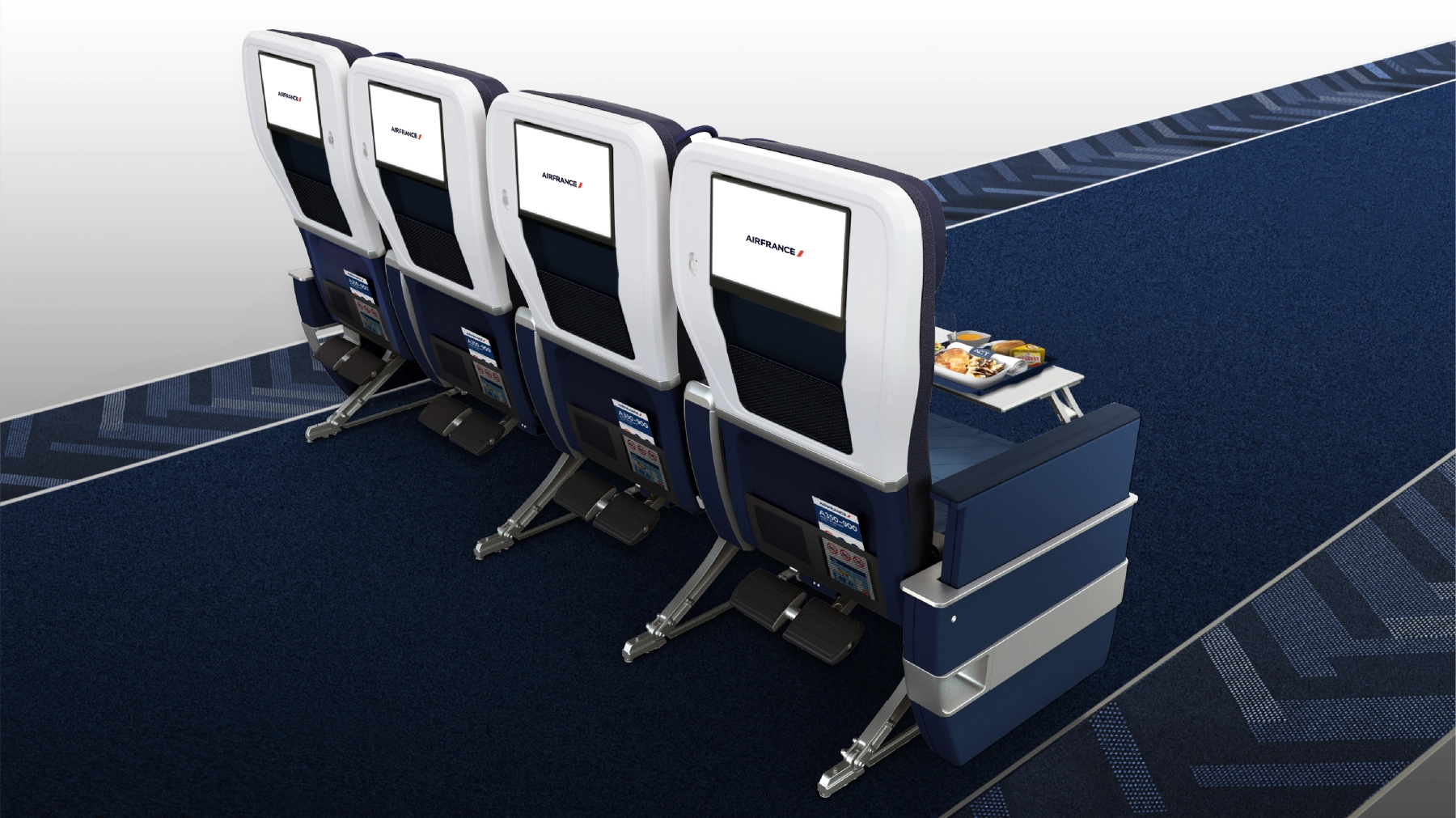 Both the Premium Economy and Economy cabins feature wide 13.3-inch 4K Ultra High-Definition anti-glare screens with Bluetooth connectivity, ensuring a seamless entertainment experience with personal headphones. A new addition allows passengers to connect their personal devices directly to the in-seat screen, enabling them to use it as a remote control or browse available programs alongside the content displayed on the main screen.
Economy class
In the Economy class, each Safran seat boasts an expansive 18-inch seat pan, a recline of 119 degrees, and 31 inches of legroom. The ergonomically designed backrest includes cushions that offer reinforced lateral support for added comfort. The seat introduces two new features: a built-in holder integrated into the backrest for personal smartphones or tablets, and an additional USB C port alongside the USB A port for connectivity.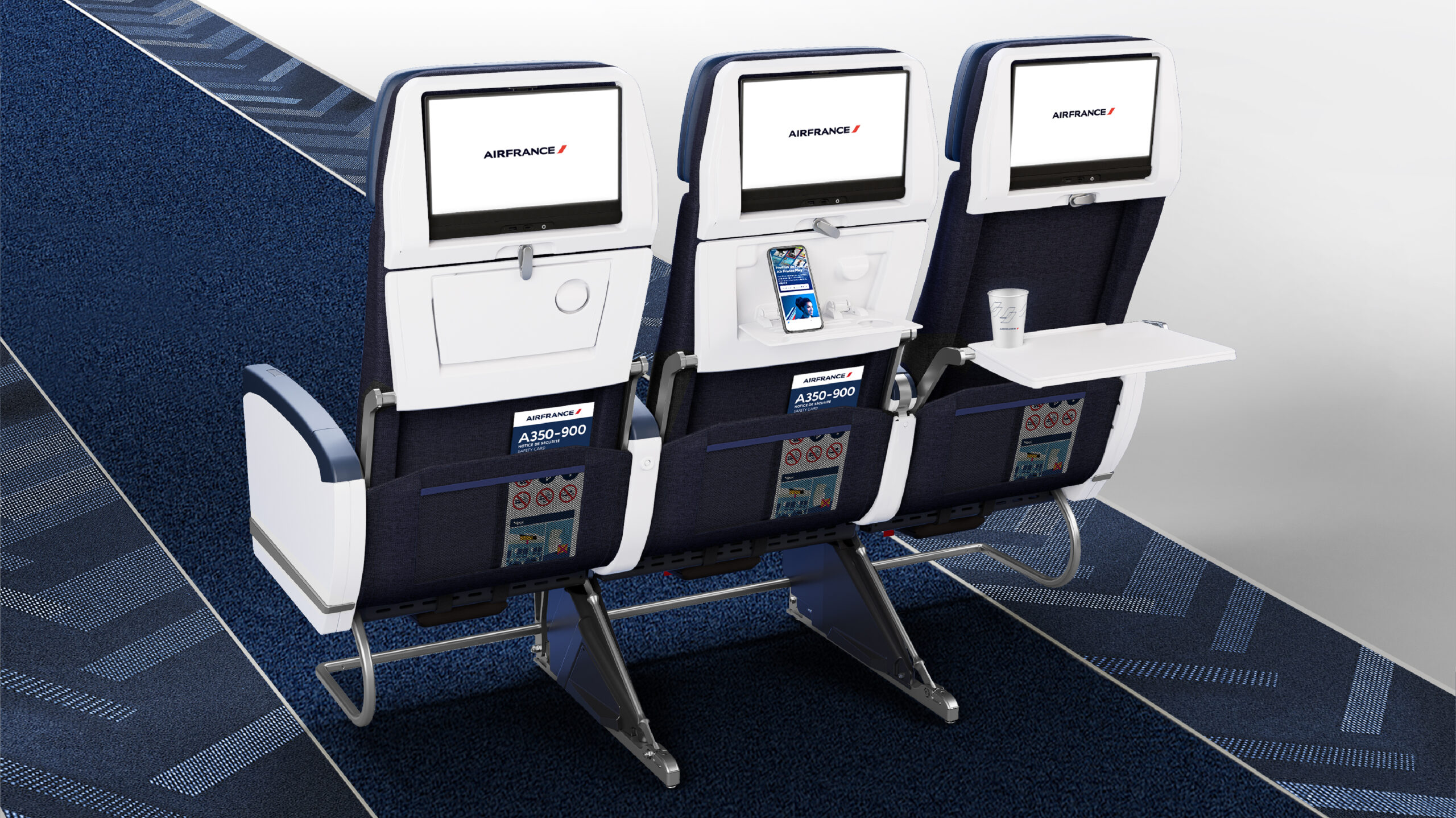 Lufthansa is expanding its premium First Class offering with the "Suite Plus," a separate double cabin with ceiling-high walls and an entirely closable door, large table and two wide seats that can be combined into a comfortable double bed if required.