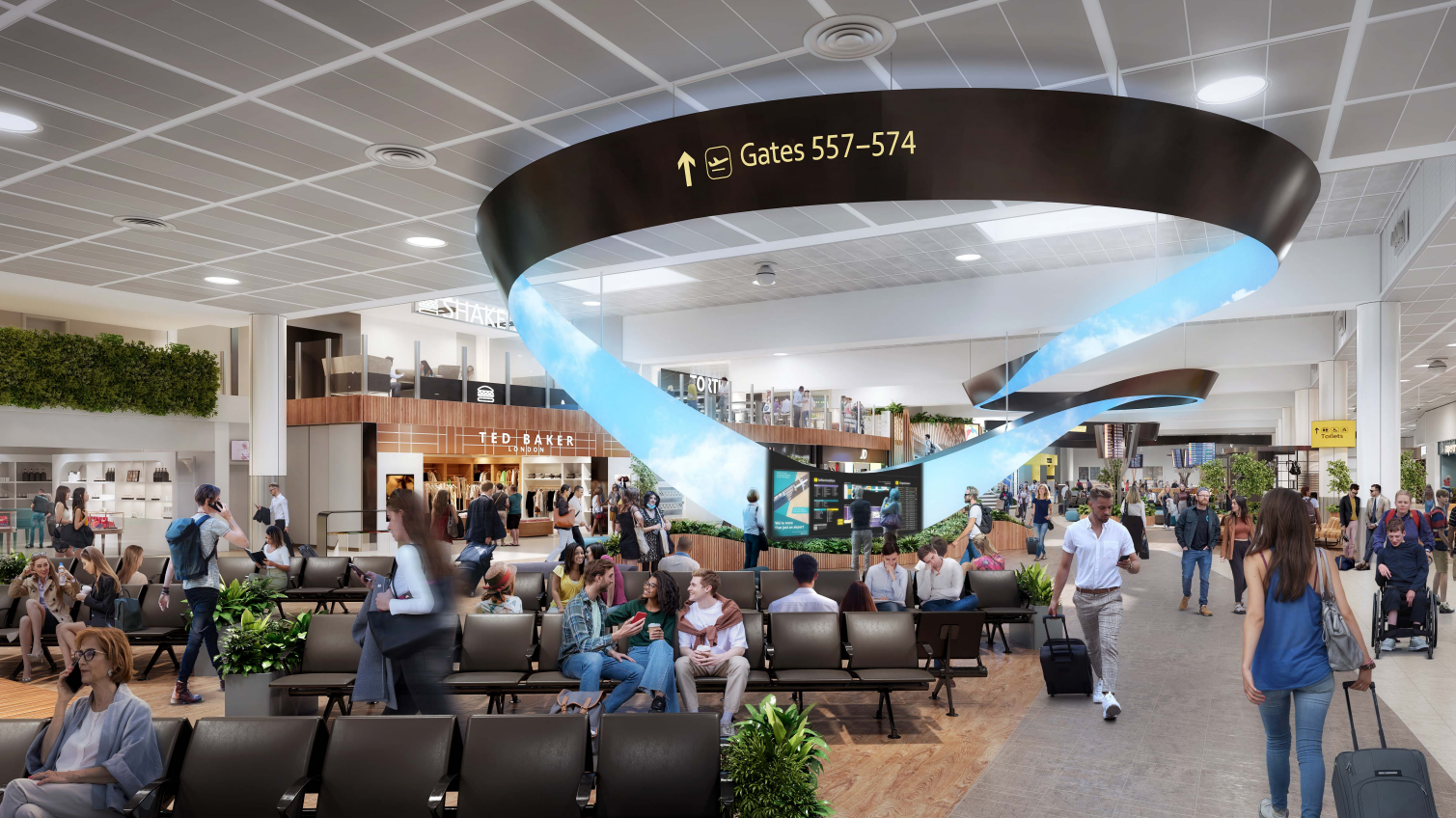 London Gatwick's North Terminal is undergoing its largest transformation to date, offering passengers a range of new features. The project, expected to be completed by early 2024, involves an investment of over £10 million to enhance the passenger experience and reflect London Gatwick's status as a major international airport.
The updated departure lounge will feature modern flooring and contemporary seating. All seats will have accessible power points, organized into distinct "mood zones," allowing passengers to personalize their pre-flight time, whether they prefer relaxation, work, or shopping.
To create a soothing atmosphere, a sustainable planting scheme inspired by the scenic West Sussex countryside will bring nature indoors. Local artwork will also be showcased, highlighting Gatwick's connection to the surrounding region.
Enhanced sightlines and wayfinding, including a new orientation zone with digital artwork and content, will make it easier for passengers to navigate and explore the departure lounge.
This redevelopment marks the first major overhaul of the departure lounge since its opening in 1988. It is part of a broader multi-million-pound development program that includes improvements to the train station, modernization and expansion throughout the airport, and the introduction of new branding and vision launched in April.
In addition, several new retailers and restaurants will open this year, such as The Breakfast Club and BrewDog, bringing renowned London and British brands with exciting experiential features to London Gatwick's North Terminal.
Recently, curi.o.city, a new concept by WHSmith, has opened, offering a variety of gifts and souvenirs from regional, London-based, and global brands such as Cambridge Gin, Biscuiteers, Kew Gardens, ZSL London Zoo, and Harry Potter.
Furthermore, London Gatwick is investing in its long-term future and preparing a planning application to bring the airport's Northern Runway into regular use for departures only, alongside the main runway. This strategic plan aims to improve resilience, reduce delays, and provide a significant boost to the national and regional economy by supporting trade, tourism, and job creation.