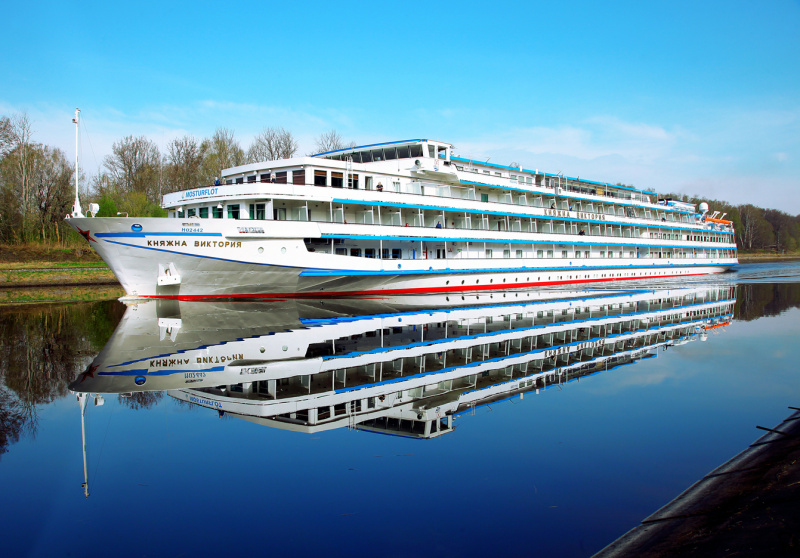 The Head of the Ministry of Industry and Trade of the Russian Federation, Denis Manturov, has announced that the construction of 65 passenger ships, including cruise liners, is currently underway.
Among them is the "Petr Veliky," which is still expected to be delivered to the cruise company "Mosturflot" in 2023. Additionally, three ships will be built based on the "Karelia" project, commissioned by the company "Vodokhod." The first of these will enter service in 2025 on a new route in the White Sea.
Wheel vessels are being built for Nizhny Novgorod, with one of them, the "Zolotoe Koltso," already operating this year under the company "GAMA." New ships are being created for the Yenisei, Lake Baikal, the Gulf of Finland, and the "Ostrov Fortov" project in St. Petersburg. Hydrofoils, catamarans, electric vessels are being laid down, and there is a single-decked steamboat, the "Chaika," which operates on liquefied natural gas.
According to the minister's statement, a total of 525 river-sea class vessels will be handed over to operators by 2035. This will satisfy 98% of the fleet's needs (1,000 river vessels are required).
Moscow Canal to Undergo Renovation, Caspian Sea to Become Year-Round Destination
The issue of guaranteed and uniform depths along the entire length of the country's inland waterways has been promised to be resolved by 2026. This solution is of enormous importance to tour operators. In August 2021, river navigation experienced a collapse due to a sharp drop in water levels near the Goryachy Klyuch locks, which practically halted cruises on the Volga.
Vitaly Saveliev, the Head of the Ministry of Transport, also stated the need to raise the level of the Nizhnekamsk reservoir from 3.3 to 4 meters.
An important decision was made during the meeting regarding the large-scale reconstruction of all 238 hydraulic structures of the Moscow Canal, as part of the program developed by the Ministry of Transport. It is expected to begin no later than 2025. Cruise companies have concerns about how this will affect navigation, but it is too early to speak about any difficulties at the moment.
Northern Sea Route
Another interesting proposal was raised to expand internal connections, which involves the development of more active navigation on the rivers of Siberia and the Far East, with potential access to the Northern Sea Route.
Currently, this direction is less developed in the tourism industry, with companies like "Vodokhod" operating cruises on the Yenisei and the "Severnaya Skazka" cruise ship sailing on the Ob and Irtysh rivers. However, over time, many things may change here as there is great interest among tourists for this direction. It is not excluded that there will be more affordable expedition cruises available in the near future.