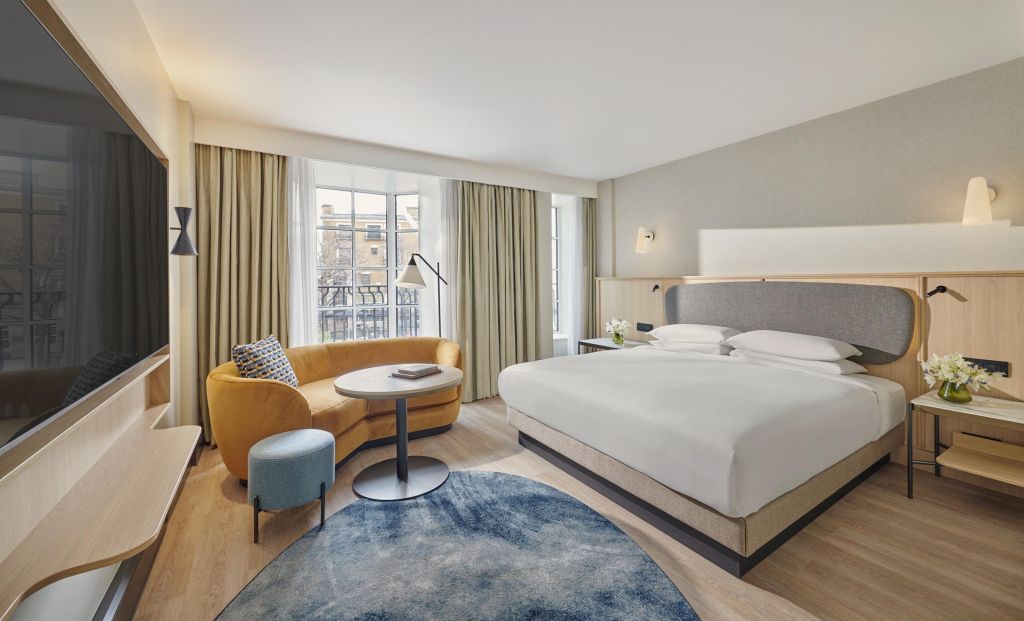 Hyatt Hotels Corporation has announced the opening of Hyatt Regency London Blackfriars, a significant milestone in Hyatt's strategic brand expansion in the UK capital. With 204 rooms, this new hotel becomes the 14th property in the country, underscoring the United Kingdom as a priority growth market for Hyatt's diverse and evolving brand portfolio. Over the past five years, Hyatt has expanded its presence in the UK from five to 13 properties, with six of them situated in London.
Located in a historic grade II listed building on the former grounds of King Henry VIII's Bridewell Palace, Hyatt Regency London Blackfriars enjoys a prime location in London's business and leisure district, which is home to global corporations, influential businesses, and law firms. Guests will have easy access to all that the capital has to offer, with the Blackfriars Underground and railway stations just a short walk away. Additionally, many of London's popular attractions, including St Paul's Cathedral, Tate Modern, and Shakespeare's Globe, are within walking distance.
Following the Hyatt Regency brand's philosophy, the hotel has been thoughtfully designed to provide guests with a productive and tranquil environment for work, connection, and relaxation. The guestrooms and suites feature contemporary finishes, luxurious amenities, and dedicated workspaces. Three enticing food and beverage concepts offer diverse culinary experiences and are poised to become local favorites. Moreover, the hotel offers versatile meeting and event spaces, catering to a wide range of gatherings in this highly sought-after central London location. Guests can also take advantage of the 24-hour state-of-the-art fitness center.
With the opening of Hyatt Regency London Blackfriars, Hyatt further strengthens its presence in London and demonstrates its commitment to catering to the needs of business and leisure travelers in the United Kingdom's capital city.
Guestrooms
Designed by THDP Ltd, the hotel's interiors are influenced by its local history. The building's past life as one of King Henry VIII's royal palaces is referenced in the materials used throughout the hotel, with marble ceramics and gold finishes evoking its former regality. With Fleet Street, the historic hub of printing and publishing, just around the corner, Hyatt Regency London Blackfriars pays homage to the craftsmanship of the trade through the bespoke artwork inspired by the art of newspapers that adorns its walls.
204 guestrooms and suites provide impressive views of the listed buildings that once held iconic printing presses, while others offer the chance to marvel at the famous skyline of the city of London. With 10 room categories and up to 753 square feet (70 square meters) of space, guests can enjoy the hotel's modern guestrooms, complemented by ergonomic work areas, rainfall showers and comfortable aesthetics.
Culinary Experiences
Three innovative food and beverage concepts are set to mark Hyatt Regency London Blackfriars as the new destination for inspired cuisine and mixology.
The Chinese Cricket Club fuses traditional techniques and the finest ingredients to offer a contemporary take on Chinese classics. The restaurant is named in honor of the captain of the Shanghai XI cricket team, Feng, who travelled to England in 1857 with his bride, Xiu. When arriving to Blackfriars' docks, the couple made their way to Limehouse, where Xiu opened the first traditional Chinese restaurant in London. Their legacy lives on in the inviting backdrop of The Chinese Cricket Club and its rich and diverse menu of homemade dim sum and signature specialties.
New York and London meet at NYnLON, a neighborhood-style bistro that celebrates the charm, heritage, and influence of the two great cities. The all-day menu brings together local and sustainable dining, with elevated comfort food favorites, accompanied by an extensive drinks list showcasing authentic American whiskies and exceptional natural wines.
Get lost at The Leaf and Cane, a 1920s inspired hideaway offering a vibrant atmosphere and delightful street food paired with crafted cocktails and premium rums. Bringing the lively flavors of Latin America to central London, The Leaf and Cane immerses guests in a colorful jungle, inviting them to uncover its hidden garden, secret stone vaults, and innovative mixology.
Meeting and Events
For seamless events in the city of London, Hyatt Regency London Blackfriars offers up to 4,628 square feet (430 square meters) of multifunctional, thoughtful event space. Two medium-sized spaces have been designed to optimize productivity, and are well suited for meetings, or small group gatherings. The main function room can seat approximately 150 people and is an ideal choice for conferences or large events, benefitting from technology-enabled features, enviable transport connections and a sophisticated city location.
Hyatt Regency London Blackfriars joins a growing list of Hyatt properties in the UK, and marks the ninth Hyatt branded hotel in London, joining Hyatt Regency London Albert Embankment, Hyatt Regency London – The Churchill; Great Scotland Yard Hotel, part of The Unbound Collection by Hyatt; Andaz London Liverpool Street, Hyatt Place London City East, Hyatt Place London Heathrow Airport and Hyatt Regency London Stratford and Hyatt House London Stratford.