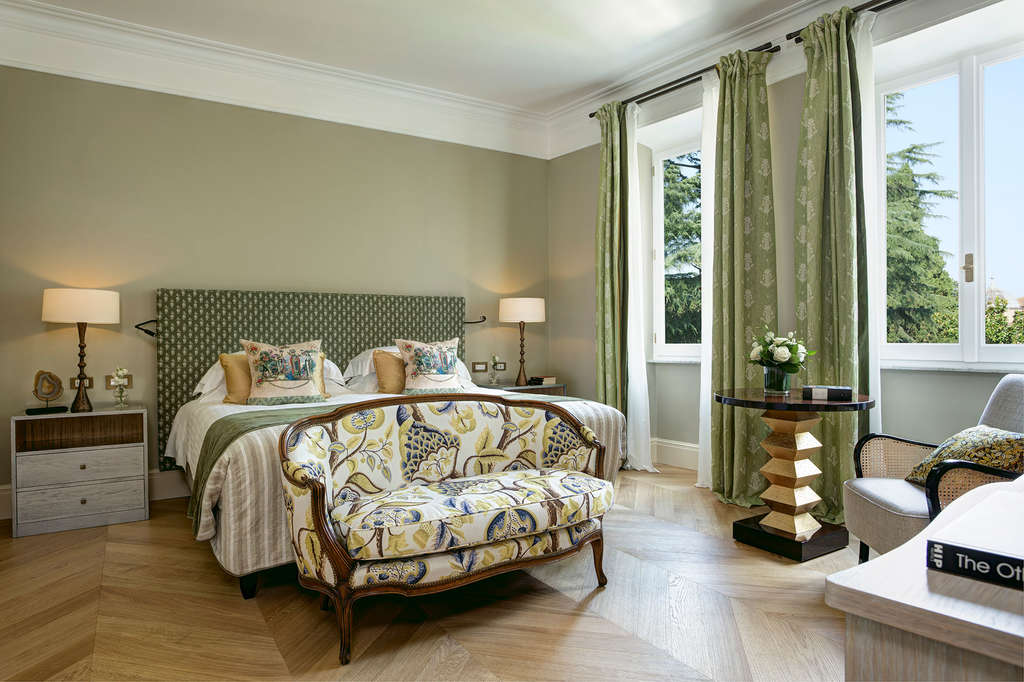 Following the restoration of its renowned gardens designed by architect Giuseppe Valadier, Hotel de Russie, the iconic Rocco Forte Hotel in Rome, is pleased to announce the launch of seven new Garden Suites, in addition to the newly renovated Lobby.
Led by Olga Polizzi, Director of Design for Rocco Forte Hotels, the renovation and restyling of the Suites and Lobby seeks to exalt the combination of classic and contemporary style throughout the hotel.
Ranging from shades of cobalt blue to green, the colour schemes recall tones of the garden and sky as seen from the hotel's windows, immersing guests in a unique, tranquil atmosphere. The design of the Garden Suites combines modern furniture, such as extravagant lamps by Fontana Arte, armchairs by Tosconova, custom sofas and chairs with original cushions by Fornasetti, with more classic decorative elements inspired by the art of ancient Rome. The resulting design features authentic statues and busts that coexist in perfect harmony with photographs by Serafino Maiorano depicting a contemporary Rome. Adding a sense of tradition, luxurious fabrics give guests the illustrious feel of residing in a classic Roman abode.
The bathrooms were a key element of the renovation, made ever more comfortable with the installation of new walk-in showers and bathtubs decorated with splendid Calacatta statuario marble.
The Lobby, with distinctive warm tones of brown, orange, green and ochre, has become a welcoming haven for guests, evoking the sense of a refined Roman living room. Balancing old and new, elements of the early twentieth century, such as the antique bas-relief depicting the Archangel Gabriel by the sculptor Pietro Monti, coexist with contemporary furnishings. Fabrics from Dedar and C&C Milano embellish the armchairs and sofas with personalized designs while the coffee tables and consoles were made by Florence's Il Bronzetto. Pianeta, a technological capsule designed by Elli & Rini lends a high-tech touch to the Lobby allowing guests to participate in conference calls, video calls or simply listen to music in total privacy. It is a wooden contraption of 2.5 square meters equipped with monitor, dolby, webcam, wireless charging systems and a sanitization system that guarantees maximum safety.