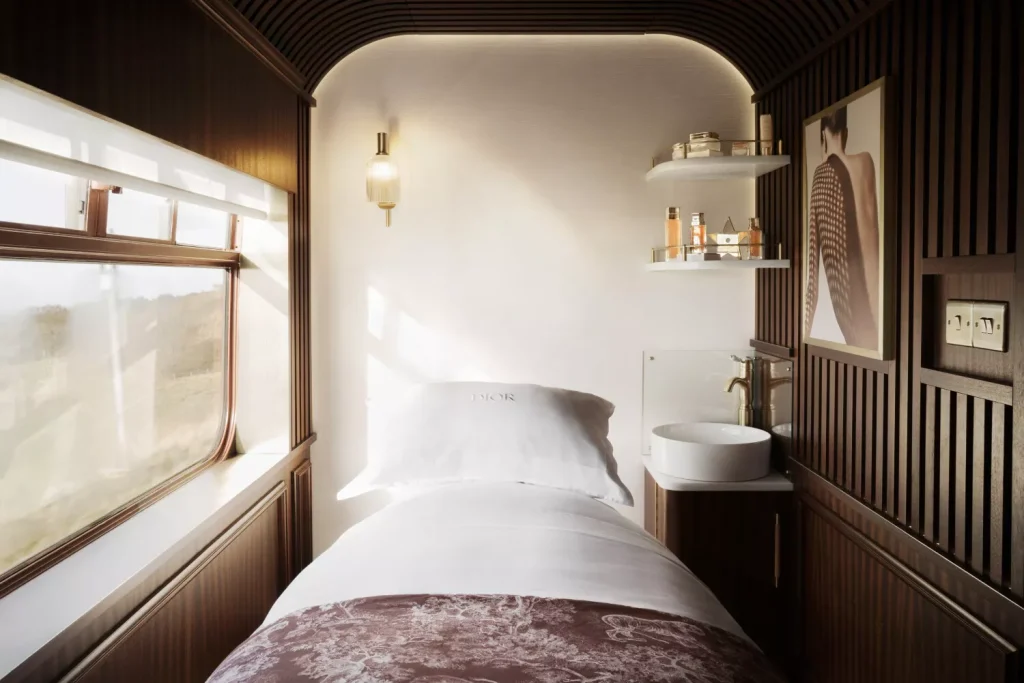 Royal Scotsman, A Belmond Train in Scotland, has announced a new partnership with Dior Beauty to create the Dior Spa Royal Scotsman, which will be available on board from April 10, 2023. In addition, the train will offer new adventure and culinary journeys in its 2023 schedule, including the Highland Survival Adventure, created in partnership with luxury adventure travel experts WILDNIS from June 30 to July 3, 2023, and A Taste of Scotland with Michelin-starred Chef Tom Kitchin, a gastronomic journey through Scotland's finest flavors from September 4 to 6, 2023.
To pay tribute to Christian Dior's affection for Scotland, where he famously held his renowned fashion show in 1955, the new Dior Spa Royal Scotsman will be situated in one of the train's plush carriages. This carriage will be solely dedicated to wellness and will feature two lacquered treatment rooms, reimagined with Dior's iconic burgundy toile de Jouy motif. As the train winds through Scotland's magnificent peaks and valleys, the Dior Spa Royal Scotsman offers guests a serene space to relax and rejuvenate. The customized wellness menu will include three bespoke treatments created by Dior's wellness experts to cater to the specific needs of the train's passengers, ensuring an immersive Scottish experience that leaves them feeling revitalized and refreshed.
One of the treatments is D-Travel, an expert body massage that purifies the body of toxins and relieves tension through deep, slow, and soothing movements that ultimately ease muscular pain. Inspired by Scotland's stunning landscape, the D-Elements full-body treatment combines the country's natural beauty to achieve a sense of mind and body relaxation. The treatment starts with the application of semi-precious hot stones on the back to create warmth, followed by massage strokes that simulate a cooling breeze. The treatment ends with Bain Dior body mist and hot oshibori that recreate the country's drifting mists to leave passengers feeling calm. For those looking for a rejuvenating facial, the D-Highlands uses Kobido facial massage techniques and Dior Prestige line to sculpt the face's features and improve the skin's appearance.
By merging the savoir-faire of two leading luxury brands, Dior Spa Royal Scotsman offers guests the ultimate beauty experience to complement their outdoor wellness activities, such as wild swimming, hiking, and farm-to-table dining, holistically enhancing their overall well-being.